Membership: Body Type E - Elegant Stature (3 months - 1 Season)
This is a PLUS SIZE body type.
When you choose the right styles for your shape, you will be described as elegant!
Some might call you an 'apple' but you're not a piece of fruit! Your legs are fairly shapely to full. Your waist is full and undefined. Your bust is full and rounded and you have fairly broad shoulders. Your hips and shoulders are proportional.
How should you dress to accentuate your feminine curves? With a Personal Profile from MSP you will find it easy to flatter your "Elegant Stature".
Not sure of your body type? Struggling between two? Select the ID Me option:

3 months - 1 Season
+ Body Type Identification
$26.95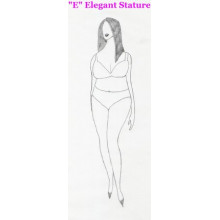 Product Code:
50
Availability:
In Stock
Price: $16.95