Body Type (D) Shopping Guide and Article Combo

This is a PLUS SIZE body type.
Everyday will be a delightful dressing experience when you know what flatters your shape best.
What is body type D? Your legs, hips and bottom are ample. You may have some waist definition. Your shoulders are average to smaller compared to your lower body. You carry most of your weight in your lower half. You want coverage, but don't want to skimp on style.
MSP knows the fashion industry is only now realizing what REAL womanly curves look like!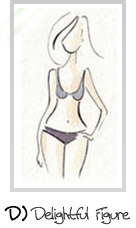 Not sure of your body type? Struggling between two? Select the ID Me option:

Body Type Identification
NEW! Get MSP's Shopping Guide & Article Combo Want to know what to wear for your body type? How about current style advice? Order MSP's Shopping Guide and Article Combos below.

You will get two (2) selected style articles along with one shopping guide for your (D) body type. Looking good can't get any easier than this!
Click the blue links below to learn more about the style articles
Showing 1 to 4 of 4 (1 Pages)