Body Type (C) Shopping Guide and Article Combo

Let MissusSmartyPants show you how "cute" your curves really are!
What is body type C? Your bottom half is larger than your upper body. You carry most of your weight below your waist. Your waist is anywhere from defined to slightly undefined.
Let MSP show you the fine art of balancing your shape with the right styles of clothing. Learn the best styles to choose and more importantly, those to avoid.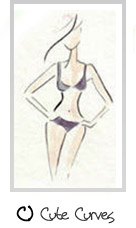 Not sure of your body type? Struggling between two? Select the ID Me option:

Body Type Identification

NEW! Get MSP's Shopping Guide & Article Combo Want to know what to wear for your body type? How about current style advice? Order MSP's Shopping Guide and Article Combos below.

You will get two (2) selected style articles along with one shopping guide for your (C) body type. Looking good can't get any easier than this!
Click the blue links below to learn more about the style articles
Showing 1 to 4 of 4 (1 Pages)