Melodie's Makeover
Melodie…a petite body type "C" SYSter shares her story with us!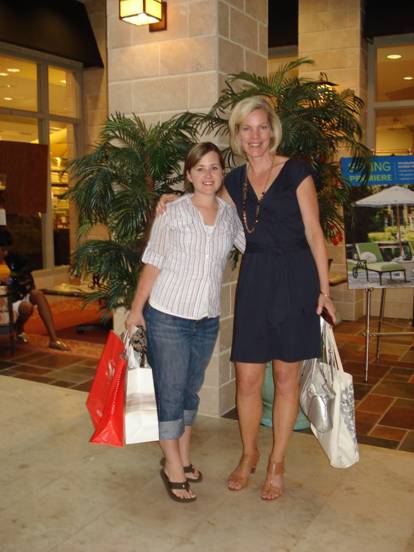 Melodie and Leslie after a full day of shopping...
Dear Leslie,
I had so much fun shopping with you! What an awesome birthday surprise you and my mom arranged for me! Because I was unprepared for this shopping trip, when I first saw you standing outside of Starbucks at the mall, I thought "Oh No! I do not want Leslie to see me dressed like this!"
I loved everything that you picked out for me and was really surprised how some of the things that I would never normally pick out actually flattered my petite "C" body type. I usually hate shopping, but it was such a relief to walk into the dressing room and have each outfit already picked out including shoes and jewelry. It was so much fun re-trying everything on when we got home from our shopping trip!
I have been in a style rut for a few years now. Two years ago I gained some weight and refused to buy new clothes (hoping that the pounds would magically disappear!) Unhappy with my body, I would just throw on some sweats and a t-shirt when going out to the store. I never had a wardrobe plan so I found myself in a crisis whenever I had a special event and would end up buying something at the last minute that I didn't really like, only to never wear it again! What a waste of money!
I am so glad that I found your website about 7 months ago! I learned that I need to dress for today and that will make me feel better about my body and it truly has. My husband will often joke with me about my "frumpy" appearance when going out to the mall or store. I always laughed it off before, but after reading your weekly emails I have realized that I looked as though I did not care about myself.
It has been a slow process of rebuilding my wardrobe but I am so happy to be more organized and purposeful with my plan. I have purged my closet of old clothes and am ready to add all of the wonderful things that we bought last weekend! Thank you for helping my outside appearance match my inside!
I can't wait to shop with you again sometime!
Love, Melodie
P.S. Now that I love shopping again, I went out yesterday and bought a LBD from Nordstrom Rack!
Leslie here: Melodie, you look smashing! I'm so impressed how you've "followed the rules" for your body type and selected such a fabulous dress, shoes, bracelet (pictured below)!
You are such a delight and your mother Debbie is about the best mom any girl could ask for! Thanks for sharing your story and for both of you being my SYSters in style!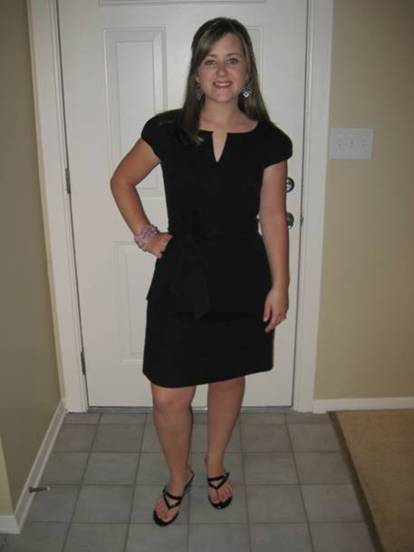 Melodie is so kind to share her story with us! She's just like the rest of us. We all fall into style ruts from time to time without knowing how we got there. Suddenly, we catch a glimpse of our reflection in a storefront window and realize we don't look our best. Then we wonder what happened to that stylish gal I once was, LOL!
You can be just like Melodie and make some positive changes with your style TODAY.
"Can I wear white?"
Yes, even white can work for petites and "C's"....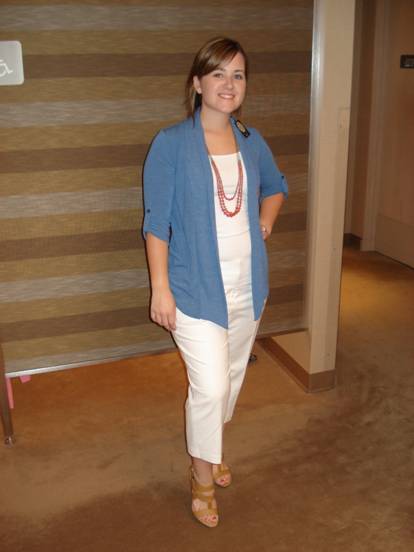 Melodie's daily life is pretty casual...but she has some weekly meetings and social engagements she'll want dress up for--and show off her "new" sassy sense of style!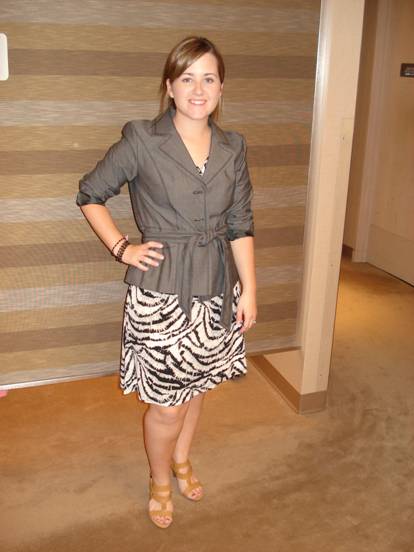 Melodie's work environment is relaxed and casual.
Yet she's so full of energy and fresh ideas...plus she's as cute as a button (her mom said so)...her clothes need to reflect all of that too!
She needs wardrobe basics (that are casual) like this terry hoodie below that she can wear many different ways!
This hoodie would look great over a floral sundress or with a striped tank and a pair of shorts...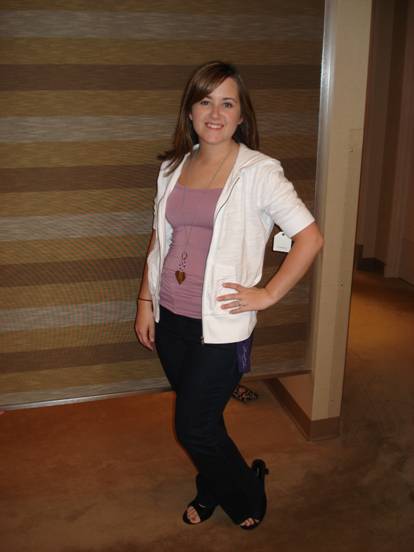 I love Melodie in this basic denim pencil skirt!!!
It really plays up her darling girly figure...plus it takes her casual lifestyle up a notch!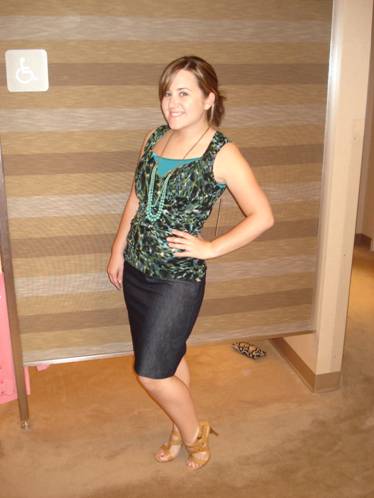 I LOVE this photo of Melodie! It shows off her fun and playful side--
you can't help but want to give her a big ol' hug! Right?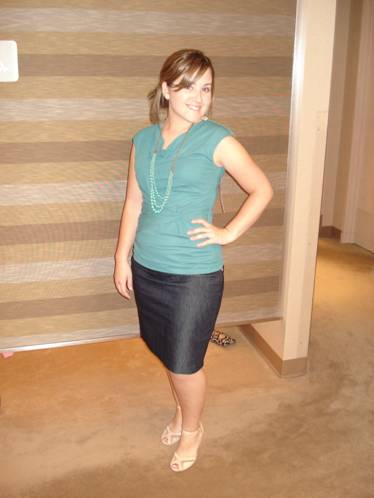 SURPRISE!!!
Melodie's family totally rocks! They surprised her by setting up a shopping day with me at the mall here in Charlotte. Everything was pre-selected for her the day before we met. (I was email all her sizes and lifestyle needs by her "sneeky" mom, Debbie)
Now, Melodie's off and running with a new sense of style!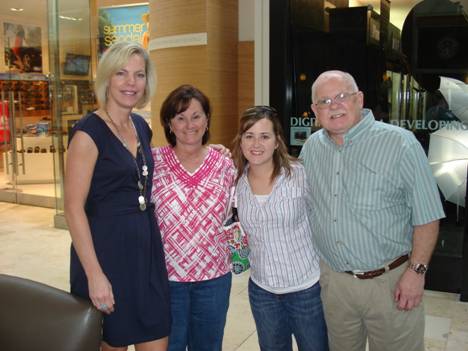 When you have your "Aha" moment and realize your clothes aren't doing you justice anymore…it's time to make some style changes to improve your appearance! I'm here to help you make those changes one babystep at a time.
Join me and update your style with a Personal Profile membership today!
Love, Leslie MSP
Let MissusSmartyPants help you dig out of your style rut!
Order a Personal Profile today!