Karen's Makeover
Karen is retired and loving her active lifestyle! She lives near the Blue Ridge Mountains in a unique resort community. She lives in a place where there's always something going on! From dinner theater, exercise classes, card groups to hobby clubs - so many activities that you could be busy every hour of every day! Her husband is a Shriner, which also adds to her already active social life.

One of her favorite activities is attending one of her three quilting groups. With one group or another, she is busy every week! Nearby Hendersonville, North Carolina is home to Georgia Bonesteel, the first woman to have a quilt show on TV. Because of her, quilting is quite popular in her community and surrounding area. One group she belongs to helps gives gifts to the needy on a regular basis. This past summer the quilters gave 67 quilts to 8-12 year old children with one or more parents incarcerated. In addition to gifts made, there are also Habitat, children in the hospitals, foster care, etc. that receive quilts from her groups.

Karen's active lifestyle and healthy eating habits have led to weight loss and more energy. (Believe me, she can walk fast in the mall—I went shopping with her and had to try to keep up! LOL!) Since retirement from her career as a Registered Dietitian, her professional business attire and lifestyle have taken a dramatic turn - to more casual. What else can you wear besides tees and jeans - isn't that too sloppy and often plain boring? She did not feel confident when it came to "what to wear" for chic casual attire. Karen wanted ideas for nice casual attire as well as dress up ideas for nights out.


These clothes are not emphasizing her great assets!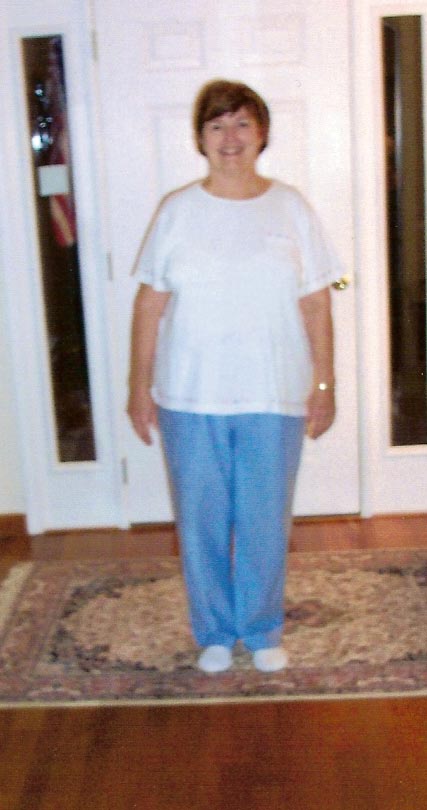 Karen is a "D" body type. She has narrow sloping shoulders and needed help with this particular dressing dilemma. She has a beautiful smile that reflects her personality and needed style tips to dress her new slimmed down body. What styles should she look for to show her individuality and inner charm? What should she wear for her body type?
She had been at one time a size 22. She now is a size 16-18 or 16W and often an XL in misses. As a confirmed non-shopper (before MSP) she had not shopped for so long she was surprised that these sizes fit her correctly! Now, Karen has style ideas that will allow her be more confidence and show off her vibrant personality!
She has purged most of her clothes because they no longer fit, and is slowly building a great wardrobe of mix-and-match pieces that fit her body type. Karen has always gone for quality over quantity in her wardrobe. Her main goal on our "Personal Shopping" trip was to acquire a nice pair of black pants that she could dress up or down. We did find several pants that fit nicely with the need for minor alterations. Karen does have some dressing challenges because she is in-between sizes (misses and plus sizes) and she is in-between petites and regular sizes! Sound familiar? A lot of SYSters face these dressing dilemmas and just need to have more patience and find the stores and brands that fit them best—and always, always be open to alterations! She now knows that shopping can be fun!
And here she is...look at this great smile!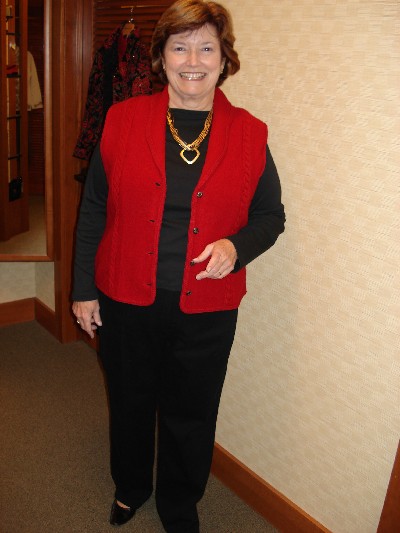 Karen is wearing styles for her body type that help slenderize her figure and bring the attention up towards her face. Her clothes now reflect her positive attitude!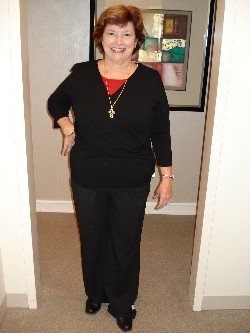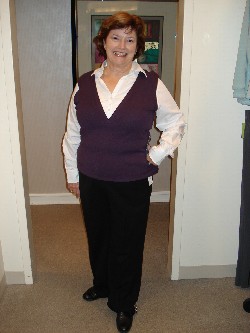 Having the correct fit for your body type can really lift your spirits!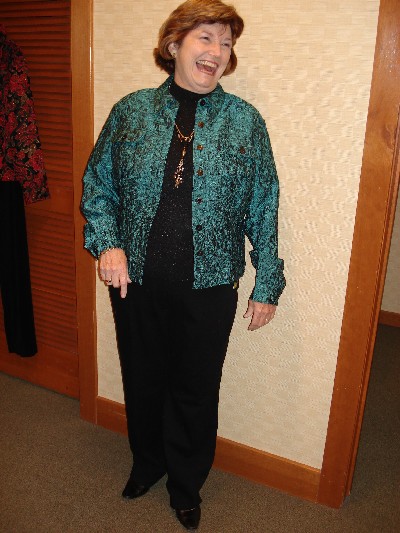 Thanks Karen for sharing your story with us! You were so much fun and I really enjoyed our day together!
You look fabulous!
Love, Leslie MSP

Here is what Karen has to say—
Dear Leslie,
I LOVED our day together and I learned soooo much. Inspiration is putting it mildly! The next day I went shopping (yes, me, the non-shopper!) and knew just what to look at. I purchased another pair of slacks. I looked at other things, and said "no, I don't have any thing else to go with them, so skip it for now"! I do have to shop or alter quickly - I went to put on slacks yesterday and realize all my good ones have been sent to the Thrift Shop. All I had were my 2 new pairs and they have to be shortened.
I could not be happier with the clothes we purchased but even more, all the knowledge you imparted as we passed clothes rack after clothes rack and shopper after shopper. As we did some "shopper observing" on what was good or not so good, I learned a great deal. This morning in Church, several people commented on how thin I was getting. I know I was thinner, but the clothes also showed off my new figure. I mentally feel much more prepared to shop because I know what I should be looking for to make me look good.
I told our Weight Watcher's Group about you and how to get to your web page so you might have many new clients from this area. I also intend to sign up my sisters. Do you do any thing with teenagers (in your spare time!)?

Thanks again Leslie. You also gave me an incentive to be 5 pounds thinner by Christmas...not an easy chore during the holiday season. Everyone thinks I am a little (just a little) crazy about the way I speak of MissusSmartyPants!

Appreciation, hugs, and blessings,
Karen


Click here and order your Personal Profile