11-13-23 THIS WEEK: Styles That Slim
November 13, 2023, 3:03 pm by MSP
Some things in life are inevitable. Like taxes and getting older. Another thing that happens, as we age...we tend to gain a little "extra" around our middle! Between dealing with an over-scheduled life, and natural shifts in our hormones; before we know it...we end up with "a little extra" around our waistline. We can do our best (with diet and exercise) to combat the extra jiggle in the middle-however a really BIG part is dressing to slim.

What is the best way to dress when your waistline is somewhat undefined? Should you continue to squeeze into what you've always worn, or hide under something loose and baggy? The correct answer is NEITHER. Both are poor choices. Both (squeezing into tight clothes or wearing baggy ones) will make you look bigger than you really are! I have a few better ideas to slim your waist.
The right styles will enhance your shape...even if you have some extra weight around your middle...
The key is choosing the right clothes and understand "camouflage" basics!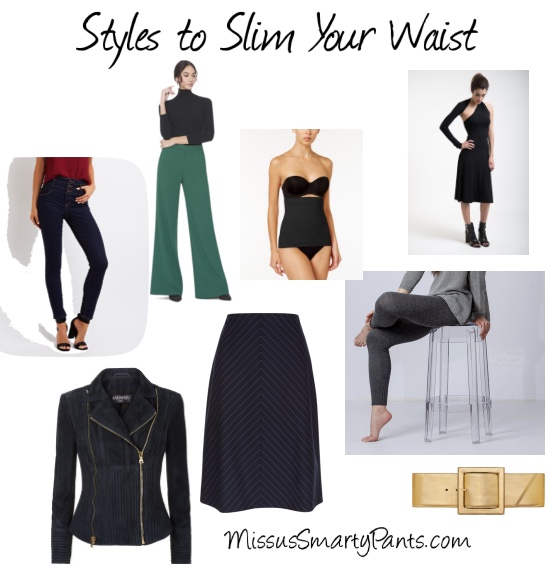 Dressing slim requires a new approach to dressing...

Our bodies have changed since our teen years—and therefore our style must change too. We can't use the same style-sense we once relied on.

Does a bigger waistline mean style is a thing of the past? NO! Do not "hide" under boxy, unstyled clothes. Instead, learn new dressing techniques to slim and balance your shape--and that includes learning how to minimize your waistline. You'll be amazed how wonderful you feel and how fabulous you look!

While your waist got bigger you got the "fashion doldrums". Time to lose it! Start dressing your womanly shape in a new beautiful way. Women's bodies change, our waistlines do expand...and that means new style techniques are needed.

What slimming styles do I recommend? For starters, I always recommend investing in a quality pair of fabulous fitting jeans. By finding jeans that flatter your shape (with plenty of stretch, yet retain their shape) you can really up your style quotient...instantly! The Not Your Daughter's Jeans (NYDJ jeans) will "lift and tuck" your tummy and booty. Yes, they are expensive…but they are so much cheaper than a real tummy tuck, LOL!


My favorite denims for slimming the "tummy" are a worthy investment!
(they have a higher waistband-so slimming)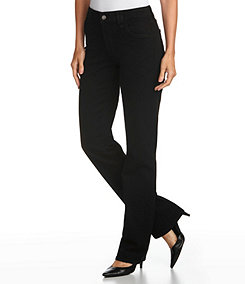 Marilyn Straight Leg Jeans-misses and petites


Modern marvels of clothing with stretch and structure can do a lot to slim us, so we should take advantage. But, this doesn't mean we must wear heavy-duty Spanx everyday for the rest of our days! Far from it. By dressing in ways that make us look slim, and more balanced, wearing styles that minimize our middles will make us feel our best. That's what fab style is all about-being the best YOU.


Love, Leslie MSP
Check out the lastest "Shopping Guide and Article Combos" for your body type
---
MSP's Weekly Style Mission
Weekly Style Mission: wear your pants at the CORRECT length.
Not sure what the correct length is? Read on--

Take 30 minutes and try on all your pants (with the shoes you typically wear them with). Evaluate each pair of pants by standing in front of your full-length mirror (you do have one, right?).

FYI: This Style Mission will help improve your body proportions! Many women simply don't know what the correct length of their pants should be. Most often women wear their pants too short! Beware: wearing pants too short can make you appear shorter and heavier. The longer the leg—the leaner the look!
These pants are too short. You can tell because you are able to see the whole shoe...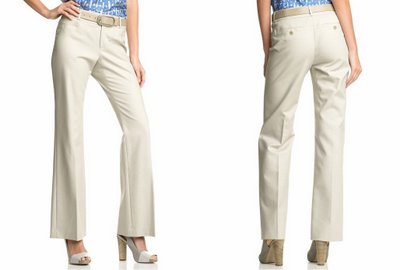 CORRECT LENGTH: Your pant hemline should fall between the top of the heel and mid-heel (heel of the shoe, not heel of your foot).
You want the pant leg to hang straight and smooth and even slightly rest on the shoe in front..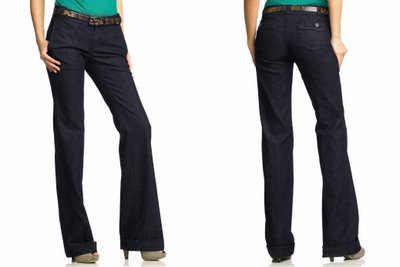 Pants are the correct length when you can hardly see the shoe. When you walk your pants naturally ride up a bit and that's when your shoes become more visible.

What do you do when you wear both flats and high heels? You need to commit to a certain length with each pair of pants. You simply can't wear the same pants with your flats and with your heels. This means you'll need multiple pant lengths since you have many different shoes in your wardrobe.

Love, Leslie MSP
---
What SYSters are Saying
"Thanks for the visual examples..."
Dear MSP,


I've been a SYS sister for two years now and I dress more stylishly now than I ever have. The two most important changes you've helped me make are to know what basics I need to look put-together and to wear body-skimming clothes – no baggy shirts, pants, or dresses. My waist is almost more short than petite sizing, so shopping was understandably frustrating for a long time. Baggy shirts were almost my only option, dresses never fit quite right, and a good-fitting jacket seemed nonexistent.

Thanks to changes in the clothing industry (more petite-sized clothes available in more styles) and YOUR help opening my eyes to the options, I've found a great jacket to wear with pants – something I thought would elude me forever. Thanks for giving us visual examples of the principles you're trying to teach us and for encouraging us to keep trying. 


Your Style Sister, 
Erin in CO