14 New Ways to Work With What's in Your Closet
November 9, 2023, 11:09 am by MSP
14 New Ways to Work With What's in Your Closet


Here's how to work with what you've got in your closet right now:

__Wear your LBD (Little Black Dress) with unusual accessories or colors. For example, wear a dark brown belt & dark brown accessories for a sophisticated look w/ your LBD.

__Mix dressy and casual items together--in one outfit. Why not? It's an uber-chic thing to do.

__Wear unmatched items in one outfit. The 'ground' the outfit by wearing matching shoes, belt and handbag all in the same color.

__Grab your LBD again. Now add a colorful/bright brooch at cleavage/neckline and wear matching bright shoes! What a cool way to bring "zing" to your same LBD!

__Add unique shoes and handbags to your basic wardrobe. Can a gal ever have too many shoes? I think not. (Need more? Check out quality consignment stores for top brands at a discount)

__Wear a hat! So style-savvy and sophisticated it's not even funny. All eyes are on you when you walk in wearing a hat and fashion-forward attitude. Tie on a scarf or pin on a brooch for added 'cool factor'.

__Dress up a plain sheath dress (straight or A-line) with a colorful wrap sweater or wear a lacy top OVER the dress! (makes the dress look like another skirt you own). Consider adding a skinny belt to complete your look.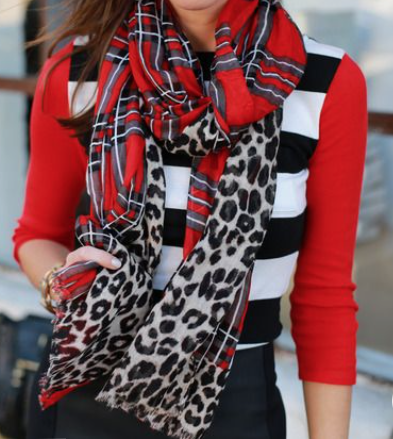 __Add a vest, bolero, or short jacket to a plain dress. Think interesting layers over your dress.

__Wear a scarf in your hair or around your wrist for a funky-cool vibe.

__Belt it. Wear a belt over your thin jackets and sweaters. Or belt up high under your bust.

__Mix styles. Mix romantic (lace/ruffle top) with rigid (cargo pants) and a structured handbag. Keep in mind, ONLY ONE style should be dominate, while the other style is 'touched' upon.

__Layer UNDER your sleeveless dress! Add a button-down blouse or a 3/4 sleeve knit shirt for an interesting layered look!

__Anchor unusual dressing combinations by having everything in the same color palette or matching all the accessories (all black or brown for example).

__Shop off the beaten path. Shop unique stores (from Goodwill to Burberry--and everything in-between). Be picky and only buy what you love and know you will wear!

__Know the trends. Learn about the current trends, then translate them into your wardrobe.
Click on your body type and select from "shopping guide and article combos" just right for you!