10-30-2023 THIS WEEK: Cold Weather Style
October 30, 2023, 2:46 pm by MSP
The temperatures are starting to drop, and there's a chill in the air. It's time to add a warm and stylish winter coat or jacket to keep the cold chill away.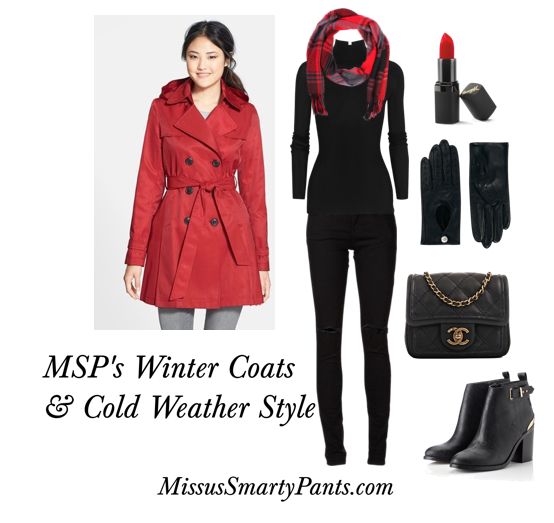 Here in the south, the need for a heavy winter coat only lasts for a few months. However, in northern climates, the need for a winter coat may include several super-warm ones that will be worn into the early spring.
What winter coat (or cold-weather jacket) will you be wearing? Will it be last year's coat, or are you in need of a new one? If it is last year's coat...is this coat a flattering style for your body type? If you need help deciphering winter coats and jacket trends, this article is for you. It's all about the right jacket or winter coat style for each body type and dressing issue.
Whether you want a stylish new jacket or need a thick winter coat...this week you'll find your best styles!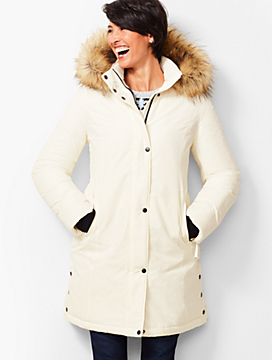 What coat styles should you choose from? Since a winter coat is an investment (not an impulse buy) you'll want to get the most bang for your buck. You'll want to invest in a winter coat that flatters your shape. You'll want to pay attention to areas of fit in the shoulders, and with the selection of fabrics you choose as well as your jacket/coat length. A little of style knowledge now will make your investment pay off for many years to come!

Your winter coat is the first thing people see! In the winter, you rely on your coat (often daily) to make a good first impression. What type of impression does it give off? Does your coat say you are well put-together, or does it say worn-out and tired? It certainly protects you from the elements, but it also can give off a good first impression-make sure yours is working for you.

Get a winter coat just right for YOU. Don't think a coat is just something you wear over everything when it's cold out. How it looks matters too! Think about your body shape when selecting a winter coat you'll wear all season long. Is your shape curvy or straight, is your bust full or small? Are you slender and tall? Perhaps you are petite. There are particular styles that are best for each shape and dressing issue!

Whether you need smart-everyday casual or a business-elegant coat; you'll want the right style to complete your wardrobe. Also, use this guide to help you decide if you like the winter coat you already have!

Gain style confidence with MSP Shopping Guide and Article Combos!
---
MSP's Weekly Style Mission
This week: Break the fashion rules!
Are you in a style rut? Want to renew your wardrobe and perhaps give yourself a "younger" looking vibe? Well then, ditch the "old" fashion rules and try something new this week.
Do you remember these "rules"? Match your shoes to your handbag. How about wearing eye shadow color the same as the shirt or the dress you are wearing? Dated! How about not wearing white after Labor Day? Or, never wearing brown and black together. Let's forget these OLD rules! They no longer apply.
Pssst...guess what?
"You don't have to color inside the lines to have a pretty picture". Style is the same way.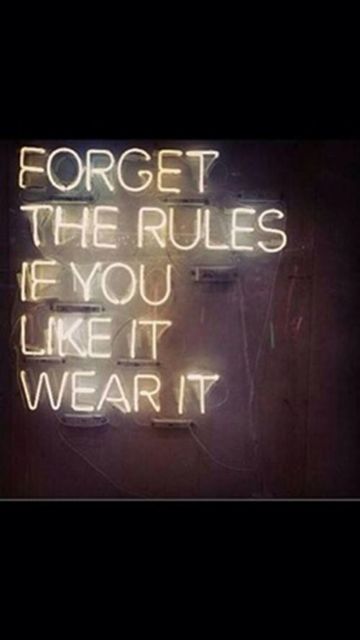 Start by breaking these 5 "rules"...
un-match your handbag with your shoes. Instead, choose a bright colored handbag.
Wear a neutral eye shadow that compliments your eye color or learn how to apply makeup in a more youthful way (tip: less is more).
Wear white because you want to wear it and the fabric (thicker twill) is fine for any season.
Mix browns and blacks together by adding a touch of animal print with any of your accessories.
Add a skinny belt over your top because it would look extra cute OR wear a new accessory and this time make it something BOLD!!!

How are you going to break free of the fashion rules that have been holding back your style?

Love, Leslie MSP
---
What SYSters are Saying
Dear Leslie,
Can you address the issue of how where your jeans tucked in? How do you get them to stay neat;best style to use, any quick tips for doing this... Thanks Vicki
MSP HERE: Dear Vicki,
First of all, to successfully wear your boots tucked into your jeans you should choose jeans that has narrow pant legs. Consider a skinny or straight denim. Avoid the wider pant legs because they just won't look right and quickly get baggy at the knees.
Do an Amazon search for "jean straps". These removable and adjustable stirrups minimize bunching and make pulling on your boots over your jeans a breeze.