7-3-2023 THIS WEEK: What's Wrong With My Outfit?
July 3, 2023, 3:18 pm by MSP
Oh no!!! Something's gone amiss with your outfit...but what can it be?
What could possibly be wrong that is making your outfit look so bad? Something is off, but you can't quite put your finger on it. Sometimes we can't see the forest through the trees. Well, I can't help you with the 'tree' part...but lucky for you...as your fashion stylist, I can help answer your burning style questions!
I'm going to tell you (oh-so nicely, of course) what's wrong with your outfit. More than likely something or several things you are wearing are proportionally wrong for you. This week you'll get the answers you need to fix all your style faux pas.
This week: MSP answers to your most perplexing style questions!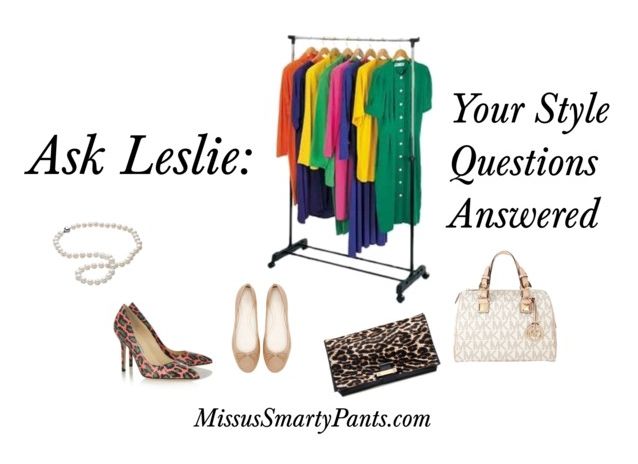 From time to time, every woman comes across a style quandary that she simply can't figure out. Hey, it happens. One day you feel pretty confident with your style...then all of a sudden, BAM...you've got a dressing dilemma!
This week your top questions like these will be answered:
What is the best skirt length?
Shoes AND hose (can I wear them) what are the rules?
To tuck in--or not to tuck in our shirts? How do we know what is best for us?
Large chest and short waist...what are the best shirt styles?
What is the right hem length for skinnys when wearing flats?
Skirts. What is the most universally flattering style?
Belts. How and when to wear them--or not? Rules for wearing belts so you look your best.
ASK LESLIE your style questions!
MSP SYSters: Tell me, do you have any style question(s) you'd love to have answered? Post your questions on the MissusSmartyPants Facebook page...I'll be checking it every day this week (until Wednesday)!
ORDER Your MSP Weekly Personal Profile and Start Your Style Journey Today!
---
MSP's Weekly Style Mission
Dear SYSters,

Want to feel style success with your wardrobe? Of course you do...so here's the perfect Style Mission for YOU! It's by far the best way to improve your style one babystep at a time.

This week's Style Mission: Concentrate on getting just one (1) missing wardrobe item you really need.

For example, if it's a great fitting jean that still eludes you, this week go and search (and try on lots) of jeans—and only jeans!. Ignore the cute blouses hanging nearby, stay away from the clearance table of sweaters, put your "style blinders" on and stay focused on what you really need! Your wardrobe will thank you when you have added in a necessary wardrobe basic that you will wear over and over again.
I have these fab jeans! Be sure to buy them a bit snug. They offer fabulous fit at an affordable price!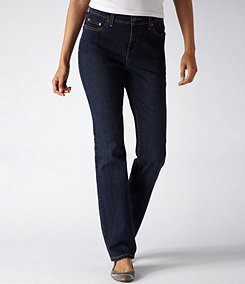 NYDJ Marilyn Stretch Straight Leg Jeans (petites, misses)


By filling in the gaps your wardrobe will have what you really need. This in turn helps you to be more stylish--everyday. Remember, it's the great fitting basics that are the "glue" to your wardrobe. Stay focused, fill those gaps and your style will FLY!

Love, Leslie MSP
P.S. Perhaps you have lots of jeans (for example) yet NONE of them fit you well. Take this week's style mission and have a few of them altered in the waist, length or whatever else needs fixing/adjusting. You'll save a lot of money and quickly love your jeans again!
---
What SYSters are Saying
Dear Leslie,

I just wanted to write to say thank you for your wonderful service, I signed up at the beginning of June, and am I ever glad I did. It has given me the tools I need to understand what types of clothing styles really work for me and why. I especially wanted to thank you for suggesting getting fitted professionally for a bra, what a difference, I learnt so much about what a good fit really feels like. I don't think I have ever had a properly fitting bra – what a difference it has made in my posture, shape and confidence. It's amazing, it's like a got a beautiful, young body, just with the right bra. I also loved the idea of trying chandelier earrings, they are so beautiful, a style I have never tried before and I love wearing them!
Thanks so much for your wonderful work and service!
With warmest regards, Jasmine
Help! I have style questions!!!!
Hello to all of you at Missus Smartypants!
Thanks for all of your help and encouragement. This 60 year old grandmother is breaking out some style, including showing some (modestly) daring cleavage and some fun sporty looks. My husband is loving it!

I have two suggestions for you to consider as topics-
First, belts. In the past I used belts to keep things up or to get a finished look for clothing that came with belt loops. Now I am experimenting with belts that are worn as adornment, like over a blouse that needs a suggestion of waist. What belts go with which body types, worn how? Thick? Thin? Use of colors?
Second, as a 'b' whose belly and butt are not currently pencil skirt friendly, what skirts are a good alternate? Are there skirts that are universally flattering? Wider waist bands versus thinner?

Thanks, and please keep up the good work! Lots of us enjoy and are heartened by your weekly offerings
Warmly, Nancy
MSP HERE: Dear Nancy,
Thanks for your fabulous questions! I'll answer both of these in quite a bit of detail + photos so you see examples. Stayed tuned because I'm answering BOTH questions in this week's Style Article "What's Wrong With My Outfit?" (it will post in all 5 Body Type Personal Profiles on Thursday)!
Love, Leslie MSP