6-19-2023 THIS WEEK: What to Buy Now at the Summer Sales
June 19, 2023, 1:37 pm by MSP
It's Monday and the start to a new week! Let's kick it off by learning how YOU can make the most of the summer sales.
"Buy the best quality you can afford"...this is the mantra every MissusSmartyPants SYSter knows well. They know this is the best way to build a quality wardrobe, because a good core wardrobe is key to fab stylish outfits. But, what if you could purchase these top-quality pieces...yet at really low prices? Well then, that would be even better!
Shop now. The summer months of June and July are sales months. This IS the best time to score quality pieces at bargain prices! Stores are just beginning to mark-down items so they can clear out most of the summer merchandise. Soon, early fall clothing will replace summer ones. Mid-season gives you deep discounts-yet you'll still wear these basics all the way into fall. Ladies, this is the time to score! (FYI: Fall clothing arrives in stores mid-August...yeah I know, it is crazy because it's still so hot).

It's time for summer sales!
Can you say up to 70 percent off?!
The stores are beginning to mark down in-season merchandise!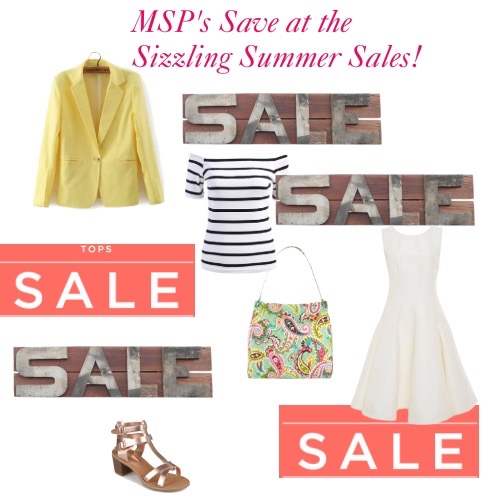 Stock up. However, it is essential to know what to buy so you can take full advantage of the summer sales. If you don't have a basic wardrobe plan or a list of needs you might buy something impulsively just because it's at a "bargain". Know what you need before you go.

Keep these savvy-shopping strategies in mind before bargain shopping:

1. Know what a bargain really is. A bargain is only a true bargain if it has value to you. A bargain must equal value (not necessarily the price paid). So, if an item is something you would purchase at full price, if it is something you need, then it's a bargain at a discounted price because it holds VALUE to you.

2. Take a deep breath. Just like putting down your fork when you are getting full, if you take a moment and pause you might make the decision to not purchase an item because you don't really need it. Pause when you find yourself getting caught up in a "saving money" frenzy. Before going to the check-out counter ask yourself: Do I love it, am I really going to have it altered, and do I have at least three things I can wear it with?

3. Shop it now. Timing is everything when it comes to hitting the sale racks. It is best to shop mid-week (that's when they start marking down merchandise) and become friendly with the sales staff because they know when the blouse you love will be marked down. Right now is the time for summer markdowns for the entire family. Stock up now on summer basics because most kids want to wear new shorts back-to-school—not wool pants!

4. Read the fine print. Sometimes you just need to try it on at home to decide if it is really a good bargain for you. Be aware of the store's sale policy prior to purchasing. At some stores, SALES ARE FINAL!
This Thursday, I'll share this complete article "What to Buy Now at the Summer Sales" in all 5 Personal Profiles. IT CONTAINS THE LIST OF SUMMER BASICS TO BUY NOW.
These purchases you buy now (at deep discount) will be ones you'll be able to wear all the way into fall (meaning: you won't make as many purchases come fall). Buy smart now; save more in the long run.
Learn how to shop the summer sale racks so that you reap the best merchandise at lower prices. These tips help you get the best value for your hard-earned dollars. Wise purchases now extend your summer wardrobe into the fall!


Are you ready to improve your style? Join MSP today!
---
MSP's Weekly Style Mission
THIS WEEK: Wear your "signature style"

What style describes you best? Are you a classic woman, a conservative, funky, preppy, or perhaps a romantic? Maybe even you're a mixture of several dressing styles?

It is important that your clothing truly reflects who you are as a woman. If you purchase clothing that is trendy but not "you" they will only hang in your closet and become a waste of money.

Know your "signature style" and don't venture too far from it. When you wear your "style" you always feel comfortable in what you are wearing. It will also saves you money by not being a victim to all the seasonal trends.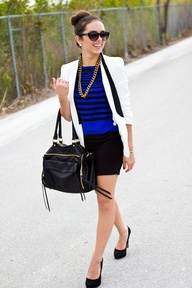 Take this week and think about your style.
Decide how YOU define your style--then rock it, SYSter!

Love, Leslie MSP
---
What SYSters are Saying
Help! My Feet are 2 different sizes...
Hi Leslie,
What to do when each of one's feet is a different size? (about a half size difference) (and also they are both a little wider than regular shoes.) It seems impossible to find pumps at all. I need a wide toe box for sure.

I am beginning to think that I will need to resort to having my shoes made at a shoe maker or buying 2 pairs of shoes in different sizes

(one size for each foot) each time I buy shoes.

Thanks for what you do! I am totally enjoying all the style advice you compile and send our way!!

MSP HERE: Dear Lark,

Up to 60% of people have feet that are not the exact same size. Of these people, around 80% of them have a larger left foot! Interesting, huh?

The key is to buy to fit your larger foot if you are only off half a size. An heel insert can help compensate for the smaller foot.

If however, you are a full size off, you will need to buy mis-matched shoes. You can "google" buying mis-matched shoes online. If you have an issue with shoe width, you may need to add an insert into one of the soles.

I hope this helps. You may find that buying long lasting quality shoes is worth the investment since finding a good fitting pair is difficult. You may want to keep your shoe choices classic and instead highlight other areas on your body. This way you will still look current and up-to-date with trendy tops, accessories, etc.

Hope this helps! Love Leslie MSP

"

MSP--please tell Lark, the lady with 2 different shoe sizes, that Nordstrom's lets you buy shoes that way. Mstevens"
Style Recipes eBook...
I must be one of those unsophisticated shoppers --poor me! (I kid!) Unfortunately, it has taken me a lifetime to finally figure out my wardrobe and my style.
Without knowing my body type, I had finally begun to identify the type of cuts and colors that worked best on me, but I always leaned toward the basic things in neutral colors which I found pretty boring, but I didn't know what to do about it. Occasionally, I would stumble upon a cute combination, but I was frustrated that I couldn't do it all the time.
Fortunately, this website and the style booklet helped me figure out what I was doing wrong (and how to get it right), and I am so excited! Some people have the knack and budget for this sort of thing and don't really need help, but for those who don't have the knack or the budget (or who could not in good conscience spend $700 for a pair of boots no matter their budget), it has been a blessing.
I am having a blast now rediscovering my wardrobe, putting outfits together and filling in the gaps. I now shop with purpose, and I try to buy the highest quality with the lowest price, so I can look cute and still have a clear conscience. For me, this little booklet was more than worth the price!!! Cyntneal