6-26-23 THIS WEEK: Three's a Charm
June 26, 2023, 2:43 pm by MSP
Looking for a new way to get your style to come together? I've got just what you are looking for! Use Three's a charm. It's about adding one extra item to any basic outfit. It's the "secret sauce" that takes what you wear to the next level.
I am sure you've heard of the "five second rule". You've probably used it before, right? It is where you have just five seconds to scoop up a morsel of food that has fallen on the floor. If you can grab it within five seconds, you "think" it's still safe to eat. Of course, there is no scientific evidence to support that food is not contaiminated within five seconds, but it makes us feel better about eating something right off the floor. On the other hand, we can say it's proven theory; when esembling an outfit, the "third piece rule" really works! Three's a charm, as a matter of fact.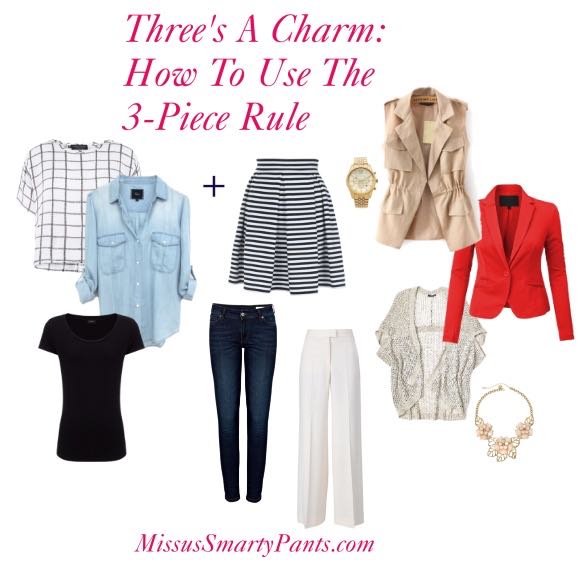 The third piece rule: essentially its a rule you apply when dressing. The rule is; your outfits should always incorporate three pieces, not including your shoes. Your top and bottom are considered first and second pieces, leaving your third piece to be a extra outfit element. This week you will learn various ways to apply the "third piece rule" to every outfit-from super-casual to dressy.
If you're in doubt about the third-piece's power; check out these outfits shown this week! I'm going to wow you and knock your socks off, lol (nothing like a good clothing pun)!
Order your MSP Personal Profile today and get this week's article: Three's A Charm + Shopping Guides for your body type!
---
MSP's Weekly Style Mission
Dear SYSters,

Either your clothes create a good impression, or they don't. With that said, I can't help but jump on my soapbox (again) and mention the importance of wearing the right clothing styles for your body type! That's what it's all about ladies; the right fit and styles for YOU.

However, I know women often "buy into" the current season's trends even though they might not be the best choices for their body type.

This week's Style Mission is to de-clutter and remove from your closet clothes that simply don't flatter you...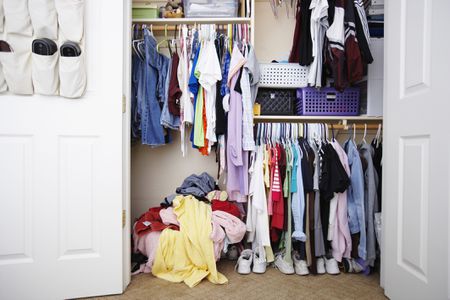 You're NOT wearing 'em...bless someone else with them...Out they go!


Some "trendy" styles will NEVER look good on us—no matter how hard we try—and that's a reality. Certain styles can make us look "fat" or out of proportion.
Use these guidelines to help you decide which garments need to go:

Shape of garment: items like mumus, baby doll dresses, full-pleated skirts, boyfriend blazers (long & boxy and from the 80's), very short skirts.

Fabric texture: wide-whale corduroy, shiny metallics, taffeta, boucle, satin, quilted fabrics, wide horizontal stripes, large loud prints.

Color: overly bright neon colors, any color that makes you look sick or washed out.

Garment fit: anything too big or too tight. Anything that is an "odd" proportioned and you never looked right in it (like capris perhaps?).

This week...please remember: Either your clothes make a good first impression or they don't. So what's still in your closet that isn't doing YOU any fashion favors?

Love, Leslie MSP
---
What SYSters are Saying
MSP, I am a long time subscriber who still appreciates your good advice and seasonal updates.
I was recently in the hospital for knee replacement surgery and realized how deeply your philosophy has penetrated. When I was packing for my 10 day stay (between the hospital and rehab after), I knew I'd need practical, comfortable clothes that were easy to get into and out of. Shorts and t-shirts filled the bill, but it didn't but a few more minutes to throw in some jewelry and scarves. I was quite a hit in Physical Therapy when I showed up with a little bling and lots of MSP style. It raised my spirits too and was especially important to me because I had my surgery in the hospital where I have worked in the past. The biggest hit were my slipper socks that look like Dorothy's Ruby Slippers. Quite a switch from the brown ones the hospital issues.
As you frequently tell us, style doesn't have to cost a lot or take a lot of time. And believe me, when just finishing getting dressed required a nap, adding a necklace or scarf and earrings wasn't too much additional effort. Thanks again for everything you do! -Lynn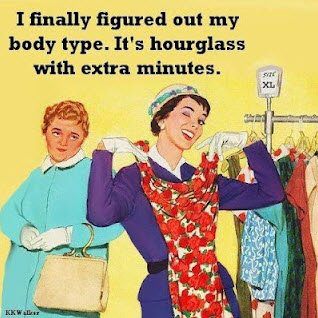 Dear MissusSmartyPants,
I wanted to let you know I gave a copy of the closet purge (from your front page) to a co-worker last week. She told me today she did it over the weekend and she was totally thrilled with the results. She said it was a lot of work and a whole weekend but, she took out 8 large garbage bags of stuff to donate and put together the outfits in her closet the way you said to do it. She found things she did not even know she had, and she found all the stuff she knew she had but could not find. She said her closet rod was ready to fall it was so overfilled and now it is great and she is so happy. She could not wait to tell me today, so I thought I should tell you.
You are a blessing and my friend appreciated your advice. She sure appreciates what you made available and thanks you for your help. She is 62 and works full time and cares for her mother who lives with her. You helped make things easier for her.
Thank you!!! Corrine