6-5-2023 THIS WEEK: The Right Handbag
June 5, 2023, 1:19 pm by MSP
Yes! You found the perfect handbag. Or, so you think you did.
Most women have a 'check list' of needs they expect from a handbag they are considering. From a certain amount of compartments (one for cell phone, one for keys, another for personal items, etc.). You are also probably considering a certain size, or a particular color, etc. Does this sound like you?
However, did you stop and think about the SHAPE of your handbag? Is it right for your body type? How about the handbag's size in relation to your own body size? Does it matter? Which styles are best; and which ones should you avoid...and why? So many questions-all answered in this week's article.
Most of us carry a handbag every day...and that means it should flatter our body!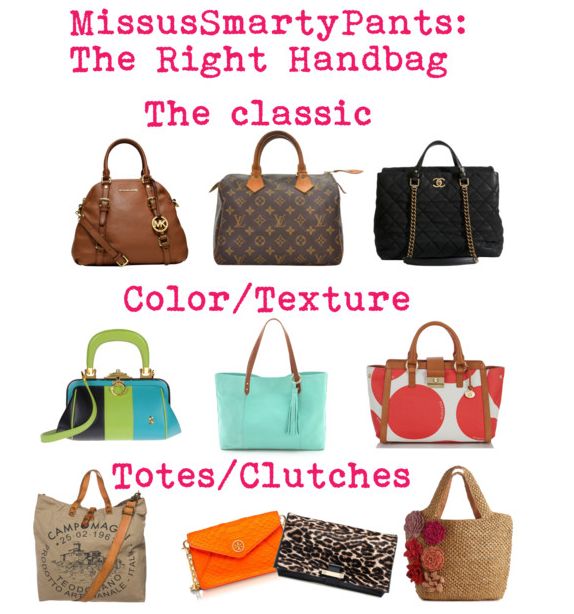 Get the right handbag! This week at MissusSmartyPants, you will find handbag styles for you. Choosing the wrong handbag can make you appear larger and/or out of proportion (not a good thing)...but the right one can actually enhance your shape! How good is that? Since you're going to carry a handbag everywhere...make it count!!!
Order a MSP Personal Profile today and get this week's style article: The Right Handbag + the 3 other recent style articles + Shopping Guides based on your body type
P.S. Complete article posts for members this Thursday!
---
MSP's Weekly Style Mission
Dear SYSters,

Either your clothes create a good impression, or they don't. With that said, I can't help but jump on my soapbox (again) and mention the importance of wearing the right clothing for your body type! That's what it's all about ladies; the right fit and styles for YOU.

However, I know as women we often "buy into" the current season's trends even though they might not be the best choices for us.

This week's Style Mission is to de-clutter and remove clothes that don't flatter you...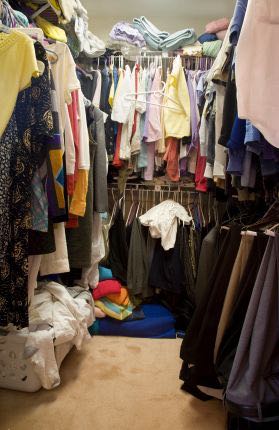 You're NOT wearing 'em...so bless someone else with them!


Some "trendy" styles will NEVER look good on us—no matter how hard we try—and that's a reality. Certain styles can make us look "fat" or out of proportion.
Use these 4 guidelines to help you decide which garments need to be removed from your closet:

1. Shape of garment: items like mumus, baby doll dresses, full-pleated skirts, boyfriend blazers (long & boxy and from the 80's), very short skirts.

2. Fabric texture: wide-whale corduroy, shiny metallics, taffeta, boucle, satin, quilted fabrics, wide horizontal stripes, large loud prints.

3. Color: overly bright neon colors, any color that makes you look sick or washed out.

4. Garment fit: anything too big or too tight. Anything that is an "odd" proportioned and you never looked right in it (like capris perhaps?).

This week...please remember: Either your clothes make a good first impression or they don't. So what's still in your closet that isn't doing YOU any fashion favors?

Love, Leslie MSP
---
What SYSters are Saying
Dear MissusSmartyPants,
I wanted to let you know I gave a copy of the closet purge (from your front page) to a co-worker last week. She told me today she did it over the weekend and she was totally thrilled with the results. She said it was a lot of work and a whole weekend but, she took out 8 large garbage bags of stuff to donate and put together the outfits in her closet the way you said to do it. She found things she did not even know she had, and she found all the stuff she knew she had but could not find. She said her closet rod was ready to fall it was so overfilled and now it is great and she is so happy. She could not wait to tell me today, so I thought I should tell you.
You are a blessing and my friend appreciated your advice. She sure appreciates what you made available and thanks you for your help. She is 62 and works full time and cares for her mother who lives with her. You helped make things easier for her.
Thank you!!! Corrin