5-29-23 THIS WEEK: 1 Item, 3 Ways-Summer Edition
May 29, 2023, 3:06 pm by MSP
One Item Three Ways-Summer Edition!
Back by popular demand! The return of "One Item, Three Ways".
This week's article gives you a fun variety of outfits by starting with one item directly from your closet. Find out how to wear each particular item, three different ways. Talk about maximizing your wardrobe basics-this will amaze you how easy it is to be stylish with only a few pieces!
Quick! Can you think of 3 different ways to wear this knit skirt?
Relax, MissusSmartyPants has 3 fab ideas right here!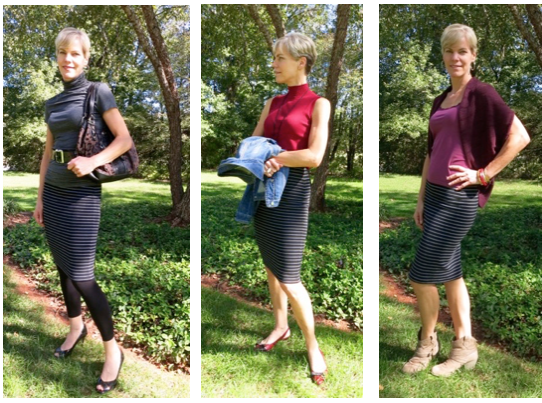 No need to buy a thing, let's work with what you have! Let's take the same summer basics we wear each day-and get creative (remix them). Let's find NEW ways to wear 'em. When you 're-mix' your wardrobe into new outfits you expand your style-making ability & you save money at the same time. You also realize you need less clothes than you originally thought!
This week, I've created a visual presentation to inspire your summer style. I've taken several items from my own closet and mixed and matched them to create "new" outfits for a variety of occasions--from weekend casual to weekday business.
I'll guarantee you will see outfit ideas you never dreamed would go together! Use my creative ideas for your own unique outfits coming from what's in your closet!
Love, Leslie MSP
Discover the secrets to stylish dressing! Join MSP today!
---
MSP's Weekly Style Mission

Dear SYSters,
This week's style mission seems appropriate since this week's style topic is about re-mixing your wardrobe (using one item three different ways).
This week's style mission: Mix It Up!
By organizing and/or culling through your closet you'll probably create a mess. But it's okay. Why? Because when you put everything away you will rediscover clothes and accessories you probably forgot about. By seeing your stuff in a new light, you can create new combinations with each garment and different accessories.
Think out of the box. This week, mix fashion and expensive jewelry together for a unique look (like shown below). For example, layer a pearl necklace with a long locket, or wear a big-faced watch with a bright-colored bangle bracelet. Don't forget to also play around with other accessories like: belts, scarves, shoes and handbags!
Why not wear several necklaces together for a unique look?
Create your own version of this look...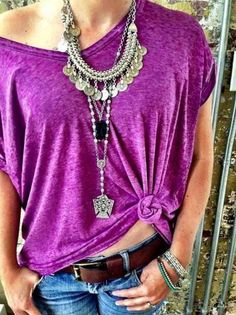 BONUS: Record your new stylish outfits for future reference! Use notecards or take photos using your phone to keep track of outfits you make. This photo gallery (or outfit log) will help you on mornings when you are short on time.
Love, Leslie MSP
---
What SYSters are Saying
MSP HERE: Dear SYSters,

Below, a new MSP subscriber emailed me about rebuilding her style. She's excited because she's starting to feel better because she is now looking better.

She asks some good questions about improving her style that can help many other women; so I figured I'd answers her questions here today.

Keep in mind, it does not matter where you are in life. From a young mom to a retired woman—TODAY is a very good day to dress yourself with love and with more self-confidence.

Love, Leslie MSP


Dear MissusSmartyPants,

I've been a subscriber since June, and I think I'm 'getting it'! The other day I tried dressing 'casual chic' with items already in my closet and while I may not have hit the bull's-eye, at least I was on the board! I was at the mall today and for the first time in my life, I was consistently seeing how clothes can work together to create outfits! This is so exciting!

I was also raving about you to my friend, and I think she will sign up too! We're both new moms with kids under three, but we still want to look our best without spending a lot of money. For us, that means finding pieces that work multiple ways, and also are practical and comfortable since we're moving around a lot with the kids.

I do have a question: I live in a warmer climate and am struggling with layering for fall. In summer when it's 90 or 100 degrees I don't want to wear a jacket, sweater, or scarf, and most of the year it's over 80 degrees and I don't really want to layer then either! I'm an A profile which I guess means no thin strappy tank tops, so I feel like that limits my options. Do you have any advice for me and others in warmer climates?

Also, I would love to see a 'baby steps to MSP' similar to Flylady's babysteps. As someone who has had no fashion interest or sense for most of my life, it has been a bit overwhelming to try to figure out where to start. I purged my closet and found some great jeans that fit me well, but I'm not sure where to go from here to figure out my style or round out my wardrobe.

Sorry this is so long, but I have to also say thank you so much for what you do! I don't have the time to hunt down the fashion tips you provide in your e-mails, so if it weren't for you and FlyLady, I would probably still be in my maternity sweats and flip-flops several years from now! You have both helped me change my life for the better.

Thank you so much!
Please sign me: New Mom in Texas


MSP HERE: Dear New Mom in Texas,

I'm so happy to hear you are 'getting it'. Style certainly does take some trial and error and we don't always get things 'right' every time, and that's okay.

I believe that every morning when we decide what to wear, it is much more than just putting on clothes, it's an opportunity to express who we are.

To answer your style question about dressing in a very warm climate, you are limited in your choices due to the heat. Instead of trying to wear scarves, lightweight jackets and such, it's best to play up your style with COLOR. For example, look for ballet flats in bright colors, large rainbow striped totes, colorful bottoms or floral skirts. You get the idea: wearing less is more when the heat is on.

I understand when you start a journey to improved style; it can be a bit overwhelming. However, if you use FlyLady's philosophy of "one babystep at a time" you will begin to have "AHA" moments each and every week. As I share weekly style tips, suggestions for your body type-it will all come together for you.

5 Steps to Get Your Style to Come Together:

1. Do a closet purge. Remove what you are not wearing, so you can see what IS being worn (you are probably only wearing 20% of what's in your closet).

2. Review the weekly shopping guides for your body type. This is the best way to help you understand which clothes flatter and balance your shape best (and why).

3. Read (and save for future reference) the weekly Style Articles. They give you very specific style help: like understanding the basics of body proportion, dressing an undefined waist, how to select the right shoe for what you are wearing, and more!

4. Use my List of Wardrobe Basics (posted in each Personal Profile) to help you build your list of essentials every woman should have. There are lots of great style tips listed there to help you as well.

5. Lastly, enjoy your style journey because this is something every woman deserves to do for herself. Remember: it's not about the destination, but the journey itself. As your style starts comes together you will find your self-esteem higher-soon there is no limit to what you can do!

Love, Leslie MSP