5-1-23 THIS WEEK: Cool Style on a Hot Day
May 1, 2023, 3:38 pm by MSP
Cool Style on a Hot Day

It is not yet hot outside, but give it a few weeks and we'll be talking about the heat and what to wear in the heat. Living in the South means as the temperature rises, so does the humidity!

Hot days create a unique dressing challenge: "How can we look stylish without melting"? If you know me, I'm always up for a good challenge. So, I did what any fab fashion stylist would do…I went shopping in search of the best looks for hot days!
STAY TUNED...You'll want to "save" this article, because in a few short weeks the weather is going to heat up!
I've collected the best outfit ideas for hot days...
For example, this sassy, yet cool swing dress is perfect for wearing when the heat is on...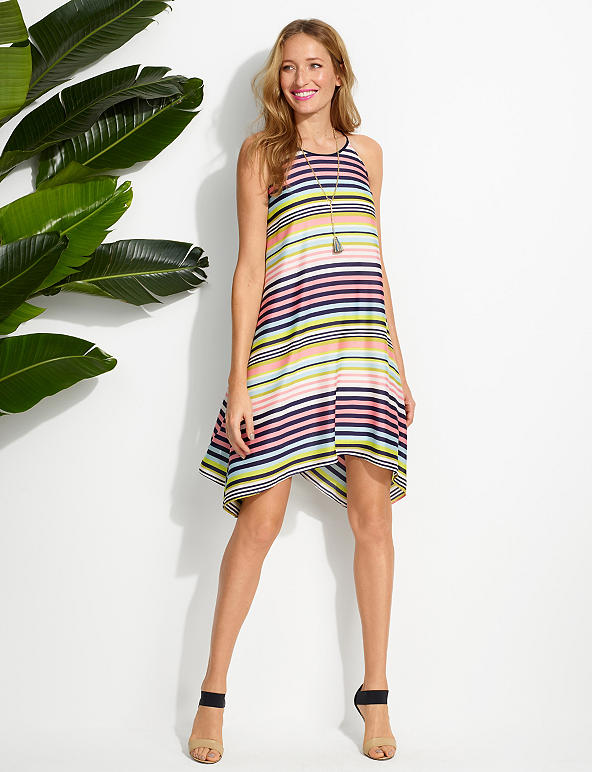 Just the thought of 'dressing up' when it's over 90 degrees (and with high humidity) makes me sweat! So, what can you wear to look cool when it's so hot? This week I'll give you some creative and useful suggestions for dressing stylish when the heat's on. I'm pulled out some terrific stylish outfits from my bag of style-tricks...plus a couple of ideas that popped in my head while I was shopping in the air-conditioned stores. Get all these exciting outfit suggestions in this week's article, "Cool Style on a Hot Day".

What are a few secrets to looking fresh when it's hot out?
Start by moving away from wearing black in the summer (it feels so hot this time of year-and looks it too) instead, wear lighter and brighter colors. Of course lighter fabrics made out of natural fibers are best because they breathe; but some of them will show sweat stains (not good). On Thursday (in the Personal Profiles where you login) I'll go over which fabrics are best, PLUS show outfits I've worn on hot and humid days with great success!

Love, Leslie MSP
P. S. With summer fashions out now; find your best summer colors! Have your color analysis done today!
---
MSP's Weekly Style Mission
This week's Style Mission: Take a "green" approach to your laundry care. Try to air-dry at least a few items!
Hang your laundry outside to dry (or use an indoor drying rack). Give your dryer a break.
By not using your energy-zapping (and heat producing) clothes dryer, you will save $ while getting a fresh outdoor scent to your clothes. Less dryer exposure also means your clothes will last longer! (The U.S. Department of Energy estimates that an electric clothes dryer accounts for almost six percent of a household's annual electricity consumption.That may not sound like a lot, but consider how many items in your household uses electricity. If you average $100 a month for your electric bill, your clothes dryer accounts for $72 per year. That's almost another month of electricity in your home.)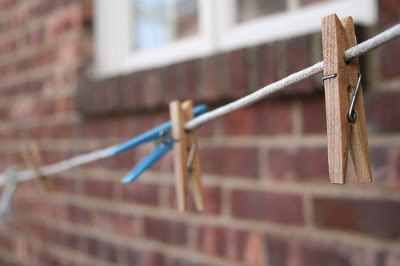 Does air drying make your clothes STIFF? If so, it means you are using too much laundry detergent (detergent is so concentrated nowadays)! *TIP: Add 1/2 cup of vinegar to wash before the rinse cycle begins. This will keep your towels and jeans from becoming stiff from line-drying. Don't worry...the vinegar smell will disappear before the clothes dry!
Here's how to hang your clothes out to dry:
Shake and smooth out the wrinkles, shirts should be buttoned up and hung UPSIDE DOWN by the hemline to prevent hanger marks at the shoulders.
Turn dark clothes inside out so the sunlight does not bleach them (or again, hang indoors).
Use very little or even better NO fabric softener because this is what builds up in the fibers of your clothes and towels and makes them SMELL over time!
Hang dry your clothes and you will notice they last longer AND you'll enjoy the energy savings too!
Love, Leslie MSP
---
What SYSters are Saying
"Can you give me some guidelines for shopping the sales?"
Dear Leslie,

I'm a newbie but with your shopping guide I've managed to buy a couple of new basics for my wardrobe. With just these two new items I have so many more dressing possibilities and it is fun to dress in the morning now.

I know summer sales are about to start and I want to make smart choices. Can you give my some guidelines for shopping the sales?

Love, Candice


MSP HERE: Dear Candice,

You are off to a good start! Investing in good basics gives your wardrobe a stronger foundation for making more stylish outfits.

Here is what to think about while shopping the end-of-season sales:

*Ask yourself over and over, "Do I need this?" Remember this mantra—DO I NEED THIS?

*Does this look good on me? Is this the right style for my body type? Knowing the styles best for your body type will save you time and money + you'll look like a million bucks!

*Is this MY color? Is this a color that fits into my wardrobe plan and complements my own skin and hair coloring?

*Buy for the body you are currently in. Don't beat yourself up and reminisce when you wore 3 dresses smaller! This negative thinking won't help you. You need to dress for today!

*Remember the MSP rule: you must be able to wear it at least 3 different ways to make it useful in your wardrobe. If you buy something but have nothing to wear with it—it's not a bargain.

*Stock up now on basics. Look for camisoles, tanks, tees, lightweight v-neck cotton sweaters and favorite bras or undies and such. Look for pieces that extend your wardrobe.

*Fewer things, better quality. No one will remember if a dark neutral jacket is repeated later in the week. A bright fuchsia jacket is harder to repeat in the same week. (have fewer of these stand-outs)

*Try a trend—don't invest in a trend. Long gypsy sleeves never stay in style very long and same goes with many of the trends. No need to invest designer dollars on a passing trend. Try a trendy item when the price is right or pass on it all together.

*Shop everywhere. Bargains are to be found at end of year sales in every price range. Don't discount (pun intended) more expensive stores! Every store and every rack is where you are shopping this season---because you have a list, and know what you are looking for!

*For serious shopping—go it alone. When you concentrate on the styles, fit and colors that you like and the clothes on your list—less chances of getting sidetracked.

*Got to love it! Don't buy anything unless you love it! This is true for sale racks, outlet stores and full priced clothing.
Use these above tips and you will save money while you add only what you really need into your wardrobe!

Love, Leslie MSP