4-24-2023 THIS WEEK: 10 Styles You Are Not Too Old to Wear
April 24, 2023, 2:49 pm by MSP
Dear MSP SYSters,
Nothing gripes me more than being told I can not wear something because of my age. Really? Just exactly who decided certain articles of clothing should no longer be worn by woman of "a certain age"? Is thirty, forty, or even fifty-or beyond too old for certain styles?
Of course we need to assess our own bodies and decide what's best covered up and not exposed. But, what we wear should be of a more personal choice-not necessarily an "age" related thing. By using a full-length mirror and reviewing our backsides as well our complete look head to toe, most women can come to an intelligent decision whether they should be wearing something, or not. A good rule of thumb is; if you have doubts, then you should not wear it. Listen to your gut.
As a stylist who has helped many women dress based on their body shape, I know the truth is; you are as young as you feel. Clothing is a necessity, but what is more important, it's a personal choice. The truth is; you can be stylish without dressing like a teenager! The key is to cover up the areas that are showing signs of aging (wrinkled skin, spotted skin) and to wear clothes that fit you well. Avoiding baggy clothes at all costs is essential because they make you look tired and old. Fit is everything when you are a "certain age".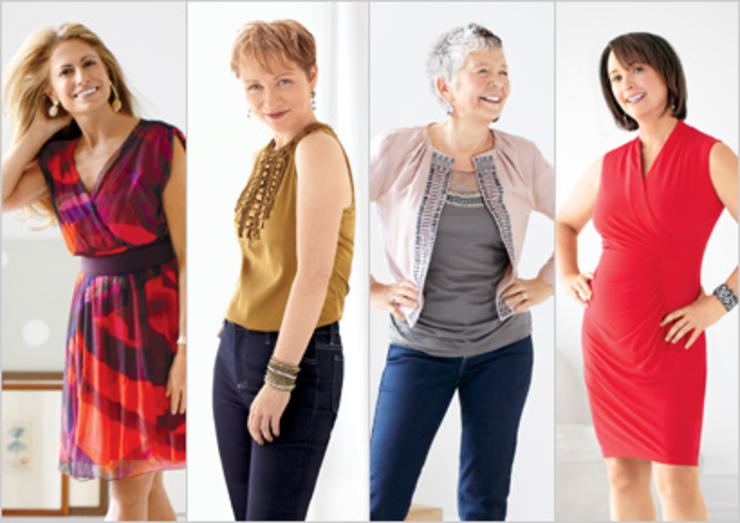 This week, let MissusSmartyPants help you navigate the trends and styles, so you wear them with confidence, and appear ageless. See how you can wear 10 popular trends you thought you're too old to wear! This week's "age defying" tips will help you dress with the style confidence you've always wanted!
Join MissusSmartyPants & get access to "10 Styles You Are Not Too Old to Wear"
---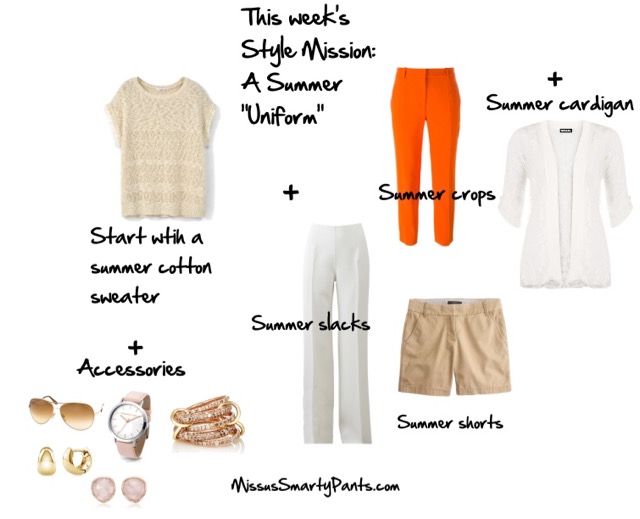 Above: This mini wardrobe capsule (set aside together in your closet) will have you ready when the warm weather arrives!
Here's how to create your own "spring/summer uniform"...
TOP: Crew or v-neck cotton sweater (short or cropped sleeved)
BOTTOM: Flat-front dress slacks, dress crops, or longer city shorts
SHOES: Embellished kitten heels or flats
ACCESSORIES: Work tote, skinny belt, cuff bracelet, statement or bold post earrings
BONUS PIECE: White or neutral-colored long-sleeve cardigan kept ready to toss over anything (when the a/c is too dang cold!)
---
What SYSters Are Saying
Hi Leslie,

I really wanted to email you after my experience last night. Anyway, I love you! I don't even know you and I thank you sooo much for the service you provide. I am a relatively new flybaby and I am finding that a lot of my clutter in my head involves my body in different ways, weight, how I dress etc. So I was scared to sign up because I didn't think I would be able to follow what you told me...fashion sense stuff I have read before never really helped at all, but I decided to TRUST a really tough concept for me, that it would pay off and it would help.

Well just signing up helped. I kept looking at the clothes in my closet and thinking, I should get rid of this now and I have been so excited about the prospect of getting a "makeover". I have donated literally 20 to 22 bags of clothes all of which were piled in the front of my closet choking up my bedroom. I wanted to get some clothes after the tax return came in and I typically go to a men's XL shop and get stuff not even made for women. I literally said out loud "Come on, you just paid someone to help you find nice clothes that compliment you...do you think she is going to tell you to go to a men's XL shop?! Please SYSter!" my husband looked at me like I was nuts LOL.

Last night I signed onto my profile and printed everything and then went to the stores and most of what I purchased ended up being from the sales racks. I was in need of tops, I actually do have some nice pants. So I concentrated on that, I tried EVERYTHING on, and I found the stuff that I looked at on the rack and said "OH that's me!" when it was on my body was sooooo not me. And when normally I would think I'm too fat and start beating up on myself....I thought WOW Leslie was right this does not compliment my body. I am in purple puddles; I have never experienced clothes shopping like this ever in my life!!!

I know this is a long email I pray you read it all cause you have changed my life. I have not felt comfortable being female since I was raped, and I can actually wear the clothes I got last night and I feel feminine and not vulnerable. Thank you sooo much. thank you thank you thank you.. not to mention it was all 65% off and I came home bouncing and I cut all the tags off right away. Between FlyLady and you, I feel like I can actually make those changes I've been trying to make for such a long time...one babystep at a time. =)

Thank you again I hope you are as blessed by what you do as those of us who receive your services are.

Kerri a grateful SYSter