4-17-2023 THIS WEEK: How to Have Glowing Skin
April 17, 2023, 3:10 pm by MSP
Just the title, "How to Have Glowing Skin" is intriguing to say the least. I think I could easily say we all desire glowing skin. It's a possibility and quite frankly, something we should work at. The reason you want your skin to be its best is because your skin reflects your health! Read that again: Your skin is a reflection of your health!

As a woman with aging skin, the topic of skincare is near and dear to my heart. Since I'm over 60, I do my best to take care of my skin. I wash it with a gentle cleanser every morning and night, and I wear a moisturizer with sunscreen daily. But, am I really doing all I should? Is there more to skincare?
Taking care our skin is hugely important because better looking skin makes us look more youthful. Looking possibly years younger than our chronological age only happens when our skincare it kept up. So, if you're over 30, 40 or 50+ you must understand the basics of skincare.
Start a good skincare routine today... and get the glowing skin you deserve!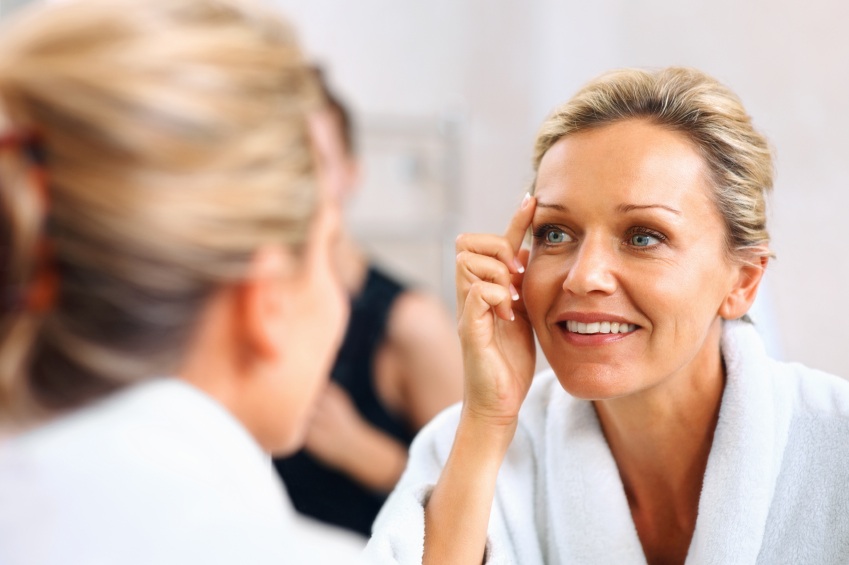 Our skin is the largest organ of our body. Yet we often ignore it or simply take advantage of it. Our skin regulates our body's temperature, protects us from foreign invaders (germs, bacteria, dirt, etc.) it also helps us process Vitamin D from the sun and much, much more. According to Women's Health magazine there is good news! "You grow nearly 1,000 new layers of skin throughout your lifetime, so you've got plenty of chances to make sure it's smooth and glowing."
If your skin is not looking its best, you can do something about it. You can do something about your aging skin because according to Leslie Baumann (dermatologist and director for University of Miami Cosmetic Center in Florida) "About 80 percent of aging is caused by environmental factors--things you have control over".
Find out skincare specifics for dry skin, oily skin and for combination/normal skin-what to use and what to avoid. Once you have determined your skin type you may also find you suffer from certain skin conditions including dehydrated skin, sensitive skin, mature skin, or blemished skin. A complete guide to skincare will be yours in week's article from MSP!
Get this week's "Skin Care" article and much more-CLICK HERE TO JOIN!
---
MSP's Weekly Style Mission
Are your accessories stored away and you forget to wear them? Or do you have them all tangled up in your jewelry box?
It's time to put them on display! As I like to say, "You've got see them to wear them"!
This week's Style Mission: Store/display your accessories--creatively!
How about this for clever storage of your jewelry in your closet or bedroom wall...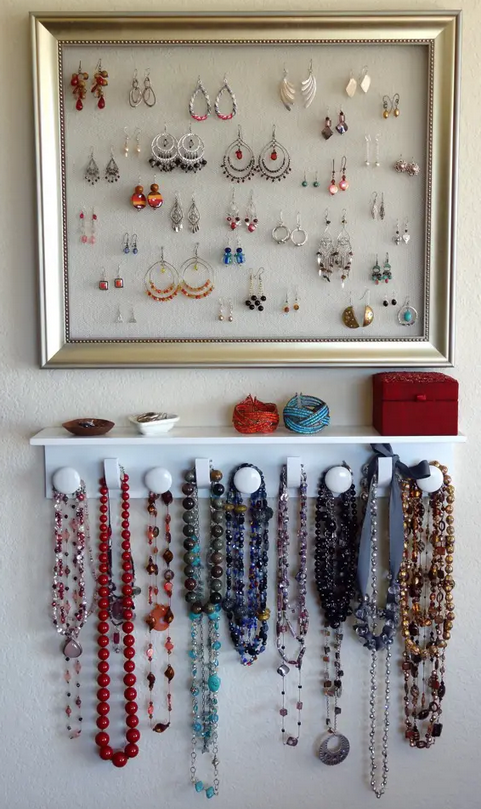 ---
What SYSters Are Saying
"Thanks, MSP...Your Best Advice Ever!"
Thanks, this is your Best Advice: I wish I had heard of this years ago! "If an item is something you would purchase at full price, if it is something you need and will use, then it 's a bargain at a discounted price because it holds VALUE to you!" Joanne M.
MSP HERE: Yes, ma'am...this advice will make you style savvy! Often you save money because you WON'T buy something for the sake of purchasing a "bargain".
Dear Leslie,
I am a "C" body type, and have NEVER felt good about myself--always comparing my body shape to that of my small and petite sisters.

But after receiving just ONE of your weekly messages and shopping suggestions, I was finally able to catch on to the advice you were giving about what styles of clothes would look best on my shape. I went into my closet and put together ONE outfit with clothes I already had. I NEVER would have put these items together before reading your website and the personal profile, but I did it and wore it the very next day.

I received probably the very best compliment of my life, from my 13 year old son--who told me "Mom, you look kind of elegant today!" I was THRILLED! And all I was wearing was a nice pair of jeans, a button shirt that had princess seams and small shoulder pads in it, and some flat loafer type shoes--instead of the typical jeans, t-shirt, and tennis shoes. What a difference! And I still felt like I was wearing casual clothes that I could get down on the floor and play with my two year old in!

Thank you SO MUCH--for helping me to finally love and appreciate my body shape, and showing me how to accent my positive points!

Love, Susan
DEAR MSP,

I'm taking care of myself better than I have for many, many years and I owe it to you and your program that teaches me.

One thing I am doing besides dressing in nicer clothes, is wearing makeup. I never learned the girly stuff many women do. My mother never wore makeup so I guess I never thought it mattered much.

I am happy to say I wear makeup now (not much though). It makes me feel feminine. I am wearing nail polish too. I usually wear a light pink shade that I really really love (makes me feel girly).

My problem is the nail polish bottle gets hard after opening it. Do you have ideas how to fix this? I still have lots of polish in the bottle and it is hard to open now.

Thanks for being there for women like me!

Kimberly


MSP HERE: Dear Kimberly,

I'm always happy to hear when one of my SYSters is feeling good about herself-that's what the Personal Profile SYStem is all about.

My suggestion for you regarding your hard to open nail polish bottle: Use Vaseline (petroleum jelly) around the lip of the bottle BEFORE you use it. This way the bottle won't become hard to open. Since you've already have dried on nail polish on the lip of the bottle, wipe it with a tissue soaked in nail polish remover. This will remove the hardened polish and allow you to apply petroleum jelly to prevent this problem. Hope this helps!

Love, Leslie MSP