3-20-23 THIS WEEK: 7 Style Mistakes That Make You Look Older
March 20, 2023, 4:35 pm by MSP
As we age, we realize it's a blessing to get older. However, we are confronted with some not so fabulous things about aging like, age spots, chin hair, spider veins, gray hair, a sagging bust…and as you know, much more. I'm sure I don't need me to continue-you get the picture. While we try our best to minimize these issues; there are some things you may be doing that actually makes you look OLDER!

You want to keep your look fresh, up-to-date-you want to appear "ageless". Check the list from this week's style article and see if you are doing any of these "aging" things that you should be avoiding!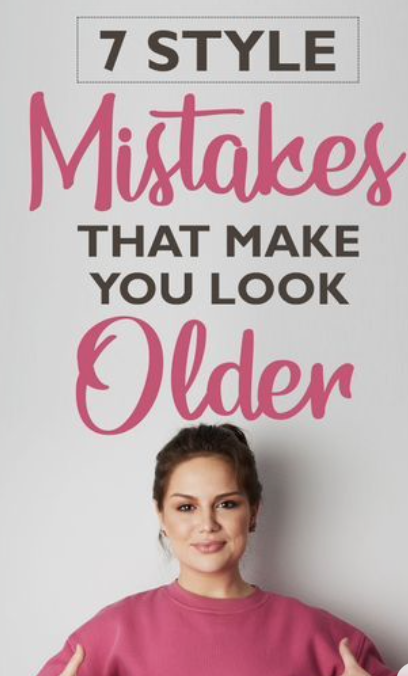 Find out if you are doing any of these 7 mistakes that make you look older! Get this week's article, "7 Style Mistakes That Make You Look Older".
Order Your MSP Style Membership Today
---
MSP's Weekly Style Mission
This week's Style Mission: Wear an A-line skirt this week.
This basic is one of the best 'figure fixers' a woman could own!
Whether your hips are slim or full, or something curvy and in-between...an A-line skirt makes your figure look close to "perfect"!
Hopefully you have at least one A-line skirt in your closet. If so, wear it this week. It will quickly remind you how wonderful and 'balanced' your shape truly is! If you don't own an A-line skirt yet, put it at the top of your must-have list!
A-line skirts are best in a solid color and in a year-round fabric. This way, you can wear this versatile skirt to work with pumps or for the weekend with playful flats!
Love, Leslie MSP
Every woman looks fab in an A-line skirt!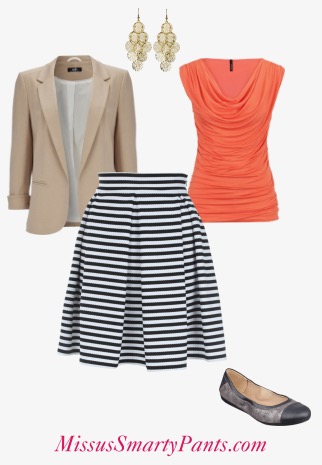 ---
What SYSters are Saying
Dear Leslie,

I was a tad skeptical about getting a subscription to your personal fashion advice. But I thought for $16 that I would spend on something else, why not?

I have been ill and on medication for several years, the medication made me gain 18 pounds in a week. Depression, overeating, not being able to be active, boredom, overeating more, I gained another 60 pounds in 2 years. I work from home so don't need to "dress nice". My husband and I run a business from home and don't make much money for extras like clothes.

Really long story short, we got paid for a good sized job and I took $125 and went shopping after purging 4 kitchen bags full of clothes out of the closet. I came back with one pair of great fitting trousers, a dressy blouse, colored shell and over blouse. Not bad considering nothing in 4 stores even came close to my style. Several didn't have my size, and when I did find clothes to buy, I wanted them to feel good and be able to wear them not waste more money on clothes I don't wear. I wanted to feel good in them, and I do. Everything was 75% off the original prices, so I actually got a retail of over $400 in clothes.
Everything I purchased goes with what I have left in my closet and can be worn to run errands for the business, go to customer's homes, or out to dinner.

So, for my first three months investment in your program, I have not only saved the $300 in clothes, but I feel good, great in fact, about how I look. Because I'm dressing for me right now, not being depressed about the way I used to look or will "someday" look.

So thank you for not only the "fashion" advice, but the inspiration of dressing for my body right now, not putting it off until "someday when I get thin again" thinking. I'm feeling healthier and the circle continues. The better I feel about myself, the more motivated I am to loose more weight, but in the mean time, I'm dressing for me, right now, the size I am.

Love, Kathy


Dearest MSP,

About 6 months ago I purchased my personal profile (I'm a very curvy B) and learned a lot but didn't put any of it into practice until about 3 months ago.

Finally, after years of HATING my body and crying whenever I tried clothes on in a dressing room, I am able to look in the mirror and stand tall! I accept the flaws with the idea that I can improve by going to the gym and, more importantly, I can finally ACCEPT that I have assets as well.

This is HUGE for me because I am finally able to take pride in my appearance instead of just throwing on whatever was available. I've now lost almost 20 lbs because I'm more aware of my body and want to take care for it. Wow your style help was the turning point for me!

Thank you so much for encouraging me to love my shape. Deb