3-13-23 THIS WEEK: MSP's Spring Preview (part two)
March 13, 2023, 2:20 pm by MSP
It's week two (2) of MSP's "Big Spring Preview"
The fun and the fashions continue!
This week, the remaining LIST of what to get for your wardrobe this spring...and more importantly, HOW to wear it!
I've been getting lots of love regarding The Big Spring Preview (Part One)! You're welcome. I'm just as excited as you to start wearing these new spring trends as soon as the weather warms up. Luckily, recently we've had some beautiful weather here in the south. Even though it might not be warm in your neck of the woods without a sweater, start wearing the lighter, brighter colors of this spring's color palette (check out all the colors in part one).
Spring has almost sprung!
Even if you still need to wear a sweater; it's time to lighten up the colors you are wearing...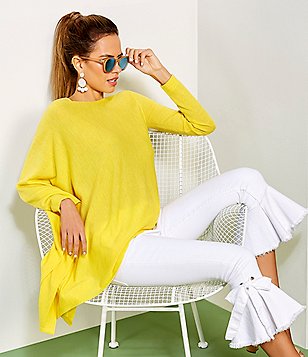 Are you loving the new trends and colors thus far? That's what MissusSmartyPants is all about.
Not just showing you the latest trends but EXPLAINING how you can wear them. THIS WEEK COMPLETES THE LIST OF SPRING TRENDS!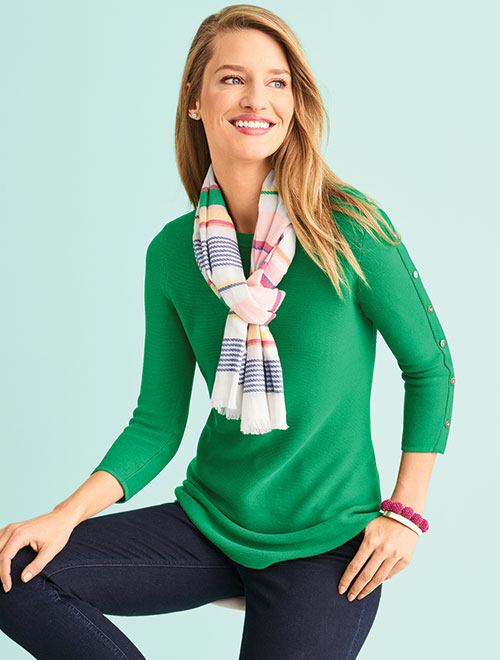 This week (part two) you'll get the complete spring LIST so you can start planning your spring wardrobe! Remember as MSP SYSter, with your Personal Profile you always have access to 4 weeks of current style articles!
See you on Thursday when "MSP's Spring Preview, Part Two" posts!
Love, Leslie MSP
Sign up for your MSP Personal Profile today!
You will get BOTH "Big Spring Previews" (Part One, Part Two) this week!
---
MSP's Weekly Style Mission
This week Style Mission is to shop off the beaten path. It's one of the best ways to spice up your current wardrobe.
One unique accessory makes your style really come together in a very special way! All eyes will be on you--and your fabulous style when you highlight a really cool-looking necklace!

Try shopping where you don't normally shop. Consider stores like Pier One, World Market, a local flea market, an African import store; a craft fair—or even at Target!

The idea is to search out an ethnic or vintage looking accessory to add spice to your wardrobe. You can take an understated outfit (like white button-down shirt and black pants or LBD) and add "instant style" by wearing a one-of-a-kind necklace, earrings or bracelet!


Choose a unique necklace that will give any outfit a cool vibe...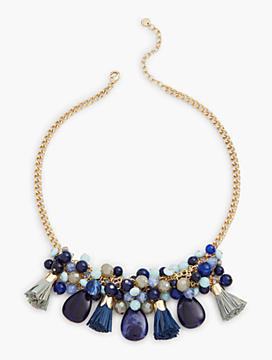 ---
What SYSters are Saying
"Dress for the beautiful (yes that's YOU) woman you are today!"
Dear MissusSmartyPants,

Just thought I'd post a thought or two on the "I'm not the size I wanna be" mindset. I've been working for over a year on my weight. I've gone from a 38inch waist to a 34. So far I've lost over 45 lbs in the last year. It has been a moment by moment journey. One mouthful at a time..of course the fact that I've painfully discovered that if I eat certain things I'm in tremendous pain has been an incredible motivator. So I've learned to make healthier choices.


I recently joined Missus Smarty Pants, like FlyLady has said so many times "you're not behind just get started right where you are." I've been amazed at the change in having a bit of direction has done for how I see myself physically.

Last night my daughter and I went to Cato. I've avoided "shopping" unless I absolutely had to. I found two pairs of the cutest leather shoes for $2.99 each. I've been looking to add wardrobe pieces that would compliment my bodystyle. Having a specific type of clothing in mind and already knowing my color palette has changed the way I shop now.

Dressing now is so much faster and less stressful. A year ago I didn't even feel like I had a style, let alone find something to compliment it. So for anyone debating whether or not its worth it to sign up for the Missus Smarty Pants emails… my answer is yes... I'm worth it and so are you.


Thank you so much, Joy
Dear MSP

I just wanted to send a heartfelt "Thank you" for all you do. I had a personal profile once in the past, but I just didn't feel it did anything for me so I let my sub slide. Then in January I decided to try it again and this time something "clicked" with me.

I am one of those people who keeps waiting to lose weight to invest in a wardrobe when I realized the waiting to lose weight had become my life. So I decided to at least dress the best I could while I was "weighting". Now I truly know what I should and shouldn't wear, no matter how much I like something. It made it easier to donate gorgeous outfits that I can no longer wear because I know that they aren't for me anyway. It also makes it easier to shop (understatement). I live an hour from any store and I am not much of a shopper so I do a lot of online shopping and your advice has made my returns few and far between.

Unlike other praise reports you get, I don't get many compliments on my new look, but then I am a size 26 and compliments are rare, except from my husband. God bless him! But I feel good about myself when I go out and even when I am doing the laundry. However, now I have a new problem! My wardrobe has grown so that I am not sure what to wear because I have so many nice things!

Again, Thank You
Terri

Dear MSP,

I remember reading about black pants that don't fade. I have worn black cotton/spandex flares that fade badly and constantly need to be replaced. Please let me know what black pants you have recommended in the past that hold their color well.

I like to look put together for my job in a lab but I quickly look shabby with my faded black pants. Please help!

Thanks. Theresa


PS I have made wonderful clothing choices since subscribing to you service!!!!


MSP HERE: Hi Theresa,

It's not always easy to keep black pants black and looking new.

Here are some tips that will help you… First of all, always wash them INSIDE OUT and in COLD water and tumble dry only if you must. It is best to line-dry black pants (and dark jeans) to keep the finish new looking.

Cotton and other natural fibers tend to fade more quickly. If this happens and you still love the pants--try dyeing them with RIT black dye. You can use a large plastic bucket or the washing machine. (follow the package directions) Soon you will have like-new black pants again!

Love, Leslie MSP