2-20-23 THIS WEEK: Update Your Hair
February 20, 2023, 3:50 pm by MSP
THIS WEEK'S ARTICLE: Update Your Hair
What's aging you? Often it's your hair. Its one of the most noticeable things about you and it's what people see first is your hair. Think about what your current haircolor and style.
It could be your unstyled hair and/or your haircolor that ages you. Nothing ages you like hair that's too dark, a solid block of hair dye, dull dry hair, gray roots, or long hair pulled back in a banana clip. Pause and think about your hair color and current style. What could you do to improve it?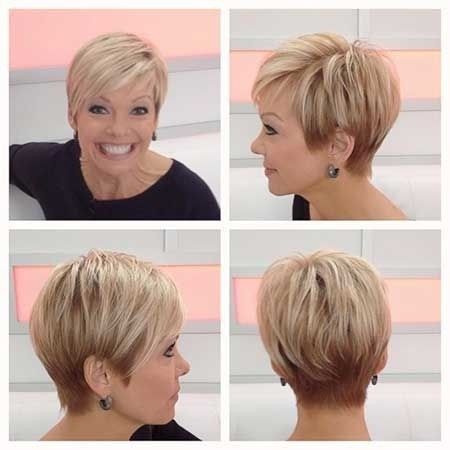 "Life is an endless struggle full of frustrations and challenges,
but eventually you find a hairstylist you like" ~Author Unknown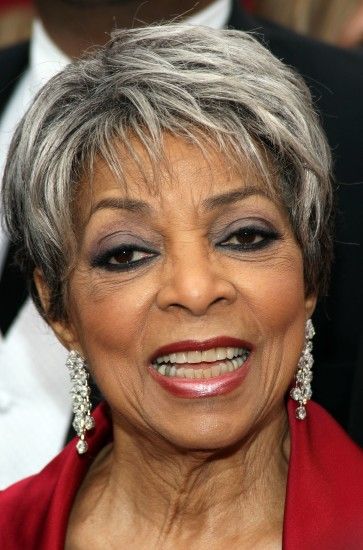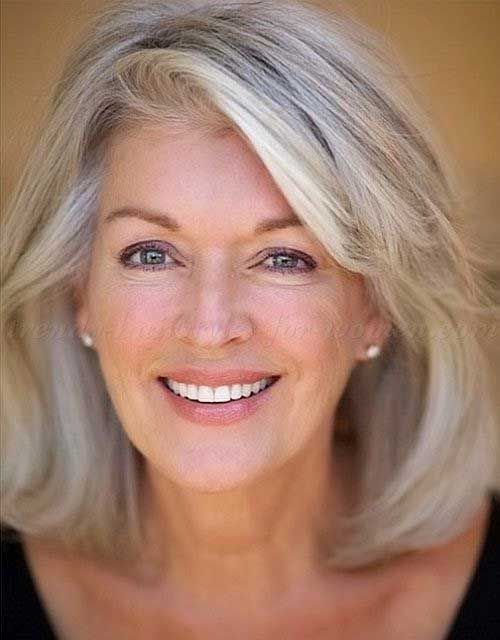 Your hairstyle and hair color is a significant part of your self-image.
If you still wearing the same hairstyle that you wore in college (or for at least the last ten years)...Listen up—it's time for a change. As we age our hair thins, it becomes duller and darker (I know this sounds depressing, LOL...but it's true)! Older hair needs serious styling. A new playful or spunky hairstyle will add youthful movement to your hair--plus fresh color takes of years. So let's keep our hair up-to-date!
Make a hair appointment. BUT get informed before you sit in your stylist's chair and she's ready to color and cut! Do your homework. Thumb through magazines, check out celebrities with a similar face shape, research hairstyles that are best for your hair texture, face shape, and lifestyle. Next, use this week's helpful article. It is full of lots of hairstyle photos by face shape, and offers suggestions for coloring dark hair, light and gray hair!
Order Your MSP Personal Profile Today!
P.S. Guess what? I'm embracing my grays. I'm working with my hairstylist to keep my cut fresh and use my own haircolor. I'll update you soon because I have an appointment with my stylist this week!
---
MSP's Weekly Style Mission
Dear MSP SYSters,

Either your clothes create a good impression, or they don't. With that said, I can't help but jump up on my soapbox (again) and mention the importance of wearing the right clothes for your body type! That's what fab style is all about; the right fit and styles that make you look fabulous.

The problem is, women often "buy into" the current trends even if they do not flatter their shape. This leaves women with a closet full of clothes which they don't like, and won't wear.

This week's Style Mission: de-clutter and remove those "style mistakes" that don't flatter your shape (psst...you're not wearing them anyways)...
As a MSP SYSter, your closet should be filled only with clothes you love 100%
NOT wearing 'em?
Out they go! Bless someone else with clothes that no longer serve you...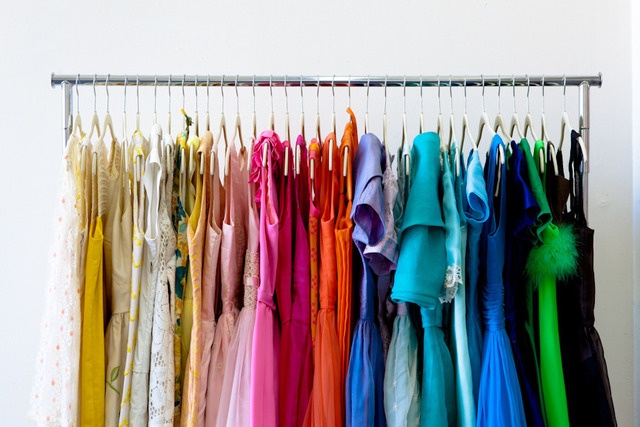 Some "trendy" styles will NEVER look good on you (or me)—no matter how hard we try—and that's the reality of it. Certain styles can make us look "fat" or out-of-proportion. MissusSmartyPants is all about helping you select the best style for your body type!
Use these guidelines to help you decide which garments must go:

Shape of garment: items like mumus, baby doll dresses, full-pleated skirts, boyfriend blazers (long & boxy and from the 80's), very short skirts.

Fabric texture: wide-whale corduroy, shiny metallics, taffeta, boucle, satin, quilted fabrics, wide horizontal stripes, large loud prints.

Color: overly bright neon colors, any color that makes you look sick or washed out.

Garment fit: anything too big or too tight. Anything that is an "odd" proportioned and you never looked right in it (like capris perhaps?).

Again, either your clothes make a good first impression, or they don't. So... what's still in your closet that you haven't worn in years?

Love, Leslie MSP
---
"Dear MissusSmartyPants, I have thick legs!"...
I'm thinking ahead. I don't like to show my legs, yet I wonder what styles are best for me when it warms up. The reason I am reluctant is because I have thick legs. For my body size, my legs, especially my calf muscles are quite large. I'm self-conscious and wonder if you could possibly help me with some suggestions. I'm tired of wearing pants in the heat! Your sis Alicia
Dear Alicia,
You can't change the way your body naturally is, but you sure can visually "slim" those areas of concern. For example, to visually slim your legs, you want them to appear longer/slimmer.
Use these 5 style tips to help you visually slim your legs:
1. Wear heels. Even a slight heel will make your legs appear longer/slimmer--no matter what you wear.
2. Wear longer pants. Forget the slim-cut cropped pants...they only emphasize your thicker legs! Instead, opt for longer straight to full-cut slacks for the longer/leaner leg look!
3. Wear this season's "it" skirt! Wear an A-line skirt (see below) or fit and flare dresss. The wide hemline actually helps balance your lower body--and looks fabulous on you. Avoid pencil skirts (the slim cut emphasizes your thickness).
4. Bring attention upward. Draw attention upward towards your upper body and face! Wear bright colors on top, add playful accessories and jewelry to the good stuff!
5. Don't cover up! Enjoy wearing anything you like this season...because you can!
Wear a swingy A-line skirt like this!
Match it up with a bright semi-fitted top for a fabulous early-spring look!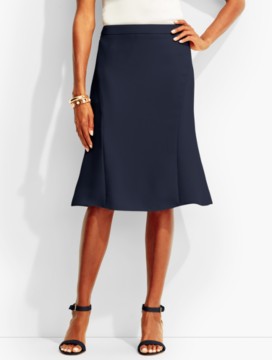 ---
What SYSters Are Saying
NO ADVERTISING AT MSP--JUST GREAT FASHION ADVICE!!!
Dear Leslie,
I could have bought several fashion magazines and easily have paid $15 for them. But I would not have gotten nearly as much style help from them as I get from you! You give us ALL the top styles and trends and the best part, you have NO ADVERTISING! Thank you for keeping your website free of ads. Magazines are full of ads. Even the articles are a sale pitch full of products that are costly. You on the other hand, show us how to wear a trend instead. You give us lots of examples.
For the price of my MSP renewal, I save money plus my time by coming here to get everything I need! I have totally redone my closet now (with help of my DH of course). I painted my closet a pretty marigold yellow and hung hooks for all my necklaces. Everything has its place. I can now pick through and decide what to wear because I love everything I have in my closet.
I am excited about style again and each day deciding what to wear is fun, yes it is fun again. I thank you for that and for giving so much style help at a price that is affordable!
Your fan, Pandora
P. S. It is still snowing here, so hopefully not too much longer until spring!
Dressing well is like playing dress up…

Dear Leslie,


I've been subscribing to your service for a couple of years, and I have been happy with my new style (where I had none before).

 When my 4 year old asked me if she could pick out my clothes for work tomorrow, I hesitated. Then, I agreed, reserving the power to veto.


To my delight, she's been going into my closet and picking out lovely outfits, including shoes. I'm attributing this to you because:
1) Even when my weight fluctuates, my closet ONLY contains clothes that fit me right.
2) Everything in my closet feels good to me, and looks good on me.
3) My clothing colors complement each other.


I couldn't make any of those statements two years ago!!!
 There's probably also some natural talent in play, in that she's not putting florals and plaids together. But having a closet full of clothes that fit right, feel good, and look nice together gives her a great base to work with!

 Thank you MSP!
Fondly, Linda
Dear Leslie,

Thank you, thank you, thank you for all the knowledge you have imparted to me. I am so confident as I purchase clothes and put outfits together now.

My closet has been purged, even down to new and almost new Pendleton suits! As I have lost weight, I fit in to my old (but not worn) wool suits and jackets. I am even giving them to the Thrift Shop because they are "not my style". It hurts, but I do realize the improved difference in how I feel when I am dressed in clothes that flatter my body shape. Thank you again.

Hugs, Karen