2-6-2023 THIS WEEK: 12 Steps to Style Swagger
February 6, 2023, 3:27 pm by MSP
Change begins when you take that first step out of your comfort zone. It's this first step that feels shaky and uncertain. Sometimes it feels more like a leap of faith. But, that's okay when it comes to your style. This newness means something good is about to happen!
Before spring arrives-get your style together. This week's article: "12 Steps to Style Swagger" will re-energize your wardrobe and help you get your style mojo going before spring arrives. This list of 12 items are clever ways to improved style. It will amaze you how doing just one of these 12 steps will improve your confidence!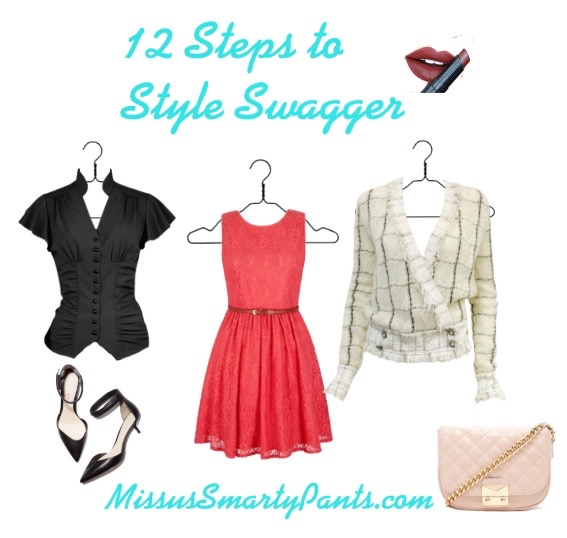 One new "style tweak" can change everything! This week, learn how you don't have to spend a lot of money, or go crazy shopping to update your style. If you have the main wardrobe essentials, staying current and modern can be as easy as just changing-just-one-thing. If you always wear your hair the same way, apply the same lip color, grab the same shoes-find out NEW changes you can make to shift your ho-hum style into style fabulousness (Ha! I just made up this word!).
12 steps to Style Swagger will have at least one thing that will perk up your style-like never before!
Join MissusSmartyPants Today and get "12 Steps to Style Swagger"
---
MSP's Weekly Style Mission
Does your clothing reflect your style, your body, and your coloring?
Each week, I show you how to choose clothing based on your body shape and explain what's flattering - and what's not. I also stress the importance of wearing the right colors for your skin, eye and hair coloring. Why? Because when chosen correctly, the right colors make YOU look vibrant!
Wearing colors in your 'seasonal colors' (ones that complement your hair, eye, and skin color) make YOU look absolutely vibrant!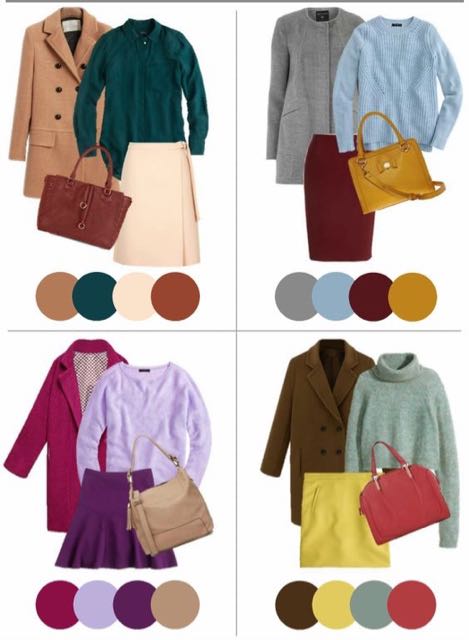 This week's Style Mission: Figure out two (2) colors that make you look amazing.
Having a couple of "go to" colors makes shopping so much easier. Do you have a few "go to" colors? Not sure? Let's figure out what works best for you. You can find them by holding up certain colors you like near your face. Do they make your natural coloring come alive? Or, do you look pale and washed out when they are held near your face. If so, that means that particular color is not for you when it makes you look sickly. A flattering color makes your eyes sparkle and your skin glow.
Here are color suggestions based on your hair color:
Brown/black hair: black, turquoise, cool reds, fuchsia
Blonde hair shades: grays, earth tones, blues, chocolate brown, peachy pink
Redheads: mint green, earth tones, camel, light gold
Need help finding your "go to" colors?
If so, order your personal color analysis today!
You will get from MSP a wardrobe color chart +Seasonal color information!
---
What SYSters Are Saying
Hi MSP!
I've been following MissusSmartyPants for over a year now. My mother-in-law recently asked me to go shopping with her to help her pick out clothes. She said, "You always look so put-together". I couldn't believe it, because that was something no one had ever said to me before. I was able to help her and she picked out a very nice outfit that she loves.
Thanks for all that you do to help us look "put-together"!
Fondly, Valerie
DEAR Missus Smarty Pants,
I just joined your style service yesterday. Since then, I have been pouring over the information on your website. I am ecstatic at finally figuring out how to shop and what to buy for myself! I am like many women who don't shop because I didn't know what to buy. I was looking at the shopping guides today, deciding what shirts would be appropriate for me, and in which color! I was able to decide for or against clothing because of the style or the color. This is so amazing to me!
I am currently a stay-at-home Mom who used to wear t-shirts and baggy jeans to casual gatherings, and last night, I had on a very simple outfit that really made me look more put-together - how I've been wanting to look all along, but not knowing how to do it without being super-dressed up!
Yesterday, when I went to a wholesale discount club (BJ'S) where they sell clothing laid out on tables, I was able to purchase 2 basic items for my wardrobe that look great in both fit/style and color (and were quite a deal)! I was also able to put back 2 sweaters because they were too bulky and didn't emphasize my waist. I had the right color, but not the right style.
All of this to say thank you! I had given up on being able to find flattering clothing and played the "hit-or-miss" game every time I went shopping or even got dressed!
Thank you for restoring my confidence in the fact that I am learning how to care for myself and present myself as a person with confidence!
Sincerely, Leah
DEAR LESLIE,
First of all, thank you for all your wonderful outfit ideas every week! I cleaned out my closet and gave away about half of it to a friend who could use them. I kept the basics and started adding color to make new outfits and I have never had so many complements.

I look forward every week to your column.

Marian
Pssst! The best way to move your style forward is to remove the clutter from your closet! Need help with your closet purge? MSP's Closet Purge Help