1-16-23 ~ 4 Pieces that Always Work
January 16, 2023, 2:58 pm by MSP
There are a few things that work on every woman. Actually, there are four (4) pieces that work on every woman. The structured jacket, the straight-leg trouser, the pointy-toed shoe, and the A-line skirt. It does not matter your body type, these four pieces of clothing generally work on everyone.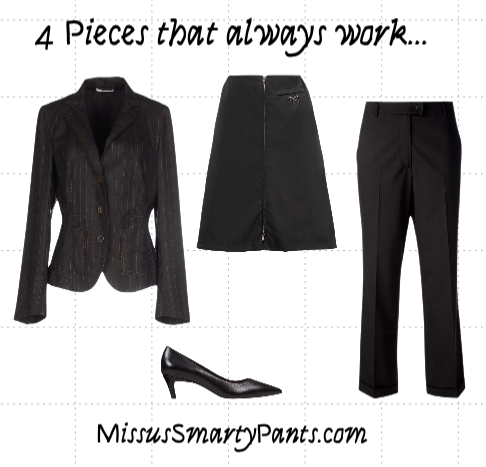 These pieces will do different things for different body types. For example, if you are heavy in the middle, the A-line skirt gives you the illusion of a smaller waist by extending the hips. And if you don't have curves, it helps give you the volume where you need it--in the hips. Similarly, a structured jacket is the best way to camouflage a tummy. It has a "build in" hourglass shape, then it makes people think you do. This jacket does the work for you!
A straight-leg trouser presents a straight line up and down the body, creating a flattering vertical line to the lower body. For example, let's say you have skinny legs and big hips. If you try to emphasize your legs, your hips look disproportionately bigger. The straight-leg trouser equalizes volume and width so that you get a straighter, narrower lines all the way down.
Add pointy-toe shoes to further enlongate the line of the leg. When you have a little extra visual height, your leg looks longer because we've extended the toe box of your foot. It just tricks the eye.
Q: Do you have these four (4) pieces in your closet?