1-9-2023 THIS WEEK: Fast Figure Fixes
January 9, 2023, 12:36 pm by MSP
Fast Figure Fixes
This week's article is about defining and refining your personal assets/attributes. What are they? Can you list a few of your assets? We always think right away about the areas we want to minimize...but, can you list a few of your good bits too?
By taking time to evaluate your shape (from head to toe) you'll learn how to play-up your "good bits" and mininize the areas that you wish to minimize. No body is perfect; and that's what makes us real women-we are all a little bit different. Viva la difference. The real definition of style therefore is a woman knowing her true assets (and of course, her not so good bits).
This week, find out what to wear if you have a short neck, long neck, full bust, small bust, long or short waist, thick middle, flat or full bottom, heavy thighs, and so much more!
With style being about putting together a complete look and feeling good about your appearance; this week's article will help you focus on your actual shape. NO JUDGEMENT! Just real style advice that will help accept and address issues that you may be silently battling everyday.
True style means being able to acknowledge your body-assets AND flaws. This week you get a personal assessment list to help you know what to wear and what to avoid.
Get ready for your personal style "AHA" moment...
"Fast Figure Fixes" helps you dress with style confidence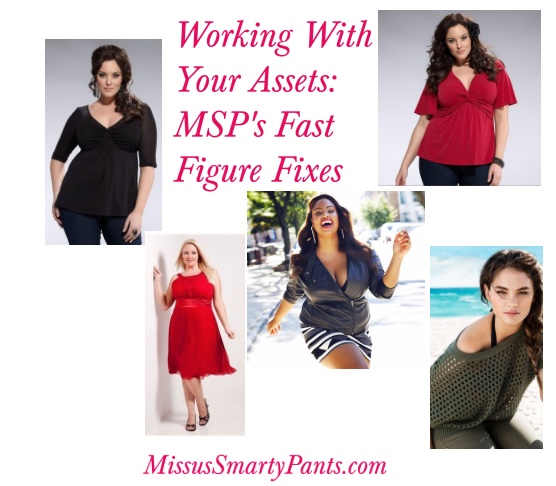 Order Your Personal Profile Today!
---
MSP's Weekly Style Mission
You know that one item you LOVE and always wear? Go grab it right now!
This week's Style Mission is to figure out WHY you like this one particular garment... Why does it gets worn so often?
Ask yourself these questions...
__It fits my body well.
__It's a classic and can be worn almost year round.
__It makes me feel fabulous (happy, comfortable, slimmer) every time I slip it on.
__The color looks great on me.
__The color works with most clothes I wear.
__I get compliments when I wear it.
__It projects an image I want to project.
__It flatters my body because...
ON A PIECE OF PAPER: JOT DOWN YOUR ANSWERS TO THESE QUESTIONS.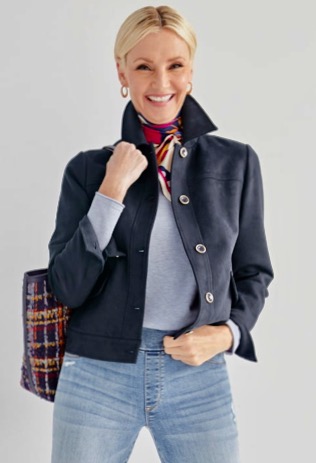 Next time you shop for clothes...you will be an "informed" shopper!
---
Dear Leslie aka MissusSmartyPants
Missus Smarty Pants, I subscribed just a couple of times several years ago. I've benefitted​ tremendously. You have saved me hundreds of dollars, and I still use your advice daily. I found out why the petite shirts weren't working... I'm long waisted. I know better than to wear loud stretch pants. I'm a C type. Even if every single person I know dresses this way, it's not right for me. This alone will save me tons of money. In fact, I can't think of one single style question to ask because you taught me well. Thanks so much!!! You rock!!!! Laura
DEAR MSP,

I just wanted you to know that I have had more compliments and owned fewer clothes than ever before since I joined you. I love the liberating feeling of having "permission" to ditch clothes which don't make me look or feel good even if they are not worn out and they still fit!

I did one of the style missions last week. It was using a black animal-print scarf which I had tried to wear the week before but with THAT outfit it made me look too "dumpy" for some reason – proportions all wrong (although I am still amazed that I was able to notice this for myself!). It was left hanging on the wardrobe handle ready to go in my next charity shop bag. However, when Friday came around and I was off to work in a plain black v-neck jumper and jeans – it was just the thing to lift my look. My boyfriend even commented that I looked very "French" and stylish and I also received several compliments at work…on a Friday!

Thank you for all of your help and wise words. I have never been known for taking care of my appearance or putting together outfits – and now it is becoming part of my daily routine – helped by the fact that I lay my clothes out the night before………

Thank you so much

Rocking my SYSter style in the UK


HI LESLIE,

I am loving your weekly style articles and my personal profile dressing tips. I do have a question though. A few times when discussing accessories you have mentioned attaching a brooch to a chain and wearing it around the neck as a pendant. I've tried this and find that the brooch slides back and forth and doesn't stay in an upright position. Is there a trick to attaching it to the chain so it won't slide on it? I love this whole idea of using a brooch this way because I have so many of them but I just can't figure out how to keep it in one place on the chain.

Thx. Leslie. Janice


MSP HERE: Dear Janice,

I love hearing that you are enjoying your weekly Personal Profile and its dressing tips.

As far as attaching a brooch on a long necklace as a pendant, I think the reason I've been successful is I'm using a thick chain that is textured (rope-like). Perhaps the reason your brooch is sliding around is because the chain is thinner and not textured. Try a thicker chain and see how that works.

Love, Leslie MSP

DEAR MSP

I came home today and a neighbor was in my driveway. She said, "You always look just like someone in a magazine!" (I was wearing a pretty scarf and a cute black jacket w/my jeans.) Thanks for all you do to help us look our best with our style!

Love, Lavinia