1-2-2023 THIS WEEK: Stylish Exercise Wear
January 2, 2023, 1:15 pm by MSP
2023. It's your chance to write your novel...12 chapters, 365 pages. Everyday is a new day to create the life you want. What will each new day say about you?
Are you resoved to taking better care of yourself (mind and body)? By far the most popular New Year's resolution is to be more active. I'm all in when it comes to improved health and fitness. As a group fitness instructor and yoga teacher, it is my passion to inspire others to be healthier by consistantly showing up and working out. Even if you don't attending group fitness classes, you can improve your fitness by walking briskly regularly.
Are you resolved to move more in 2023?
Don't we all need something to motivate us? What's going to get you to move more and make exercise part of your weekly routine? Well, I can't think of a more positive, fun way to motivate you than new exercise wear! This week's article has got just the stuff is all about choosing flattering exercise wear that will minimize the bits you want to hide...and play up the good parts you want to flaunt!
There's nothing more motivating than new exercise wear!

Many years ago (in a galaxy far, far away) I use to wear BORING exercise clothes. I've always gone to the gym regularly, but was waiting to wear something stylish until I lost those last dreaded few pounds that would not come off. Those pounds kept hanging on for years with no change in sight. That meant I was wearing boring exercise clothes for YEARS!!! Why did I do this to myself? My rationale at the time, was that there was no point in being "fashionable" at the gym because I was just going to get sweaty. Wearing a large cotton shirt and black yoga pants were just fine. I could buy something nice when I "deserved" it. Wait a minute: wasn't going to the gym part of taking care of myself?! If so, I deserve to look and feel good today! That's was an "Ah-a" moment for me.
Something "new" goes a long way. No need to spend lots of money on workout clothes, or buy a complete workout wardrobe. My point is, I found out through trial and error (over 20 years of it) that cute exercise clothes (ones that smooth over the bumps and hide stuff) really do make you feel better about exercising. And that's the point. You deserve to feel your best as you start 2023. It does not matter if you are just starting out walking around the block, or just signed up for your first 5K. We all need motivation to embrace a healthy lifestyle.
Exercise clothes that "Shows Your Style" helps you feel more confident, and this in turn gets your booty moving. This week's style article "Stylish Exercise Wear" (in all 5 Personal Profiles on Thursday) will go in depth about wicking fabrics, new technology on cross-training sneakers and most importantly... how you can LOOK stylish (and minimize the jiggly bits) with fabulous workout wear. Plus fit tips for every size and shape!
Use this week's article to help you find your best exercise wear.
Then find a group fitness class you love, or just get moving doing something you like.
Flattering exercise wear + Any form of exercise = A healthy combination
(My favorites are: yoga, cycling, hiking and jogging outdoors)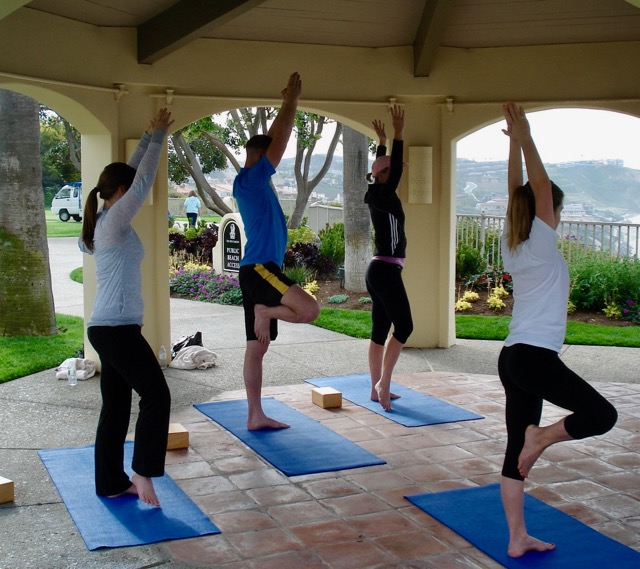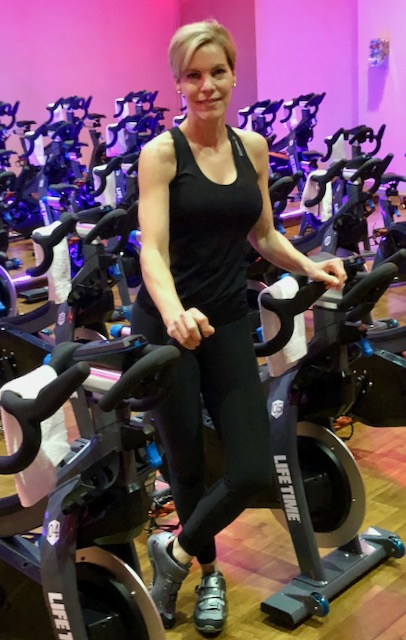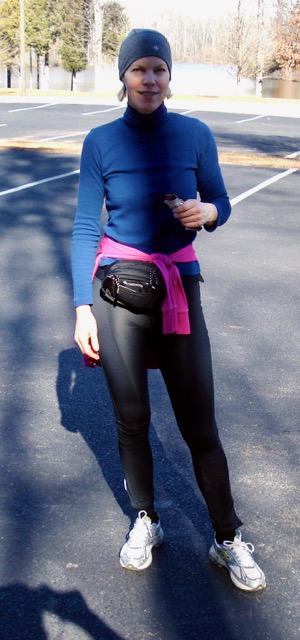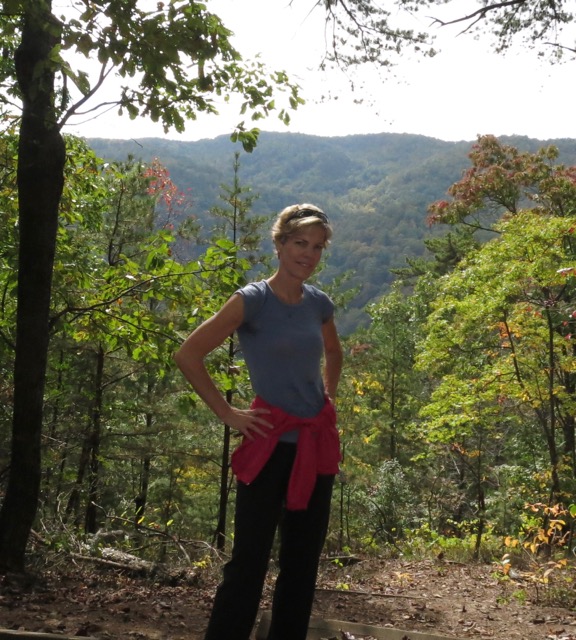 My personal fitness story. I'm sharing my personal fitness story with you (yes, again) since this week's topic is about flattering exercise clothes that motivate you to move. Since I've never been extremely over-weight or really un-fit, you might not be that interesting, and that's fine. But, this is MY PERSONAL FITNESS STORY and I did finally figure out how to get healthy and move regularly (and it took me only 30 years, LOL)!
As a young mom with three active boys, I did what I could to exercise--but it was never on a regular basis. When my two oldest sons attended school I became involved in a program that was run by former dancer called "Dance For Life". It was in these classes that this beautiful woman (inside and out) fueled my passion for wanting to have regular exercise in my life! I attended regularly for a complete year (hardly ever missing) for a small weekly fee of $5 (+child care). This woman had that "something" about her that kept me engaged and interested. I'm not sure what it was, but she made exercise special. A year later she moved her "fitness ministry" to another church. The new location was just too far away for me to continue to attend. However, to this day I will be forever grateful to her inspiration and the message she shared to love ourselves completely... mind, body and spirit. Her beauty and fitness motivation was spot-on and remains ingrained in me to this day. This week, I hope to inspire and motivate YOU with fabulous fitness clothes!
After several years of no regular exercise (except for the running around as a busy mom) I searched for something to replace my former exercise program. I came across Jazzercise. I loved it and tried to stick with it, but it was too expensive for this young mom's tight budget. I could not afford to drive the distance to their studio three times a week, or pay their higher fees. After becoming a "Jazzercise flunky", my husband and I later signed us up with L.A. Fitness (a large nationwide gym). Through his work he got a discounted rate...and again I tried to attend when I could.
After moving around the country for my husband's job, we finally settled in the Carolinas. We joined the YMCA and again (well, you know the story) I tried to attend regularly. I've always wanted to stay fit and healthy, but I just didn't put in the effort to do it regularly. As the years moved on I would add a few more pounds. I never felt really good about my body or felt that I was really healthy...just so-so. Every now and then I'd go the gym and really push myself really hard, then I'd come home stiff and so sore I would not go back for months! I was always stopping and starting... I felt like a fitness failure.
One day on a whim, my husband and I decided to try a new gym. It was smaller, quite affordable, and had lots of classes. Together, we both got really excited about taking better care of ourselves since our boys were nearly grown and on their own. We set aside time for regular workouts three times a week--and keep to this schedule. I got serious about working out...really serious. I wound up attending a weight training class followed immediately by an intense cycling class. I did this three times a week, faithfully. I lost a few of those unwanted pounds right away, but for all the exercise I was doing I was still NOT FIT! I tried adding more cardio, then working out with heavier free-weights. NOTHING. At the time my husband and I were still munching down on take-out pizzas (with extra veggies, mind you) once or twice a month. Our diet was decent, but not extremely clean. We continued to learn more about health and cleaned up our diets even more, little by little. It was at this time I was diagnosed with Hashimoto's disease.
Finding out I have an autoimmune disease changed me. At first I felt like a martyr. "Poor me" I would think to myself. This is not fair!!! I walked around in a dark cloud for months. Luckily I snapped out of this way of thinking. I then began to learn everything I could about being healthy...or how about this: FINALLY BECOMING HEALTHIER! For sure, it has been a long hard journey and I personally cry when I think about how BAD I felt for so long! The brain fog, extreme exhaustion, aching joints, and insomnia, drained by body on a regular basis. I didn't know how bad I felt until I was able to balance my daily life, diet, and exercise.
My "infliction" became my blessing. I try not to talk about my aches, pains and struggles (after all who wants to hear about them...since we all have things we struggle silently with). But the fact is, what was once my "infliction" had become my vehicle to obtain better health. I had to figure out for myself. We all have to LIVE INSIDE our bodies and it's ultimately up to us to take care of them.
For our journey in life to be its best; it's all up to us.
Fast forward to today. For the past twelve years I've been a fitness instructor. I'm a cycling instructor with a Spinning certification, EDG/PWR and Keiser certified, as well as an AFAA group fitness instructor certification, Aqua instructor...as well as a yoga teacher. How did I go from being a "gym wannabe" to a lover of fitness? Two words: Consistency and Cute exercise clothes!!! That's it in a nutshell. I encourage you to find what works for you.
Find your groove! Consistently seek out exercise on a regular basis until you find what moves you. Then clean up your diet and drink lots of water. And before you know it, you'll look and feel your best. And one more thing... ALWAYS wear cute exercise clothes. Goodness knows, there were times I could make a gazillion excuses to NOT go to the gym...but it was my new sneakers that (literally) got me there!
With love, Leslie MSP
---
MSP's Weekly Style Mission
SYSters we are not seeing everything--and that's NOT a good thing.
This week's mission will be an 'enlightening' experience, LOL!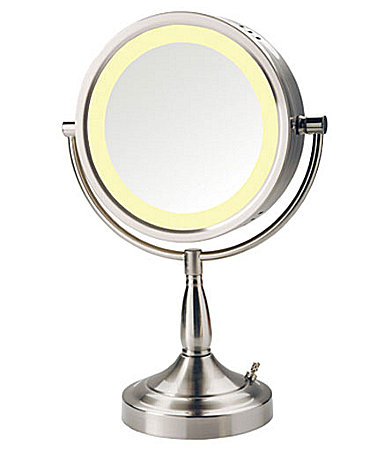 This week's Style Mission is to purchase a magnifying mirror (preferably one that lights up).
A good magnifying mirror allows you to see your face up-close...really, really close. This is the only way to know if your skin could use some exfoliating, if there are a few stray hairs on your chin, too much peach fuzz, or if your eyebrows need reshaping, or a few unruly ones need plucking. You can even check if your makeup is on evenly (like your eyeliner) like you THINK it is. The truth is in the SEEing!

Love, Leslie MSP
---
What's New For 2023?
Below are the projected fashion color trends for spring. Which new color will you be wearing this spring?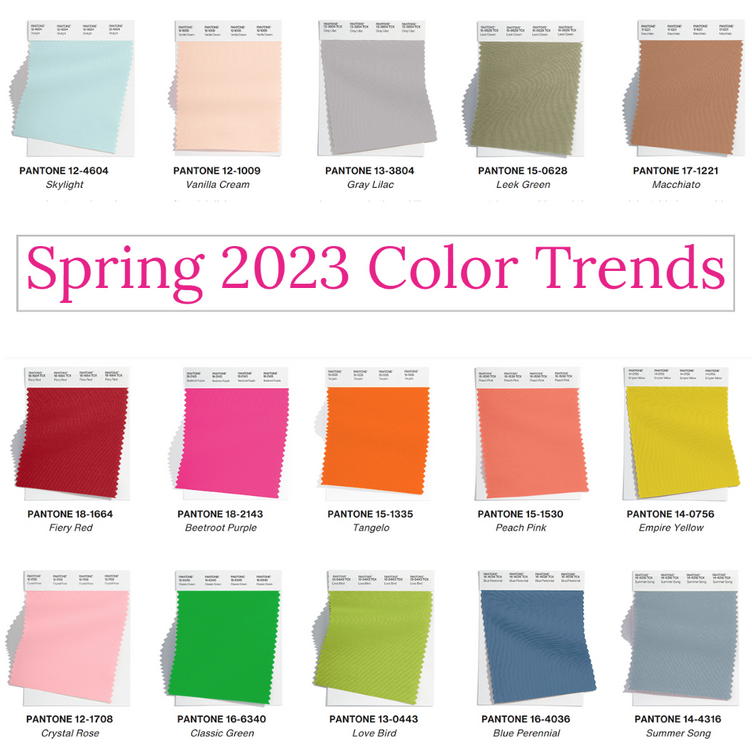 Share your thoughts on our MSP Facebook page: MissusSmartyPants Facebook page.
---
What SYSters Are Saying
"Thank you for helping this 50-something, frugal, fashion-challenged woman to look and feel so much better."
Dear Leslie,

Thank you for helping this 50-something, frugal, fashion-challenged woman to look and feel so much better. I had not properly shopped for clothing for many years, though I had a closet stuffed with cheap impulse purchases. I recently lost weight and needed to update my wardrobe. It was difficult to spend the money on quality items, but your advice guided me well. Now my closet is not stuffed, my wardrobe consists of beautiful, high-quality basics, and I look and feel more polished. It's a real confidence booster.

I will probably never be a great shopper, but my advice for others who hesitate to spend is that you will get to a point where you feel you've covered the basics. Now instead of trying to grab some bargain sweaters at store sales, I'm looking for a nice black blazer. While there was an initial investment, there is also a very practical pay-off in being able to maintain an organized, versatile wardrobe and being able to pull together an attractive, appropriate outfit for any occasion.

So my conclusions: Missus Smarty Pants made me feel frivolous at first, but no more. And feeling younger and more confident? Definitely YES and that is priceless!

Thanks, Cindy
Dear MSP, I was recently told by my boyfriend that he considered the way I dressed and my clothing "stylish"! I lost 100lbs last year and joined MissusSmartyPants.com last year. WooHoo! Because of the reasonable approach your blog, meaning for average women on budgets, I have managed to replace my wardrobe and not bankrupt myself. Thank you for all you do; especially the inspiration and confidence I've gained. I now know it's not my body that is "wrong" if the garment doesn't fit. Now I enjoy looking for "my" garment.
Hi MSP, 
Thanks for offering the Seasonal Color ID. I am happy to know I'm definitely a winter -- I thought about all the times I had worn tops that got lots of compliments, and they were all times when I was wearing the winter colors!

Now I have to purge my closet of all those colors that don't make me feel like a million bucks! I printed out the winter color chart on a piece of photo paper, cut it out and laminated it --- it is now the PERFECT size to keep in my wallet and take with me when I go shopping! I love it!

Thanks for all your help! Gina