12-8-2022 MSP's Holiday Gift for You
December 8, 2022, 5:11 pm by MSP
Dear Friends,

With the arrival of the holidays, we often find ourselves with an occasion we need to dress for. Instead of being excited about dressing up; we become panicked.

Suddenly panicked thoughts creep into your head..."What could I possibly wear?!"

There's no need to get anxious or worry you won't be dressed appropriately for any festive event. Why? Because you've got MissusSmartyPants! ...And now dressing for any festive occasion will be a snap!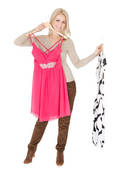 My Holiday Gift to YOU!

Use these 'festive' tips to help you create an outfit for any holiday party or get-together (from Christmas to New Year's eve).

(Print tips below and save them in your Style Control Journal...you have one, right?) More than likely, most of these items listed are already in your closet!


Casual-Festive style ideas:

If you are entertaining at your home or going to an informal get-together, keep comfort as well as casual style in mind. (You don't want a long necklace getting in the way of food prep or be stuck wearing a pair of hard-to-stand-in shoes for hours on end.) Here's how to incorporate style and comfort into your casual-festive attire:

1. Ready-set-go! Pant sets in velour (or other stretch fabrics) help you look festive and be comfortable too. A pretty sequined shell peeking out from underneath dresses up your comfy set.

2. Go dark. Wear dark jeans or trouser denims (always a dressier option) with comfortable ankle booties or slip-ons, top it off with a rich jewel-colored sweater and a glitzy necklace (or earrings).

3. Add a feminine touch. Wear a stretch lace blouse with dressy black velvet pants; add colorful chandelier earrings and black suede flats.

4. Go wide. Palazzo (wide-flared pants) with beaded ballet flats and a jewel-toned (body skimming) sweater.

5. Tie one on. Add a colorful (festive red perhaps) long scarf as a belt and wear a crisp white blouse, along with basic black pants from your wardrobe.

Below, this plush velvet jacket will look especially festive
when you wear a sparkly sequined top underneath...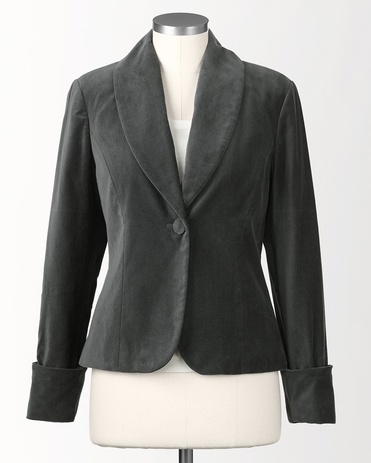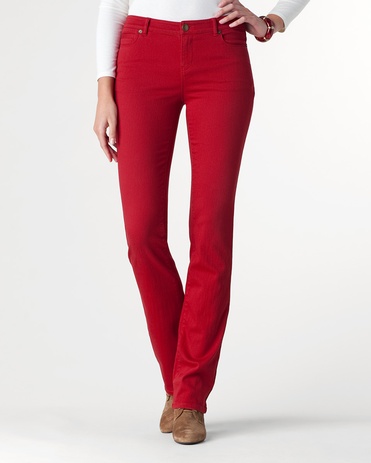 Pssst...Don't forget to add a festive accessory + sassy shoes!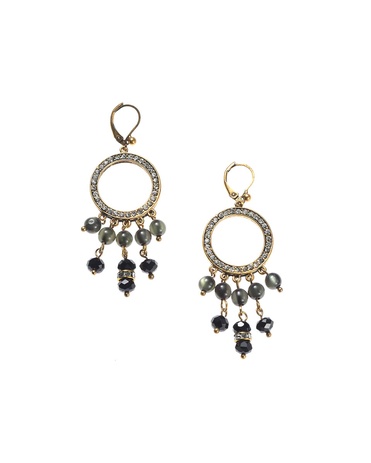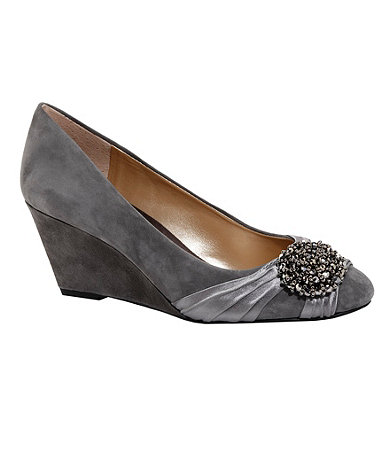 Dressy-Festive style ideas:

Look for dressy-dresses or palazzo (full-legged pants) pant-sets in luxe chiffon or jersey knits. Wear strappy heels (even if they are only 1"). Remember, your shoes should be comfortable enough to stand in most of the night. Dressy evening events mean dressier and more sparkle is appropriate.

1. Got LBD? (fashionista talk for "Little Black Dress") it doesn't have to be black, either. Wear a simple black dress (or other another dark solid color) as a backdrop for sparkly jewelry. LBD fabrics should be matte jersey, velvet, gabardine or satin. It's up to you to add the "glitz" with your choice of accessories!

2. Palazzo-puluza. This is a figure-friendly style of dressy pants (Palazzos are full-cut) they will keep your legs warm and also look nice with a sequined top and strappy heels. *Remember to wear a body skimming top when you have full-cut pant on.

3. Sparkle and shine. A basic shell with dazzling beading or a cardigan with sparkly sequins will look festive. Finish it off with Palazzo pants, a simple pencil or an A-line skirt in black and pumps to match.
It's a shoe-in. Add a touch of shimmer to your shoes. Try either a funky flat or a beaded shoe at least 2" heels. Remember shoes should be an accessory that goes with the outfit—not competes with it. When making fancy (or bright) shoes a focal point, the rest of the outfit should remain on the simple side.

4. Up-do chic. Try a new way with your hair. Try wearing your hair up or half pulled up. Even a rhinestone clip will do or this season's sparkly headband. Add a little shimmer powder to skin that is exposed for an extra special look.

5. Look underneath. Wear a camisole under a shrug or jacket, or wear the cami bare—if you dare! A touch of feminine lace is pretty when peeking under a mens-wear jacket too.

6. It's a wrap. Add a soft wrap or plush velvet jacket to any basic dress or pant. Of course black matches everything, but also consider rich colors like burgundy, or deep red that are so popular this season.

7. Go bold... go gold. A bold linked necklace in gold will add unexpected richness to anything you wear!

8. Bedazzing and bejeweled. This season Lucite chunky jewels in rich vibrant colors are all the rage! Look for stretch bracelets, necklaces or chandelier earrings to match your dress!

9. Finish it right. Your evening bag should be complementary to your dress in both fabric and color. A clutch purse works best. If your dress is the main focal point— your handbag should blend right in. On the other hand, if your dress is simple and understated, you can play up your purse.

10. There's lots besides black. There are many deep jewel-tone dresses to choose from besides black. Colors like amethyst purple, sapphire blue, emerald green, burgundy and cranberry red. Whatever color you choose, it should bring out the color of your eyes (matching your dress to your eye color has a gorgeous effect!)


Tis the season to sparkle...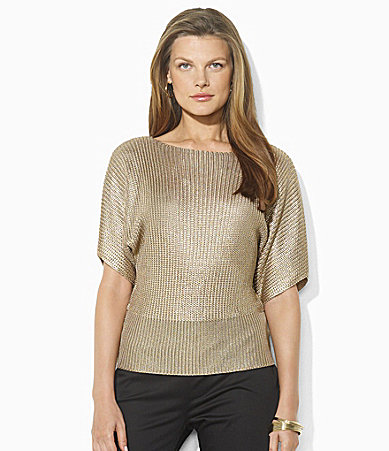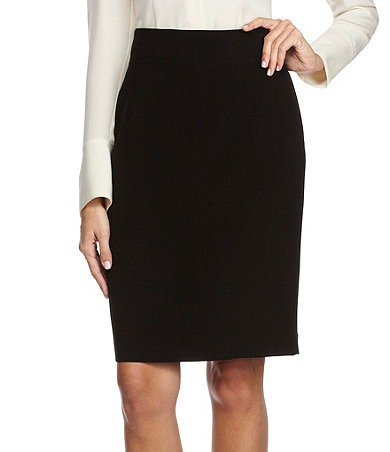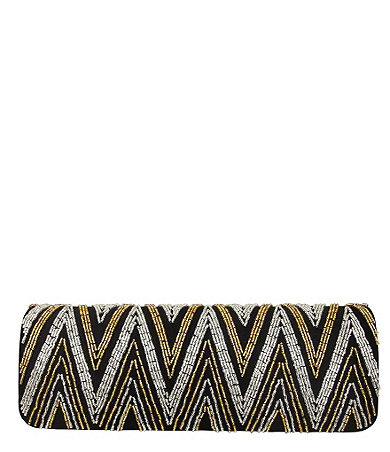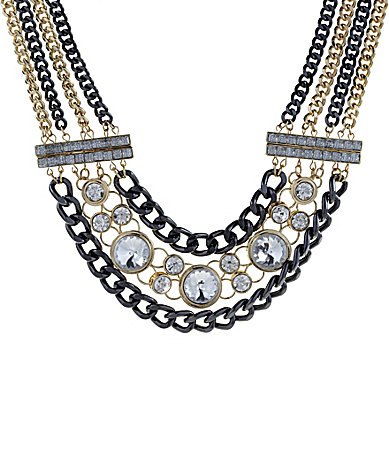 Don't forget to keep your legs warm and stylish...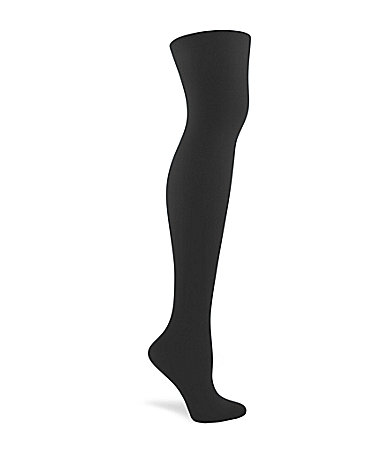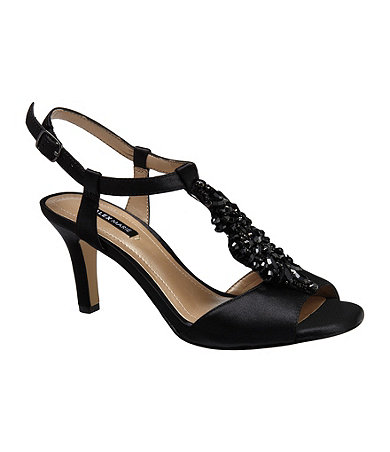 Holiday Don'ts:

1. Putting on the glitz. It's best to keep the glitz to a minimum. Of course the holiday season is time to wear sparkle and glitz and have fun....but only with a bit of sparkle. Be careful where you put your sparkle! Sparkle and shine naturally draws the eye to that area on your body—be sure this is an area that you want to highlight.

2. Mass confusion. When you wear a plaid shirt, then top it off with matching earrings, necklace and then add a sparkly belt and gold shoes—you simply have too much going on! Keep it simple. A simple black dress with matching shoes and a beautiful focal point necklace is more effective and stylish!

3.Not knowing the 'vibe'. Find out ahead of time what the dress requirements are for the party you are attending. Is it business casual, cocktail attire, or dressy casual? Your best bet is a classic, yet basic outfit (or dress) that can be easily be dressed up or down. No matter what the "dress code" is--you will look great every time!

4. Too much on display. Often women get an invitation to a party, and feel they need to over-expose (thigh-high skirts and massive cleavage) to look alluring. This is not true! In fact, you run the risk of becoming a fashion victim. Consider showing a little shoulder or collarbone. These areas often look great on women of all ages. Less is more. It's always best to leave a little to the imagination!

5. Don't do the "red & green" theme. Don't do it! Please do not ever wear red and green together at the same time! You can wear either one with black or winter white (cream) or gold—this will keep your look classy.

6. It's in the bag. The right handbag completes your outfit. This is not to time to use your everyday handbag…nothing ruins your festive look faster! If you spend money on dressy clothes (or put together something fabulous from your closet)—invest a few dollars in a glitzy evening bag! You can pick up a great inexpensive clutch at any "big-box" store for next to nothing!

One last piece of advice…don't make it too complicated! Women have a way of overcomplicating everything including the holidays. Keep it simple…you don't need to do everything! You have my permission to pick and choose. If you run short on time simply wear a basic A-line dress or dressy separates; then add sparkle with your accessories and your SMILE, of course !

Warm blessings to you and yours this holiday season...
Love, Leslie aka MissusSmartyPants

P.S. If you are not yet a SYSter in style, I invite you to join us. It's a perfect time to start a brand-new style journey. As always, the last four weeks of style articles and shopping guides (specific to your body type) are posted to get started.


MissusSmartyPants Gift Certificates $14.95-44.95

Share the gift of style this season!
Give a MSP gift certificate