11-14-2022 THIS WEEK: Copy Her Style
November 14, 2022, 12:46 pm by MSP
We are revisiting "Copy Her Style".
Celebrities and other women out in the public eye always seem to look good. Even on days when they are running errands, going to the gym, or simply relaxing-they have not a hair out of place.
Fact: celebrities enlist help. They have personal assistants, personal trainers, a chef, and a nutritionist to help them keep their scheduled lives in order. Celebrities also hire personal stylists to help with their public image. As a celebrity, you won't make it very far if you don't have a bit of panache with your wardrobe.
A hired stylist puts together complete "outfits" for their celebrity clients; showing them exactly what to wear. This personalized wardrobe plan includes not only outfits based on their body type, but a complete grid of what goes with what. This way, they can't get it wrong (kinda like Grananimals for an adult woman, LOL!).
Pick a celebrity (or any other well dressed woman) that has a similar shape and similar coloring to you...
then STEAL HER STYLE!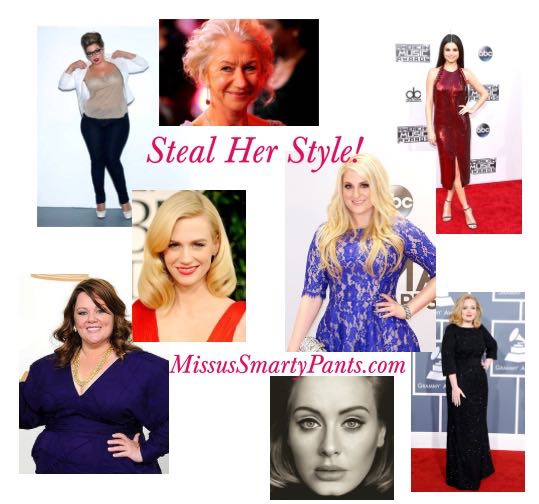 This week "steal" the look of a celebrity (or another well dressed woman) that has a similar shape! In essence, you become a "body double" of your favorite celeb and "copy cat" a few of her fab looks. Get style inspiration in this week's article. It's as easy and seeing what works best for your body type.
This week's article (posting on Thursday) is a compiled photo album of celebrity and other (well dressed) women. It's full of fab outfits for all 5 body types!
Remember: Imitation is the sincerest form of flattery...This week, "Copy Her Style" is just what you need!
"Makeover" your style with a MSP Personal Profile Membership!
---
MSP's Weekly Style Mission
This week's Style Mission: Plan your outfits for one week!
Spend a few extra minutes tonight planning your weekly outfits. This will be a gift you give to yourself of more peace in your weekly schedule. What better gift could you possible give yourself?
Be sure to include on each outfit's hanger your accessories as well (you can put them in a little zip-lock bag). Putting together outfits for the week will not only help keep you stress level down...it makes you start thinking more about "outfits"...not just individual pieces!
Love, Leslie MSP
Fabulous 'fuzzy' hangers for perfect for hanging complete outfits...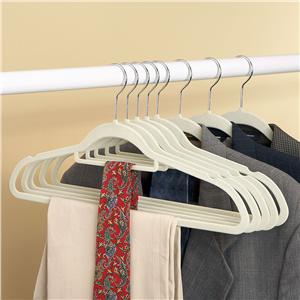 ---
What SYSters are Saying
Hey MSP! My husband just said to me yesterday how he loves the way I am enjoying clothes now that I have learned so much from MSP. I am much pickier about clothes and actually said that I may have too Many!! Never dreamed that would be possible. Thanks to MSP I have the self esteem I should have had when I was younger!! Susan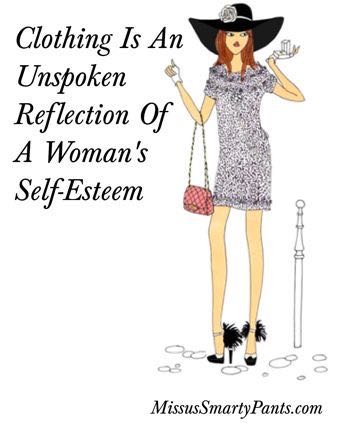 Dear MSP,

I just wanted to tell you about shopping in my closet last week. Sunday I wore a cream colored wrap top over a gold cami peeking out, with a gold textured jacket on top with black pants. The gold jacket I had purchased after last Christmas at Coldwater Creek on clearance and had not found much to wear it with. However, I got so many compliments on the outfit - I was very pleased. Now that has become one of my favorite outfits. I added chandelier earrings to finish off.

Also while I was cleaning out my closet, I found a black blazer I had forgotten about and am wearing it today. Another bonus find!

Love your style service and thanks for changing my thinking about fashion. Now my daughters actually listen to my fashion advice -- WOW! They are 21 and 13 and ask my opinion now. How 'bout that?

Thanks again, Joan in GA
"Pampering yourself is fun!"
Dear Missus Smarty Pants,

I have had so much fun choosing a basic wardrobe. This took me a few months to get together. I was methodical about the whole process.

The most important thing was throwing out my old clothes I didn't like or wear. Some actually had sentimental value. Out to the trash they went. Now I am ready to go anywhere anytime. 

Then there is my closet. What a real mess. I went to Ikea and for 80 dollars my closet looks and FUNCTIONS Great!! I even put on a fresh coat of paint.

I got myself re-measured and bought 2 new bras. One Black and One Nude.

I want to thank you because you made me realize I am worth it. I didn't have to spend a fortune. When you know firsthand what you are looking for you can find the right price.

Thanks so much for the great site and all your help.
Next week a hair appointment and a pedicure. It is so much fun taking care of myself. This whole process made me feel more confident. This will stick with me forever! 



Yours fondly, Barb