11-7-2022 THIS WEEK: The Right Jacket for Your Shape
November 7, 2022, 11:18 am by MSP
Great style is attainable. I know this to be true with every bone in my body. However, I know there are plenty of women out there that would disagree with me. Their reasoning might be that some women are born with a "fashion gene" and others, are not. Well, couldn't disagree more. Style is something that can be learned.
As a stylist, I have worked with women from all walks of life who thought they could not be stylish. Yet, with each of my personal shopping clients; I've managed to change their opinion. How did I do it? I showed them a few fashion tricks, shared a few tips specific to their body type, and got them into a great fitting jacket-just right for their shape. With the right jacket they looked instantly fabulous! Each and every woman was amazed at how good they could look.
A great fitting jacket is the best style tool you can own.
This week I'll show you the best jackets based on your shape.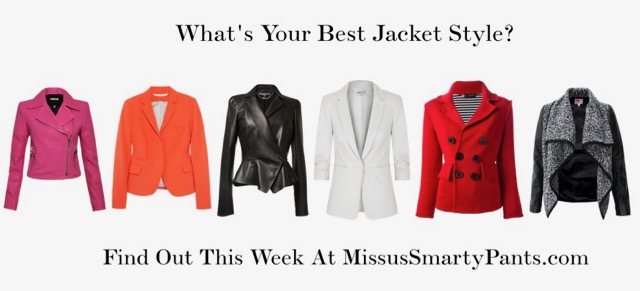 Style IS learned. This week learn how to select only your best silhouettes and proportional jackets. That's one of the biggest components of great style--wearing what works for you. When you select what works---you leave the rest on the racks!
Find your best figure-fixing jacket for your shape. This week at MSP~ jacket color, length, style, and your body's shape (as well as height/weight) are all important factors when selecting the best jackets for you. On Thursday (in the Personal Profile sections) I'll break down it all down.
Love, Leslie MSP
Rediscover your sassy style with a MSP weekly Personal Profile
---
MSP's Weekly Style Mission
This week's Style Mission: Take care of the clothes you already own. NO shopping allowed!
Think about how many clothes you have relegated to the back of the closet (or shoved to the back of closet shelf) because they are missing a button, or the hem is coming undone, or the zipper needs replacing? Wouldn't you LOVE to put these clothes back into rotation?
It's anti-procrastination week at MSP!
This week I challenge you to gather up all the clothes that need mending/altering...and get 'em fixed!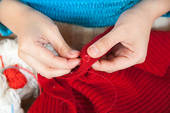 For a minimial cost, you'll get these clothes (previously just stuffed in the back your closet shelves) back into rotation. It will be like having 'new' clothes, LOL!
Love, Leslie MSP
---
What SYSters are Saying
"I Got rid of 100 things!"
Dear Leslie,
I just want to THANK YOU!! Your advice and help have been wonderful. I cleaned out my closet this week and got rid of 100 things!!! I had clothes that didn't fit right and things I was just hanging on too.
Now I know what type of clothing looks best on me, I know what basics I need to buy, and I am very picky about my purchases. I stopped by a new thrift store to check it out today and laughed when I saw some of my donated clothing in there. Thanks again for all of your help!
Doris