10-31-2022 THIS WEEK: 10 Ways to Tie a Scarf
October 31, 2022, 11:09 am by MSP
Without a doubt, a basic core wardrobe is essential to being a stylish woman. Read that again: a basic core wardrobe is essential to being stylish. With the right basics you can put together more outfits...yet your core wardrobe remains small. How can this be? More outfits yet less clothes?
The truth is, with a resourceful core wardrobe.... you purchase less clothes; yet you are able to create more outfits...this in turn makes you more stylish! See how this works? You really don't need many clothes...because you let your accessories do the talking!
E-X-P-A-N-D your wardrobe possibilities... by relying on fab accessories!
Pull out your scarves ladies...it's scarf season! One of the best accessories (especially in the cooler months) are scarves. Having said that, after wearing a scarf over and over (the same way) can be rather dull. What other ways can you wear a scarf besides loop around your neck? How else can you tie your scarves for unique looks that create fun and interest?
This week: 10 UNIQUE ways to wear scarves!
FYI: These are not your average tied knots...
These scarf tying suggestions are going to "Wow" you and your friends!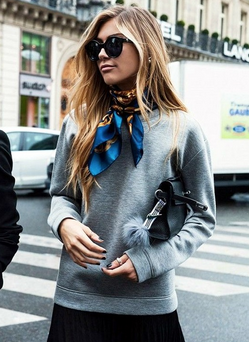 I've got some style tricks up my sleeve (okay, not up my sleeve...but rather with scarves, LOL)! I'll start you off with a few basic scarf knots and then I'll show you a few more jazzy ones. From there, we'll take it up a knot or two (couldn't help myself).
Get this step-by-step photo guide of scarf tying this week in your style membership Personal Profile!
*TIP* SAVE THIS SCARF TYING GUIDE FOR FUTURE USE!
Join MissusSmartyPants today and get this Thursday's Scarf Tying Guide!
---
MSP's Weekly Style Mission
This week's Style Mission is a "no-brainer"...Wear a scarf one day this week!
That's right, you're going to want to show off the new ways you've learned to wear a scarf.
Share the reactions you've receive from your scarf wearing outfit. Email me at: missusmsp@windstream.net
Love, Leslie MSP
A bright scarf tied in a puffy bow gives a basic outfit a certain level of sophistication...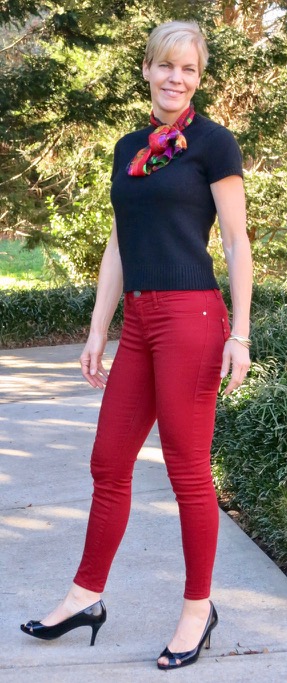 ---
Dear MissusSmartyPants
"I stepped out of my comfort zone..."
Dear MSP, I stepped out of my comfort zone! I am an A, Petite, short waist and flat tush YIKES! I finally listened and am building my basic wardrobe...adding my first skirt in years!
No more excuses for me :) I copied a J. Jill look I saw. My sweater is from Macy's, skirt from Land's End (all on Sale). I feel happy, confident and more importantly, pretty!
MSP thanks for all the encouragement! Jennifer
I got choked up when I read this email from a dear SYSter...
Had to write and say that your words are like a soft blanket that provides warmth and comfort. Thanks for using your skills to instruct and encourage your readers. You are a BIG BLESSING to so many women! May you be doubly blessed in return. :) -Anonymous in FL
Dear Leslie,
This saying (below) is also good for the FLYLady :)
PS: Thank you SO much miss leslie for all you do ~
~i have been doing much better at working the wardrobe than i ever
have before
~i actually think about the shape and construction of an article b4 bringing it home
~i actually think about 'my' colors before i bring it home
~and if it doesn't work with 3 things it stays on the rack
this is ALL due to your ability to share your passion
and i THANK YOU ♥ u Sue
Hello!
Let me introduce myself, my name is Jennifer, I am a 30-something stay at home mom. I have received your advice for years, and have always enjoyed and looked forward to your weekly updates! I always look forward to seeing how you use your own advice and principles and I hope that the pictures that you post of yourself won't stop. I have always thought you looked great! Keep up the great advice - and the great pictures so we can see how you put yourself together because it is so helpful!

Jennifer
Dear Leslie,

YOU LOOK GREAT! I love it when you post photos of your outfits. You always look so comfortable, stylish, and put-together, and your advice helps me do the same.
Love, Barb