10-10-22 THIS WEEK: 4 Steps to a Perfectly Layered Look
October 10, 2022, 11:03 am by MSP
The mornings are cooler, and now you must grab a sweater (or warmer jacket) before heading out the door. It's a refreshing change to feel a coolness in the air, and a joy to witness the brilliant leaves changing and falling off the trees; one by one.
Fall also means layering our clothes in order to stay warm. Wearing layers however, is also an opportunity to look more stylish, but it can quickly go wrong. But relax, I'm here to help you get it right. This week: 4 Steps to a Perfectly Layered Look!
Wearing shirts and sweaters in light layers will not only help you adjust to the fluctuating temperatures; it's also a very stylish!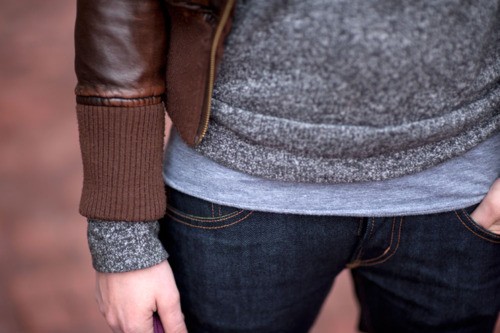 One of the best things about cooler weather is wearing a pretty layered sweater to stay warm (and of course, endulging in yummy "comfort foods" like homemade biscuits and soups and stews..yum). Sweaters are also one of the best ways to "Show Your Style" because you can layer them in so many unique ways. Layers also help you create many different outfits with only a few pieces. However a BIG word of caution...Layering can be two things: done well OR look lumpy and frumpy!
What to dress stylish "instantly" this fall?
This week: find out how to "Layer Like a Pro"...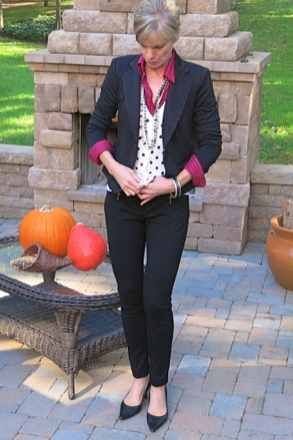 This week's article is full of practical "how-to" advice to help you get your layered look right. You certainly don't want to look sloppy (or over-heat) when you are trying to wear stylish layers--I'll show you how to do it-every time in just 4 steps! No more mistakes when you use my 4 step process.
"4 Steps to the Perfectly Layered Outfit" will also show you how to mix short and long tops, dresses and skirts, blazers, sweaters, vests, belts, leg-wear and more to create one stylish outfit after another!
You will also get a LIST of unique color combinations to instantly update your wardrobe! Use this week's article to help you mix-up some new outfits with what's already in your closet.
Get ready! This week's layering article will be posted on Thursday in all 5 Personal Profiles .
TIP: SAVE this layering style guide & use it all season long!
Love, Leslie MSP
Instantly Jump Start your Style with a MissusSmartPants Personal Profile!
---
MSP's Weekly Style Mission
This week's Style Mission: Purchase a full-length mirror.
If you already own one...are you using it daily before you walk out the door? You should be! If not, put it where it is easily accessible to view your complete outfit. It's critical that you assess your COMPLETE OUTFIT in a full-length mirror (head to toe)...before walking out the door!
Every morning assess your outfit from head-to-toe...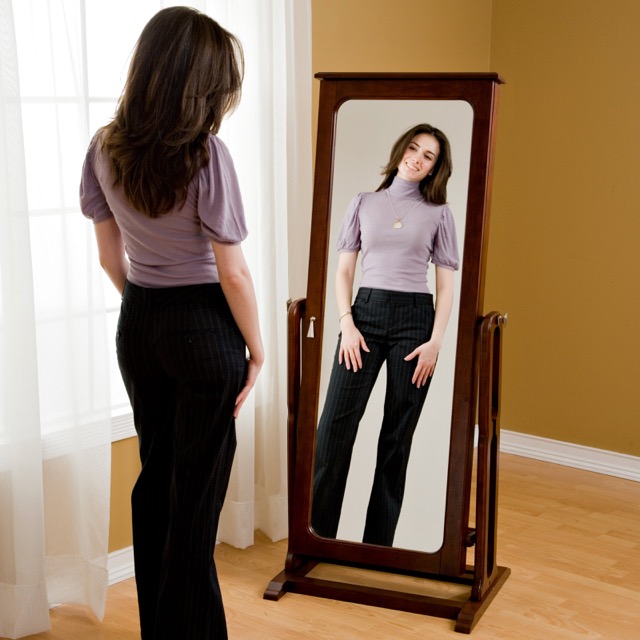 Of course MSP encourages you each week to dress for your body type...but great style is more than that. Great style is about dressing for your proportions and the only way to know you've got it right is by looking in a full-length mirror.
Great style is about balancing your body's proportions. It's about the length of your legs in relation to your torso. It's about the width of your shoulders in relation to your hips. All of these individual body proportions matter in relation to your WHOLE body. Dressing for your body type by using a MSP style membership will help you learn these "style basics" ...but in order to practice and get better at dressing "balanced" you must view (front and back) your outfit in full-length mirror.
Remember: the ONLY way to improve your style is by looking at what you are wearing on a daily basis!
Love, Leslie MSP
---
Dry skin in the Cold Weather Months?
Dear MSP SYSters,

It never fails, every fall I get requests for help with dealing with dry skin. There are so many products available and they can be quite expensive too. As a "fashionista" who also lives on a real budget I decided to share some inexpensive (and natural) products that I love and personally use:

For your hair:
Mix 4-5 drops of Extra Virgin Olive Oil with your conditioner
Apply it to your hair
Let it sit for about 20 minutes wrapped in a warm towel (or shower cap)
Rinse hair completely
Do this one to two times a week (depending upon dryness of your hair)

What's the buzz about coconut oil? By now you've been hearing the many praises of coconut oil. It has many natural beauty and health benefits you'll want to learn more about it.

Most often pure (virgin) coconut oil is used as a healthy replacement for solid shortenings in cooking. However, it also moisturizes, conditions, nourishes your skin and hair!

Here are four ways to use coconut oil as a beauty product:

1. To moisturize skin. It is often an ingredient in expensive skin care products. Coconut oil has a lot of fat, which is great for moisturizing dry skin, as well as reducing the appearance of wrinkles. Use it after the shower or bath. It is usually recommended for the body—not the face (may be too oily).

2. Condition your damaged hair. Just massage a dime-size of coconut oil into your hair and scalp—let set 15 minutes and rinse well. You may only need to do this every couple of weeks. Virgin coconut oil is the only healthy oil proven to penetrate hair shafts. It creates fullness to your hair and reduces split ends.

Forget about pricey hair conditioners, hot oil treatments, thickening mousses and gels to nourish your hair. You'll save $$$ by using coconut oil instead.

3. To relieve itchy skin irritations and bites. Dab on some soothing oil and let set.

4. It removes mascara. One dab of coconut oil on a cotton swab gets off all the mascara build up.

5. Dry lips? No problem…try these DIY recipes using coconut oil, of course: DIY Lip Balm


Here's to happy & healthy skin!

Love, Leslie MSP

---
What SYSters are Saying
Hi Leslie,

I've been a member of your website for a year and a half now. I get the yearly subscription and it has really helped me. I'm an A and even though I've always been good at hiding my stomach because of my short waist, you have really helped me to understand that I am not as fashion challenged as I once thought. I have been enjoying making new cute outfits with the clothes I have. Sometimes I make something that I think turned out really cute and then I think maybe I should wait and wear the outfit for a day when I'm going somewhere else, but it suddenly hit me that it doesn't matter, because I can come up with another cute outfit then thanks to your help. (although sometimes what looked good in my head doesn't work when I put it on ;-)

This was really evident last month when we were packing up in case we were evacuated when there was a fire burning behind our house. I was upstairs putting clothes in a suitcase and my friend came up and asked how she could help. I looked at the suitcase and said, "by telling me that I don't have to take my ENTIRE closet! I realized that I really do like just about all of my clothes now. (I had recently donated 3 large trash bags full of clothes).

Thanks for helping me to discover a creative side I didn't know existed. I anxiously await your e-mails every week!

Sincerely, Barbara
Dear MSP,

Thank you for the help you are giving women so we can dress nice and feel good about ourselves!!!! I am a "C" body type, and have NEVER felt good about myself--always comparing my body shape to that of my small and petite sisters.

But after receiving just ONE of your weekly messages and shopping suggestions, I was finally able to catch on to the advice you were giving about what styles of clothes would look best on my shape. I went into my closet and put together ONE outfit with clothes I already had. I NEVER would have put these items together before reading your web site and the personal profile, but I did it and wore it the very next day. I received probably the very best compliment of my life, from my 13 year old son--who told me "Mom, you look kind of elegant today!" I was THRILLED!

And all I was wearing was a nice pair of jeans, a button shirt that had princess seams and small shoulder pads in it, and some flat loafer type shoes--instead of the typical jeans, t-shirt, and tennis shoes. What a difference! And I still felt like I was wearing casual clothes that I could get down on the floor and play with my two year old in!

Thank you SO MUCH--for helping me to finally love and appreciate my body shape, and showing me how to accent my positive points! Susan


Dear Leslie,

Just had to send you a note to say "Thanks" for telling us to purge our closets. Two weeks ago I switched out my summer clothes for the warmer ones for autumn & winter. I decided to sort them all while I was at it. 30 mins. later found me with a large pile to give away PLUS a very organized closet!

I thought I needed a lot of new things for winter and instead I found I need one white shirt, a pair of warmer shoes, some socks and maybe a few nicer blouses for "good". 

While I was putting the clothes away I organized them by kind and color (like you suggest). It's amazing how many options I have now! I won't have to repeat an outfit for 3 weeks. Now I am able wear 1 item more than 3 ways, LOL! Just like you MSP!

 Thanks again for helping me with an area I've struggled with for so long.


Sincerely, Kay