9-12-2022 THIS WEEK: Wear This, Not That
September 12, 2022, 10:41 am by MSP
Do you sometimes look in the mirror and know there's something off with what you're wearing? Yet, the bigger problem is; you have no idea what it is, or how to fix it!
It's frustrating when what you're wearing doesn't look quite right. It's even more frustrating when you like the color or the style, but again, something doesn't look right. Every woman wants to look her best. But not every woman has it figured out how she can fix style mis-haps, or how to avoid them all together.
This week is for you. Get the answers of how to wear something this way-not that way.
This week's article is full of ideas of how to "wear it this way, not that"!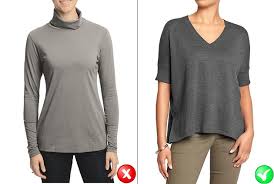 STOP "making do" with waistlines too tight or gaping in the back. There's something wrong if your clothes don't fit you right. You can and should feel comfortable in your clothes-and a slight fix is all that's needed! Don't let ill-fitting garments make you feel your body is not quite right--when it's the clothes that are not right!
This week's Personal Profiles will highlight proper fit. You will also get tips of how to adjust your clothing for the most flattering look. Stop guessing or wondering how something should fit you. See examples of how to wear something correctly...and what to avoid.
With a Personal Profile-Learn about proper fit & look better than you have in years!
---
MSP's Weekly Style Mission
This week's Style Mission is to take an inventory of your shoes.
Q: Do you have the right shoes to meet all your wardrobe needs? Think about it. If shoes can make or break the outfit (which is true)… are yours worn-out and scuffed up? Do you lack a good pair of dress shoes? What's missing?

This week, take an inventory of your basic shoes. (We're not talking fancy "dinner" shoes-just the basics)
With the change of seasons...it's a perfect time to assess your current shoes and what you need for the fall and winter. Inventory your BASIC shoes that you wear everyday. Do you have enough in rotation so you aren't wearing the same shoes every day?

Your everyday shoes should be simple, comfortable and functional. You should have a pair (or two) of flats, dress heels, boots, sandals and athletic lace-ups in basic colors like black, brown or tan.
Comfort and fab style...you'll get BOTH with these shoes.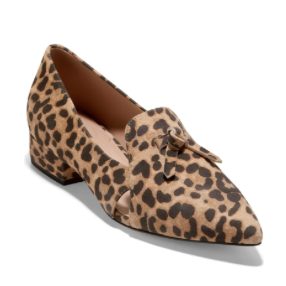 Nordstrom Cole Haan Skimmer Flat (4 colors)
Once you obtain an essential shoe wardrobe-add some shoes that are fun! Consider shoes with animal prints, embellished flats and bright colored pointy-toe wedges, etc. A stylish shoe can even become your focal point when wearing a basic or classic outfit.
Your shoes are talking! Guess what? You can tell a lot about a woman's personality and social class from her shoe choice. Some people notice shoes right away. What do your shoes say about you? Fun, practical, ready to take style risks? Or...scuffed up?!
---
What SYSters are Saying

Hi Leslie,

I just wanted to thank you for everything you've taught me. I've been a subscriber for 6 months and have learned so much. I just can't believe it. Everything you said is true. Which by the way, it's very difficult to find a "product" that is worth its value such as yours. I'm a type A and I was skeptical how much you could help me. After all I was thin enough to wear pretty much anything I wanted, right? Well, that's partly true. I could wear anything but did I feel and look great? No, I didn't and now I certainly do.

I got my hair cut per your suggestion for a square face and have even changed my hair color to reflect my "new" autumn coloring. I particularly also love your suggestion of buying the things I love. I recently came back from a vacation and gained a few pounds. My first instinct was to grab something baggy but I thought no, MSP says put on something that will make me feel beautiful.

When I feel beautiful I take better care of myself. I'm back to watching what I am eating and know I would have hated myself for gaining the weight I did (about 7 lbs) but you know I don't feel that way today. I know that if I continue to take care of myself the extra weight will come off and I can still feel pretty until it does.

Your system is so much more than looking good on the outside. It's about feeling good on the inside. Something that is finally happening at this age and this weight. Who would have thought? You have been so helpful and I am so grateful for everything I have learned.

Again, I want to express how rare I find a product that is really worth its value. If anyone out there is debating on whether to use this service, please do it. I have saved money, feel wonderful, and look beautiful. I have more than enough clothes to wear and for once feel that I have and am enough. 

Leslie, you're the best.

Love, Joy
"I found my style again!"
First I would like to thank you for helping me feel stylish again. At 56 I felt I lost it and couldn't find it again! I didn't want to wear things too young for me. So THANK YOU!!! Marilyn
This post contains revenue generating affiliate links which supports my business. Thank you for shopping using my links.