9-2-2022 4 Ways to Spend Less on Clothes
September 3, 2022, 4:55 pm by MSP
4 Ways to Spend Less on Clothes
You spend hours trying on clothes and spend hundreds of dollars (or more) on clothes-yet when you open your closet, you can't find a thing to wear! What gives???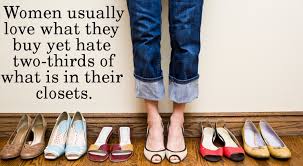 This common dilemma can be a thing of the past if you deploy these 4 tips below.
1. Go with quality. While fast fashion (trendy items) are super-tempting...too many trendy clothes are a waste of your hard-earned money. Most trendy pieces are made cheaply and will wear out quickly. Instead, stuck with quality items that are classic in style. Invest in one quality piece vs. 5 trendy items that will soon need replacing.
2. Get the right fit. One of the main reasons you can't find anything to wear is because most of your clothes don't fit you correctly. Either they are not right for your body type, or the fit is off (too large or too tight in the waist, bust, etc). Not only will you look better in your clothes that fit you properly-you deserve it. Make fit a top priority. Get the needed alterations and finally look and feel fabulous!
3. Buy for the woman you are today. I love the professional look of a sheath dress and blazer. I could shop for these items every time I'm at the mall. However, this "business style" is not part of my current lifestyle. Ask yourself, "Will I wear this today? Do I already have similar items in my closet that don't get worn often?" Buy clothes that reflect your current lifestyle and climate.
4. Care for your wardrobe. If you only buy investment quality pieces they will last longer. They also deserve to be cared for correctly. READ the garment's care label. Know how to launder and dry it. Most often, air drying extends the life of your garments.
BONUS: #5. Purchase a MSP Style Membership to help guide the right purchases for your body type. Dressing for the body you have today means you honor your shape. There are 5 Personal Profile body types.