8-29-22 THIS WEEK: Fall Preview-part two
August 29, 2022, 9:55 am by MSP
The fall season is just around the corner. It officially starts September 22, but now is fall wardrobe planning season. Take the next 4 weeks to start getting together your fall basics.
This week is part two (2) of the Fall Preview! Get excited, it's definitely time to plan your fall wardrobe. The weather will soon show signs of change, and before you know it...you will be wearing fuzzy sweaters, boots and tights again!
This week at MSP: Get the latest fall trends, styles + trendy new autumn colors..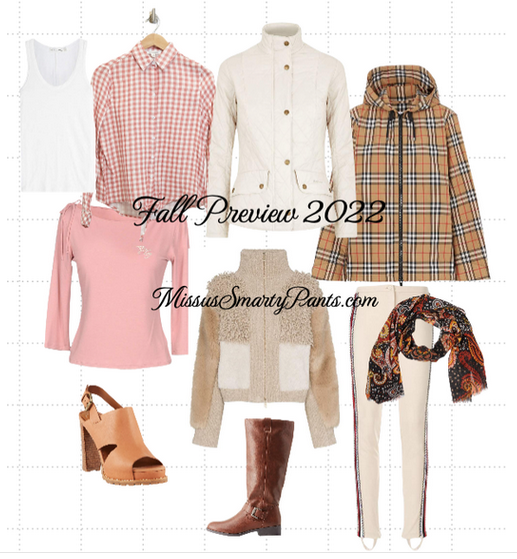 Which fall trends will you want to add this season?
Know before you buy. EDIT your wardrobe. I recommend a wardrobe "edit" at least every six months. Clean out and declutter your closet at least twice a year (every spring and fall) to keep it organized and ready for the next seasonal change. It's even better if you can edit/organize/declutter every 3 months (at the beginning of each season--spring, summer, fall, winter).
The key to a better wardrobe is (are you ready?...wait for it)... better closet organization! By knowing what's in your closet (being able to see everything) plus having only what you love and loving what you wear; moves your style forward better than anything else. My dear SYSters, great style is all about closet organization. It will also SAVE YOU MONEY! So, take time now and edit your closet. Start to group together the things you are going to wear in the cooler months ahead. Then, make a list of fall basics you still are missing, and make a list of the new fall trends you may want to add to your wardrobe. Start looking for these missing and wanted items now.
A place for everything, and everything in its place. You've probably heard this saying before and it certainly applies to closets and wardrobe planning. I believe we need to concentrate more on caring for the clothes we have invested in so they last longer. By buying the best quality basics we can afford, it will pay off in time with fewer purchases being made. Use clear storage bins for organizing and keeping your belts, scarves, tights, winter socks, etc. keeps them out of the way and visible. Remember: Keep like things together and keep everything visible in your closet.
One of my favorite organizing tips is to use a valet hook.
It helps me to put together (the night before) my outfit for the next day!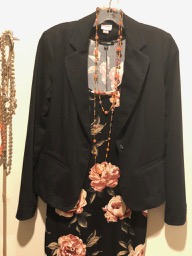 Don't miss out!
This week at MSP is part two (2) of the Fall Preview 2022~ Start planning your fall wardrobe today!
Learn how to dress for your body type and start your fall wardrobe today!
---
MSP's Weekly Style Mission

This week's Style Mission...Wear a brooch.
Brooches are oh-so fun and highly under utilized! Wearing a colorful, or sparkly brooch will get you lots of attention. So, be prepared to start smiling as the compliments start rolling in. <grin>

Start with your brooch. Put together an outfit based solely on the brooch (or other accessory you're haven't worn in years) you are going to wear. I call it: dressing backwards. Instead of starting with your dress or pant and top then selecting the accessories, START with your accessory and build your outfit from there. This week's Style Mission is going to get your creative juices flowing!

Creative ways to wear a brooch. You can wear a brooch soooo many ways. Wear it on your denim jacket, perched up on your shoulder, or on a summer hat, at your bust on your LBD, pinned onto a neck-scarf (might be too hot for this), or even on your purse or headband. How are you going to wear your brooch this week?
Even if the summer heat is full on....pinning a sparkly brooch on your tee-shirt will sure to get some smiles!

Love, Leslie MSP
Here's a fab DIY (do it yourself) project!
TRY IT FOR YOURSELF: Simply string on a brooch on any long bead (or pearl) necklace you have, or attach two necklaces together using a brooch.
Get in your jewelry box and see what you can come up with! Perhaps you can try this brooch-necklace idea when the weather is cooler.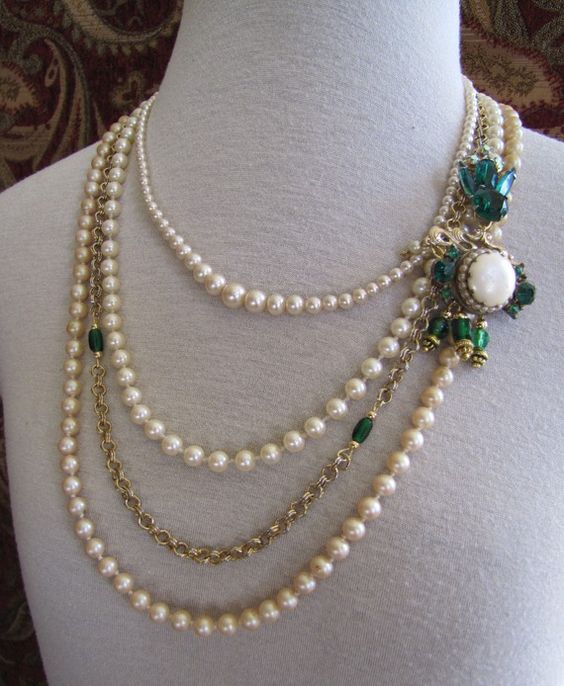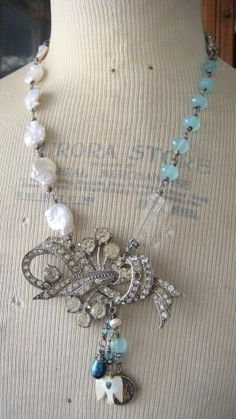 ---
What SYSters are Saying
"What are the best jackets for petites?"
DEAR LESLIE,
I am in LOVE with your website! You are saving me from my frumpy old self, LOL! Can't tell you how wonderful it feels to look wonderful again even though I'm over 40 and a bit fluffy! I guess you hear that often, sigh.
Anyways I do have a question for you. My dear friend recently gave me two really cute jackets. One looks really good on me and the other not so much. I'm not sure why one works and the other is not. Could it be because I'm a petite? I am still trying to understand all your body shape help along with being petite.

Thanks for all you do! Lissa


MSP HERE: Dear Lissa,
First of all you must dress for your body shape—it's paramount to helping you look your best. It's the most important style rule. However, if you are petite you must take that into consideration too when dressing.

Please read my style guidelines for petites posted in your Personal Profile. If one jacket looks good and the other does not, it could be the jacket style is not right for your body type or because you are petite or BOTH.
One of the best jacket styles for a petite is one that has a taller stance. A jacket with 2-3 buttons makes a petite/shorter woman look taller. Look for jackets where the button (if buttoned) hits at the mid-chest area. Also, shorter jackets that stop at the high-hip area are better than longer jacket versions.

Hope this helps you discover why the one jacket is not your best. Sounds like this jacket is going into your 'give away' pile!

Love, Leslie MSP
Example of a 'good' jacket style for a petite…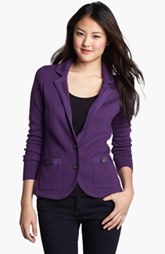 Dear Leslie,
I absolutely love accessories and think they are the key to a so so outfit and one with pop. I have been following you for a couple years and love all the great ideas. I get lots of compliments at work but more importantly I feel better about myself. This past week my son had a serious health issue and I spent seven days at the hospital. My relatives had to bring me clothes and were able to easily find me a simple long sleeve tee (hospital very cold) and a coordinating scarf. Though in the big picture I know my clothes don't really matter in these situations it still made me feel better looking nice with visitors, etc at hospital and it was so simple! Thanks for all the great tips - I look forward to checking my emails on mon and thurs.
Love, Kathy