8-22-22 THIS WEEK: Fall Preview-part one
August 22, 2022, 10:56 am by MSP
Fall is on its way!
Okay, it is not quite here.
However, now is the best time to start planning your fall wardrobe.
Whether you want to completely revamp your wardrobe, or just add in a few new pieces, MissusSmartyPants is here to help you have the most stylish fall ever!
This week get your copy MSP's "The Big Fall Preview".
This in-depth style guide is one you'll use all season long! This complete guide will quickly become your 'go-to' reference for all things related to fall fashions and trends. Want to know the "hot" color for fall? Want to perk up your style? Don't know what to wear come fall? You will find all the answers in MSP's "Big Fall Preview 2022". What to wear, how to wear it, and the new trends and colors.
This seasonal guide is perfect for planning your fall wardrobe, as well as "editing" your current one. It's full of the latest trends and colors arriving now in the stores. This guide will help you quickly update--in the most affordable way.
"The Big Fall Preview 2022"
As always, there will be part 1 (this week) and part 2 (next week). This allows for more in-depth style information. You won't want to miss out because there are more outfit photos this year.
What new trends are you going to add to your wardrobe? Not sure?
Let MissusSmartyPants Fall Preview fashion guide give you fab new ideas....
Plan now! Fall merchandise is everywhere! This means right now the perfect time to start planning (and dreaming) about new boots, skirts, fall pant styles, etc. you might want to try this fall. "The Big Fall Preview" will help you make smarter clothing choices. A few smart purchases will set up your style all season long!
COMING THIS THURSDAY, THE BIG FALL PREVIEW 2022 (part one)

Get started today! Improve your style with a MSP Personal Profile +The Big Fall Preview!
---
MSP's Weekly Style Mission
This week's Style Mission: Take a "green" approach to your laundry. It's the perfect week to give your dryer a break because it's so hot!
This week hang your laundry outside to dry (or use an indoor drying rack). Give your house-warming dryer a break.
By not using your energy-zapping (and heat producing) clothes dryer, you will save $ while getting a fresh outdoor scent to your clothes. Less dryer exposure also means your clothes will last longer! (The U.S. Department of Energy estimates that an electric clothes dryer accounts for almost six percent of a household's annual electricity consumption.That may not sound like a lot, but consider how many items in your household uses electricity. If you average $100 a month for your electric bill, your clothes dryer accounts for $72 per year. That's almost another month of electricity in your home.)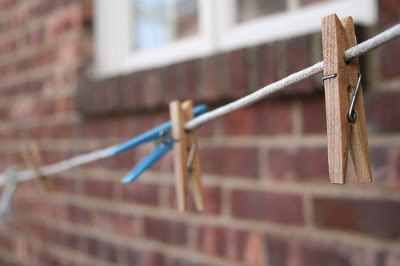 Does air drying make your clothes STIFF? If so, it means you are using too much laundry detergent (detergent is so concentrated nowadays)! *TIP: Add 1/2 cup of vinegar to wash before the rinse cycle begins. This will keep your towels and jeans from becoming stiff from line-drying. Don't worry...the vinegar smell will disappear before the clothes dry!
Here's how to hang your clothes out to dry:
Shake and smooth out the wrinkles, shirts should be buttoned up and hung UPSIDE DOWN by the hemline to prevent hanger marks at the shoulders.
Turn dark clothes inside out so the sunlight does not bleach them (or again, hang indoors).
Use very little or even better NO fabric softener because this is what builds up in the fibers of your clothes and towels and makes them SMELL over time!
Hang dry your clothes and you will notice they last longer AND you'll enjoy the energy savings too!
---
Dear Msp:

A success story...the other day at work a co-worker who I don't interact with a lot stopped me in the hallway and said "You are looking good. What are you doing? Your hair looks good, your outfits are stylin' and you look like you have lost weight." SMILE. Why thank you! I have started an exercise program (and in my head continued to list off I'm taking care of myself, AND dressing for my body type, standing up straighter, having a better attitude, etc.) Another SMILE.

Love, Linda
Dear MSP Leslie,
I have been getting your profiles for almost a year now. I am so glad that I signed up BEFORE I lost all the weight I've been trying to lose. I am on target to have lost 65-70 pounds in a year. I signed up for the profiles about the same time I started losing weight. Your service has made such a difference in my life!
I am sure I lost pounds visually by just learning how to dress for my body type, but as I lose weight it has been helpful to continue to buy clothes right for me. I shop at a plus-sized consignment shop because I don't want to spend a lot of money on clothes while I'm still losing so regularly.
I just got a call today from the shop owner asking me to be a model for a style show for her store! This is all thanks to you teaching me how to shop for my body and how wearing the right clothes has changed my view of me. Thanks so much for your service and advice!
Love, Rhonda

Dear MissusSmartyPants,

Today, I started the transition to learning how to dress. I am 55 y.o and never can remember a time when I felt so good in what I wore after my 30th birthday. You see, I have gained a lot of weight during these past years. I have gained and lost over 500lbs doing this life time.

My self esteem has always been low and I really didn't know what to do. A few months ago, I ordered a profile and even then, I did not know whether I was a D or E. There are times, even now, after having you all select for me, that I still feel like I could be an E but onward with this story.

I have always bought my clothes too big because of my large protruding stomach, large hips and behind and I wanted to make sure everything was covered up. Well today, I went shopping and I remember some of the things I read about necklines and that I was not my size and to just try on clothes. I went to our local dept store and began trying things on based on what I read in my profile.

I have never enjoyed shopping but today looking in that mirror, I really felt good about the outfit I chose. It was a smaller size and something I would not have put together for myself, I just stood looking in that mirror and smiling. I looked smaller and I was happy with what I chose. I bought the outfit and will try to find other things that make me happy.

Thanks for your help. This is the first time, I felt great buying something that I know I will wear for a long time. I am soooooo glad that I purchased the profile and I look forward to getting information every week. The pictures are a big help. I can see what works with what and when I go shopping, I look for that style. Haven't told any one about my new found secret shopper but I am taking more pride in myself and in what I wear. I know everyone else can see the difference.

Thanks again,

Flying in NC
---