7-18-22 THIS WEEK: When a Bargain Really IS a Bargain
July 18, 2022, 12:37 pm by MSP
I just spent six long hours inside a client's closet. She hired me to help her decide what stays and what goes. Her closet was so crammed full of clothes there was no way you could possibly add another item! It was so crammed full there was hardly any place to stand. Too many clothes IS a problem. Why? Because all these clothes are mostly bad purchases; essentially they are all clutter!
This client said she loved to shop, but somehow with all these clothes she didn't feel stylish and still had a hard time finding somethin to wear.
My client hoped I could make sense of all her clothes (because she had so many).
What she really needed was a wardrobe plan (something she clearly didn't have)...Plus add a STOP button on shopping!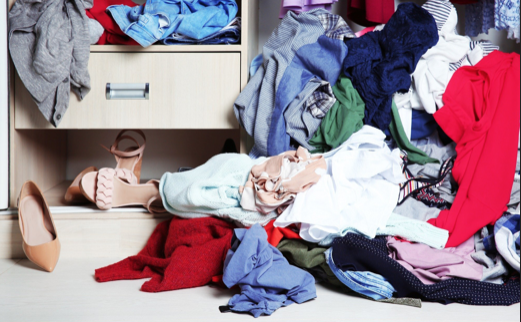 She certainly came to the right woman.
I'm all about the basics first, then slowly build from there.
Crammed clothing racks, yet nothing to wear. Does this sound familiar? Not only did I edit my client's closet...but more importantly I felt compelled to explain to her when a bargain really is a bargain. That quickly turned into our "theme for the day" as her cast-off pile grew taller and taller. As each piece was examined, "Do you wear this?"...No! Heavens, no I don't.
As we pulled out shirt after shirt, one right after the other would be too outdated, too big, in a bad color, or just not right for her body type. We did the same thing with her pants, skirts and all her dresses. Almost all of these clothes were near new and many of them still had price tags attached. It was sad. When we were finished sorting through the racks, not much was left to put back into her closet. She hardly had any good fitting basics, and none of the remaining clothes really had a color theme either. It was not a good feeling to tell someone all the "bargains" they had purchased for years, were not bargains after all!
Although my client is a woman of some means, she admitted to buying clothes "only if they are on sale". She would not even look at something unless it has been reduced several times! When she first told me this, it was like a badge of honor. Now that we've removed all of these "bargains" she was appalled that she thought she was a "smart" shopper!
Lessons learned. As scary as it was to have most of her closet heaped on the bedroom floor in a "give away" pile, she was also relieved. Finally, the keys to looking chic and stylish were about to be unlocked. She would finally build a wardrobe she had always hoped for. The best part of the whole experience: over time she will save money by avoiding "bargains" that are not really a bargain after all. Lessons learned are invaluable.
Buying "on sale" really adds up! Buying something just for the sake of a "good deal" is not the way to build a good wardrobe-in fact, it sets you up for failure. For example, if you buy a top on clearance for $5 and because it's so cheap, you get three of them. These bargain tops are a waste of $15 if the color is bad, fabric is cheap or they fit poorly. They look cheap and so will you! You are better off saving your money for one quality item.
This week at MissusSmartyPants.com learn what's a REAL BARGAIN. No more guessing, taking chances, buying 'just because' it might be a good deal. No more buying because "its on sale" or because you are in last minute crisis mode and need something to wear!
Get this week's article "When a Bargain Really is a Bargain" and learn how to plan your wardrobe the correct way.
Finally put an end to your seasonal "give away" pile!
---
MSP's Weekly Style Mission
FYI: Remember you can't organize clutter.
Q: How does your closet look right now? I see a couple of deer in the headlights faces on some of you, LOL (okay, I can't really see you). Relax. However, this week we take a baby-step towards clearing some closet clutter.
This week's Style Mission: FLING at least two (2) items from your closet that you have not worn for the last six months.
Be honest. There are at least a couple of items in there taking up valuable closet real estate! If you have no plans to wear a couple of these 'closet clutter' items, get rid of them-bless someone else.
Hurry!
Grab your timer, set it for 15 minutes...Find 2 unworn items and FLING THEM!
When you release closet clutter, you release yourself of any guilt associated with these items. Before you do, think about why they are in your closet, yet not being worn. (is it the fit or color that's wrong, the size, it was given to you, etc). Release the clutter and guilt and move forward with this knowledge.
Love, Leslie MSP
---
Dear MSP...
Dear Leslie,
On most days unless it's extremely hot out, I prefer to cover my wobbly upper arms. I really do feel more comfortable when my upper arms are covered rather than exposed. I live in the south so most days are pretty warm but I try to keep them covered.
Can you recommend a cute style of top that I won't overheat in and one that still allows my upper arms to be covered? I'm a body type C in case that helps. I have learned so much from your program and really love getting it every Thursday. Thanks!
Fondly, Maureen
MSP HERE: Dear Maureen,
Thanks for your style question.
I really feel any woman that wants to go sleeveless should. But I also understand if you aren't comfortable, well then you are just not comfortable.
If you choose to cover your arms, there are lots of cute and trendy tops to choose from. Keep these tips in mind when shopping:
1. Avoid styles that are too constrictive
2. Avoid sleeves that stop at a wide part of your upper arm (like a cap or short sleeve)
3. Look for tops that stop around or close to the lower-bicep to elbow
4. If upper arms are heavy, yet you want to go sleeveless, look for tanks with wide straps (avoid spaghetti straps)
Love, Leslie MSP
This top style below is by far one of my favorite styles of tops for the warm weather! (You could even wear a long sleeve layer underneath come fall or add a belt, wear it over a sundress...oh, the ideas are endless!)
This is a fabulous style is perfect for balancing a woman's shape (even if you aren't concerned about your upper arms)...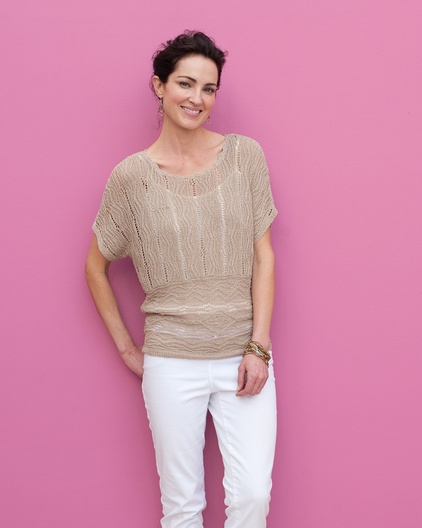 Here are more stylish options to stay cool, yet keep your arms covered...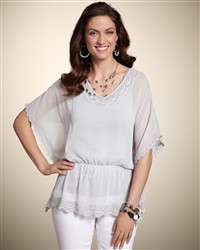 Dear Leslie,
I want to thank you for encouraging us to have our clothes altered to fit properly. I am a real type C pear and also lazy and cheap so I never made the effort to try to fix any of my ill fitting shorts or pants.
But you are so persuasive (and FlyLady said it's whining if you complain and then don't take action)--so I took some new Ann Taylor shorts to the dry cleaner with a sign that said "alterations". That lady took about 3 seconds to grabe the excess faric and mark it with chalk. One week later and my sufficiently good shorts are now FLATTERING and my best shorts! I look so much slimmer without a collar of stiff fabric obscuring my waist and then dropping down on my hips and giving me a baggy crotch.
At first I shrank from investing $12.50 for alterations (I like to BUY shorts for 12.50) but it is clear that now I feel like a million bucks! It IS much better than having several pairs of shorts which I don't like.
This lesson alone is worth the price of my MSP subscription. I appreciate your service more and more. Thank you!
Cristina