7-7-2022 What to Wear During Weight Loss
July 7, 2022, 3:01 pm by MSP
Dear MSP,
Can you please address how to dress the body that is in transition? I actually started my diet in November and have lost quite a bit of weight and I need some guidance with this unfamiliar body and how to purchase so I don't spend a lot on clothes that hopefully I won't wear long.
Thanks Cathy L
MSP HERE: Congrats on your weight loss! Now that your your clothes are fitting kinda loose, it's all good and exciting, except now it means you need new clothes!
But buying a whole new wardrobe is impractical and expensive while you are in transition of weight loss. So what's the new thinner you to do?
As a fashion stylist/ personal shopper I've worked with lots of women during their weight loss journeys. So, let me share with you my top 9 tips to help you look stylish while you continue losing weight...
1. Bag It. Actually don't bag it! Don't keep wearing your baggy clothes! Nothing says frumpy like baggy clothes, and besides they aren't very motivating. It's time to start showing off your new slimmer physique with a couple of new items.
2. Basics are Best. Concentrate on having only a small basic wardrobe of good fitting pieces. Look for items that are simple in construction so they can easily be altered to the next size down. Yup you'll wear these clothes to death, but you'll look fabulous in them.
3. Take thee to a tailor. Your local tailor needs to become your new BFF! As a rule of thumb losing 8-10 pounds means you'll need the next size down. Your clothes can be altered 2 sizes smaller before you need to invest in new ones.
4. Cheap Chic. Of course you don't want to break the bank while you are in transition, so be a savvy shopper instead. Shop at thrift stores, online sites, and discount retailers for clothes that can be easily altered and you'll save money in the process.
5. Play Dress Up. Right now is not the time for purchasing a pair of premium denims, but it's a fabulous time to dress-up in a dress! A basic sheath or A-line dress has a lot of "give" in the fit, plus it's easy to change your look around by simply adding a belt or jacket and smart accessories. The compliments you will receive about how nice you look will keep you encouraged too.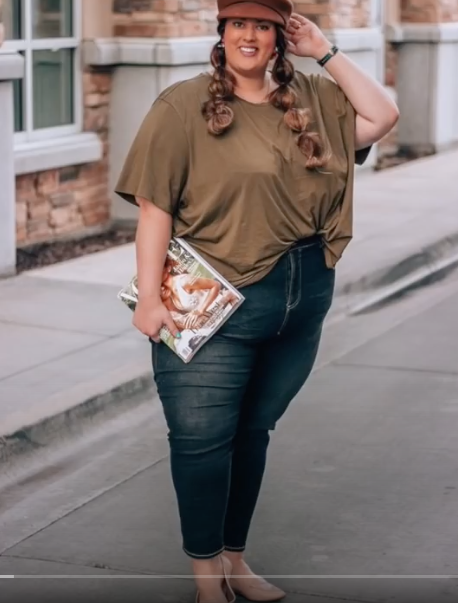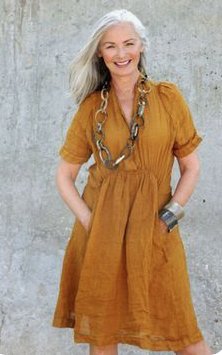 Above, left: Add a semi-tucked look to your tops, then add a trendy accessory to complete your casual look.
Above, right: Wear a semi-fitted top or dress to show off your more slender frame.
6. Treat Yourself. Reward yourself because you deserve it. But not with food! Cake may taste good, but looking a size smaller feels good. Treat yourself to a designer handbag or something non-size related and improve your style in the process.
7. Bend and Stretch. Select fabrics that contain ay least 2% stretch. This allows you to wear more body-skimming silhouettes with ease. Seeing your new slimmer silhouette in clothes is very motivating. Look for classic button-down shirts, dark denims (they are the most slimming) A-line skirts and dresses, straight-legged trousers all with stretch in them.
8. Accessorize, accessorize, accessorize. Did I mention to accessorize? Well, it's your next closest friend to your tailor! I can't say enough about accessories. They can take the most boring outfit and make it style-chic! Play them up and everyone is going to notice your chic style---just what a gal needs during a weight loss journey.
9. You're all that...and a bag of chips. Okay, I guess we could do without the food analogy here, LOL! But honestly...you've got to admit it, you are looking good and wearing nice fitting clothes makes you love the "new" you even more!
Love, Leslie MSP