6-13-2022 THIS WEEK: Closet Clutter
June 13, 2022, 12:50 pm by MSP
Closet clutter. It's an emotional statement to say the least. But what is it that makes us hold on to clothes we are not wearing? Why keep it when we only wear 20% of our closet? Exactly what is that 80% in our closet not being worn?

For example, if you no longer have this item, then you will suffer terrible consequences later. That's where we get, "Oh, I'll use it someday" or "What if I need it someday and then I don't have it".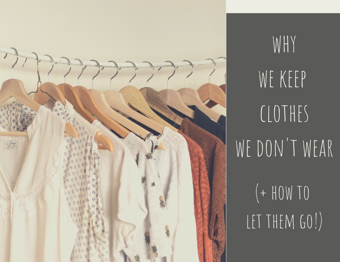 This week, we examine the "how and why" we accumulate closet clutter. Once we understand its origins, we can work to remedy the situation. Most of the clutter comes from an emotional base. However, really understanding our human needs vs. wants can help us find some clarity.
One of the biggest areas in need of decluttering has become our wardrobes. We are now buying clothes that only last a season and then shop more and more, then soon those items become buried somewhere in the back behind the boxes of who knows what.
Once our wardrobes become so overwhelming, we often can't even see what we have, so we end up wearing the handful of items that we know, 1) fit and 2) are relatively comfortable or appropriate to wear to work, or to run errands, etc. Also, many times at the front of the rotation are newly purchased items that we know fit the above criteria, and that we're excited about because of their newness.
So what's the deal? Why are we so inclined to keep stuffing new things into our closet and let the older clothes suffer a slow, painful, crumpled-up death? Find out "how" to emotionally let go of what you no longer wear. Then, get the plan for a basic wardrobes (what you really need in your closet.
Order a MSP Style Membership for your body type & get this article!
---
MSP Weekly Style Mission
It should come as no surprise that this week's Style Mission is to clean your closet. But don't start thinking overwhelming thoughts!!! All I want you to do is clean/declutter only one area of your closet. Perhaps a shelf or half of the hanging clothes.
---
Dear MSP (Leslie)...
You have helped to simplify my life! I wear 90% of my clothes each season. 90 % because I have to travel for business so I maintain a small winter wardrobe since I live in Florida.
My husband brags how I can go for a two week trip with a backpack. Having a great capsule wardrobe makes that possible. I can literally pack in 5minutes if it is just a weekend business trip.
I love your information and I have so much more confidence. My figure isn't perfect, but I feel beautiful as an E. I have lost 32lbs. I still receive many compliments on my appearance even though I still have almost 100lbs to lose.