5-9-2022 THIS WEEK: 5 Minute Outfits
May 9, 2022, 1:13 pm by MSP
Five Minute Outfits
Pressed for time...again?
Urgh! It's so frustrating when you are running short of time, and you still can't find something wear! When mornings begin like this, it can set a negative tone to your day. It can make you feel out-of-sync all day if you are dressed in an un-styled way.
Wouldn't it be nice to wake up and know you've already got something fabulous to wear? It also means you can elax because your outfit is already planned and set aside. There is no longer a rush to your mornings, and now they are relatively stress-free when you use my "MSP's outfit" way of dressing.
Have only 5 minutes? Perfect. That's all the time you need with MSP's "5 Minute Outfits". In five minutes fast-you're stylish and ready to go. TRY MY OUTFIT MAKING PROCESS & SEE FOR YOURSELF!
This week, the secret to MY "Five Minute Outfits"... piece by piece.

Similar: Talbots Perfect Chinos (petite, misses, plus)
BONUS: I'll share with you this Outfit Building Grid (full size) Just copy & print.
Use this print-out Grid in your very own closet...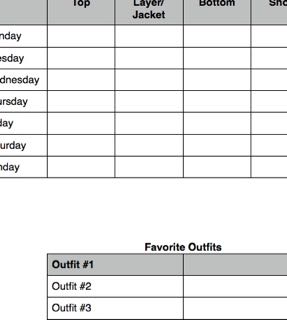 Join MissusSmartyPants TODAY & Get MSP's Outfit Ideas + Outfit Grid!
---
MSP's Weekly Style Mission
MSP HERE: We repeat this Style Mission every year. Why? Because caring for your skin is important to your health. In fact, the skin IS your largest organ.
Below, is the email that prompted the return of this essential Style Mission.
Love, Leslie MSP
Hello Leslie,
I've been a subscriber for many, many years and I still love all your articles and advice. I'm always learning something new (which, by the way, is another thing that keeps you young).
Here is my tip now that I've turned 70 (! how did that happen?). Use sunscreen

every day

, 365 days a year. Make it your morning habit just like brushing your teeth.
I've been using a UV moisturizer since I was 35 and it has made a huge difference in preventing wrinkles. BUT I was neglecting my neck and chest. I like to wear V neck shirts in summer and the sun has taken a toll there. It's never too late to start. There are so many sunscreens available now. Find one you like to use and use it!
FYI: This isn't a picture of me (below) but this is what it looks like. A tan becomes wrinkles and hyperpigmentation.
It is so much easier to prevent sun damage than to try to reverse it later.
Photo: 52 year old woman with sun damage on chest (looks all too familiar, right?)
8 SUN DAMAGE PREVENTION TIPS
Minimize unnecessary sun exposure

Use a broad spectrum sunscreen with SPF 30 or higher every day

Reapply sunscreen after swimming or sweating

Wear 100% UV protection sunglasses

Wear tight-weave clothing for extra cover

Reapply sunscreen often and generously, every 3 hours is recommended

Avoid mid-day sun between 10am-2pm

Seek out shade or make the "umbrella-look" your new thing

Drink plenty of water each day
Just thought I'd share this for all the SYSters out there. So toss this in every time you think of it...
Style Mission: This week buy a bottle of new sunscreen. Look for a sunscreen product with SPF 30, or better-and use it everyday.
Need a few more tips on sun damage and skin? Read this article about skincare for the 20's, 30's, 40's, 50's, and 60's. Are you doing the right things to keep your skin looking its best? Three top dermotologist are interviewed in this article in Parade magazine.
Here's the full link, if you prefer to copy and paste it into your browser:
https://parade.com/698344/rachelweingarten/everything-you-ever-needed-to-know-about-repairing-sun-damage-three-top-derms-offer-post-summer-skincare-advice-part-i/?utm_source=facebook&utm_campaign=healthy_now_desktop&kwp_0=1227569&kwp_4=3911800&kwp_1=1629286&fbclid=IwAR1rQNYeDmN6v_J12gqlZnyn5dMyPUFRA-h8MPIIKxRVgZqe2nweMxU55ns
---
What SYSters are Saying
DEAR MSP,
Thank you for helping me conquer the closet dilemma of too many clothes but nothing to wear. I did the closet purge and it was quite liberating as the majority of my clothing did not make me happy when I wore it. Using my new personal profile, I took myself shopping and purchased 4 basic pieces for my wardrobe. I was excited to even buy what I had always considered a no-no... white crop pants!
I am an E and quite large. I have always heard that I should never wear white pants. I am happy to report that last Monday when I wore my new white pants and new turquoise tunic top to work (we are a casual dress office mostly) I received so many compliments! Yeah me! I can wear white pants now and feel pretty.
Thank you so much. Your fashion advice is priceless! Cathy
MSP HERE: Cathy,
You are doing such a good job on your style journey!! Go YOU!!!
It's all about trying the suggestions for your body type—I won't lead you astray, I promise. Wearing the right styles matters to all 5 body types. I show you how.
Nice fitting basics that mix and match, makes you look like you have an extensive wardrobe-when what you really are is a smarter shopper!
Remember to use accessories to change the look around.
Keep up the good work, and congrats on seeing the pretty woman you have always been!
Love, Leslie MSP
Q: CAN YOU CHANGE COLOR SEASONS?
Dear Leslie,
I always thought I was a warm spring, but now that I'm over 50 I am not so sure. I think some of the colors I wear no longer look good. It is possible to change color seasons?
Thanks for all you do!
Your SYS, Lois
MSP HERE: Dear Lois,
Yes, it's possible to change color seasons. What happens is as we age, our skintone, hair and eyes soften. Especially after menopause when we lose estrogen and we become "less warm".
Try a slighter cooler version of some of the colors you normally wear. You may want to have a new color analysis done. It's possible to change color seasons completely.

Love, Leslie MSP
Dear Leslie,
I'm so excited to have just recently found Missus Smarty Pants :)
I'm currently learning so much from MSP and it is such a big help.
After having two kids (ages 4 and 2) I've kind-of let myself go. One
day I looked in the mirror and wondered how I went from a fashionable
young lady to a frumpy woman in mom-jeans and a t-shirt.
I decided it was time to change, but since my body is so different now
than pre-pregnancy, I had no idea how to dress it.
It was so wonderful to learn that my type is a B and that I can still
look good, even with 30lbs to lose. And it's so refreshing to be told
that I can look good at any size and to love myself at any size.
Love, Susan S.