5-2-2022 THIS WEEK: Sure-Fire Ways to Refresh Your Style
May 2, 2022, 11:42 am by MSP
Do you stare into your crammed closet, yet can't find a thing to wear? As you look through every possible item-nothing appears to be a good option. This is when you realize; you're in a style rut. Yes it happens, and it's super-frustrating!
You need to do something in order to change your style (or rather lack of style). Relax. MissusSmartyPants is here to the style rescure with this week's article, "Sure-Fire Ways to Refresh Your Style". These timely tweaks will transform your style instantly...so what are you waiting for?
This week, MSP has the right "tweaks" to help you refresh your style!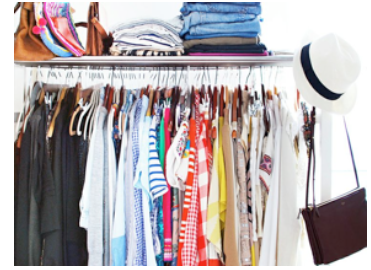 Over the years, I've found the reason many women, including myself, get into "style ruts" in the first place is because we are so darn busy!
Busy women simply don't have oodles of time to spend picking out (and shopping for) and putting together outfits like a fashion diva would. We all want to look good so we find a few "go-to" looks and well, we go with 'em! Actually, we wear 'em to death, lol.
Sometimes we wear the same clothes and styles for YEARS (does this sound familiar?). Of course, over time these "go-to" looks aren't so fun anymore and we wish they'd "get up and go"! That's when you end up with the "I have NOTHING to wear" dilemma. A few new "go-to" looks and some style tweaks will quickly re-invigorate your image.
Haven't changed your appearance for quite some time? Well then, this is the week to do something about it! Style is constantly evolving. It never stays put...therefore, our style needs to move forward too. Let's do this. Let's refresh our appearance. Let's change the way we wear things. Let's put more effort into what we wear. Amazing things happen when we do!
Recently, I realized every time I went out to dinner with my DH, I wear slacks.
I needed to change things up (Hmmm...a Style Rut!)..
So, I wore a skirt!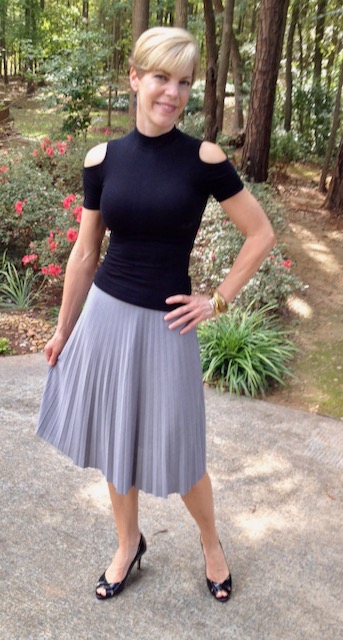 A few quick tweaks and you're on the fast-track to refreshing your style!
Climbing out of a style rut givew you a whole new perspective. YOU FEEL GOOD ABOUT YOURSELF. Refreshed style can be one of the best self-help therapies you can do just for YOU. This week, in the 5 Personal Profile sections style ideas (yours to copy) that refresh your look.
"Become the person you were meant to be, light your inner fire and follow your heart's desire" ~Leon Brown
Rediscover YOUR style again. Order your MSP Personal Profile today!
---
MSP's Weekly Style Mission
This week's Style Mission: Wear an A-line skirt!
This week wear an A-line skirt. WHY? Because it's one of your best 'figure fixers' you'll ever wear! Really, it's true. If your hips are narrow OR if your hips are curvy--this skirt (or dress) A-line style makes your body look "perfect" and more balanced.
Don't have an A-line skirt? Consider adding it to your running list of needed "wardrobe basics" you carry with you in your handbag. Your best A-line skirt would be one in a solid color (perferably dark color) that you could wear year-round. Perhaps you'll even run into this 'figure fixing' skirt on a sales rack?
A versatile A-line skirt can be worn with dress pumps (for work or church) OR worn with stylish flats for a more casual look. Take on this style mission (challenge) and wear an A-line skirt this week!
Love, Leslie MSP
This flattering A-line skirt has slimming pleats and is perfect for spring...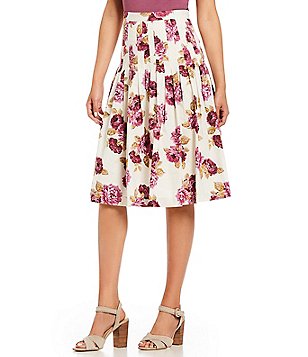 ---
Via MSP's Facebook page: "I am grateful for the advice you give. I take advantage of your free tips. I have started shopping in my closet and gotten complements from several friends about looking put together and the accessories I use with necklaces etc. All because of you. This is all your fault I have a folder I keep catalog color ideas and clippings of outfits in. Same with an email folder when the dept stores try to entice me with outfit pairings and coupons by email.i have always had a lot of clothes, but now I am creating outfits. Thank you for all your help. I am grateful for you. Leeanna"
---
What do YOU think? Agree or disagree?
So long slouchy? I've always suggested my SYSters select a handbag that is opposite of their body type. For example, if you are slender and athletic in build...select a hobo or slouchy handbag. If you are curvy-shaped you should then select a structured handbag.
According to Jennifer Baumgartner, PsyD author of "You Are What You Wear" arm candy with squared-off edges will make people view you as powerful (it's similar to a briefcase). A structured shape is naturally associated with success and power. On the other hand, a sack-shaped handbag communicates a more carefree attitude than a confident one. "It's called a hobo for a reason," says Baumgartner. "People connect it with a free-spririted person, someone who doesn't have a strong sense of organization."
Agree or disagree? Leave your comments on the MSP Facebook page.
Your handbag choice says a lot about your personality. Do you agree?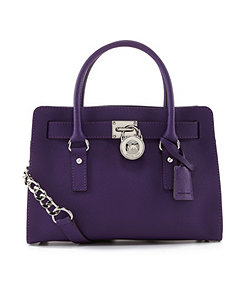 ---
What SYSters are Saying
Dear SYSter Leslie,

First, I want to take this opportunity to tell you how much I am enjoying and benefiting from the advice you give each week in my personal profile. I have not had to spend nearly the time or the money that I feared would be required to give my wardrobe quite a lift! I am now receiving regular compliments on my appearance that I credit directly to you!

Thank you! Karen
Dear Leslie,

Thank you for helping me improve my style. I never knew what style was. I grew up missing a fashion gene or something, lol!

With your website I am now learning how to dress my shape and it makes such a difference! Not only do I get compliments at work, someone asked my opinion about a purse. I could not believe it! My life is changed for the better!
I have a question about bras as I am still learning these girl things. Awhile back you mentioned how wearing the proper size bra can make you look better in your clothes. I need to replace my bras, mine really are pitiful looking and I have put this off long enough.
Can you tell me how long bras last and how many bras should I have in the first place?
Thanks for this wonderful service! Fondly, Donna

MSP HERE: Dear Donna,
Your bras will last a full 12 months IF you do the following:
Purchase quality bras

Rotate at least four(4) bras so that each of them gets equal wear

Never wear a bra two days in a row. Let the elastic "rest" a day

Hand wash (w/ baby shampoo or lingerie wash) OR machine wash gentle. NO Woolite (this oil-based product ruins elastic) If your machine has an agitator (put bras in a laundry bag)

NEVER put your bras in the dryer!

Don't use them for working out; wear sports bras

Store them neatly to preserve the molded shape of the cups
Purchasing quality bras gets expensive, so it makes sense to make your investments last. One of the best ways to do that is by washing your bras in lingerie bag on a gentle cycle. The bag keeps them from twisting-up and stretching out in the wash.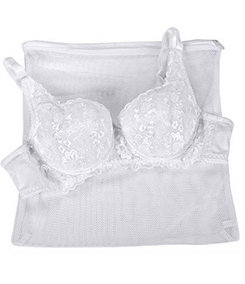 Your silhouette will look slimmer when you are wearing the correct size bra (The fact is: 8 out of 10 women are NOT wearing the right size bra) so if it's been awhile since you have purchased a new bra, ask a sales associate for a professional fitting--don't guess your size!
Love, Leslie MSP

P.S. I will do a style article again in the near future on bras and how to get your best fit...stay tuned!