4-18-22 THIS WEEK: Everyday Amazing
April 18, 2022, 10:57 am by MSP
We always want things to happen quickly. In today's modern technology, things do happen fast-in fact; things happen lightening fast! While learning to pause, take a deep breath and have patience are good life skills, there's no need for your style to evolve slowly. If you have good basic wardrobe-building pieces in your closet right now-instant style can be yours!
There some things you can do that will move it forward quickly. That's what this week's article is all about: Looking "amazing everyday"...and quickly at that.

When I want to look "amazing everyday" even in my casual attire...
I add a blazer and necklace to my tee and jeans!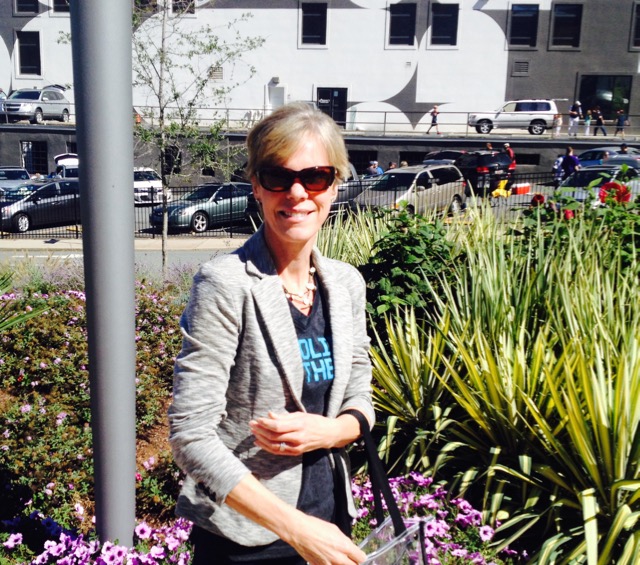 Everyone is fixated on FAST (me included)... so, wouldn't it be nice to look instantly put-together?
If you are ready to make a few style changes, but think it takes too much time-this week is for you. You really can look "amazing everyday" by utilizing these "style tweaks" shared this week. How quick really does depend upon where you are with your style right now...but, regardless this week's article is packed full of ideas for chic-casual looks.
No more excuses either! If you think you can not have a stylish look everyday because (...you fill in the blank here) let me prove you're wrong. Too many women make excuses why something will NOT happen for them. This week... "Amazing Everyday" happens to YOU-no excuses!

"Amazing Everyday" is your handy-dandy (cheat sheet, if you will) for making your everyday outfits look a lot more stylish!
Prepare for spring with improved style!
---
MSP's Weekly Style Mission
This week's style article will give you lots of wardrobe tips for making awesome casual outfits.
Here's another tip. Set your timer for 15 minutes. Use this time to make just one "go-to" outfit for your casual wardrobe. This way, you have something better to wear instead of the same jeans and tee-shirt. It only takes a few seconds longer to dress casual-chic when you've got an already planned "go-to" outfit.
This week's Style Mission: Create ONE casual "go-to" outfit.
Here's the "go-to" outfit formula:
_Pick a neutral-colored bottom
_Add a colorful tank or long sleeve tee
_Add a light spring jacket
_Complete the look with a trendy necklace
Think color theme. For example, the outfit might be, as seen below: green, navy + warm caramel brown...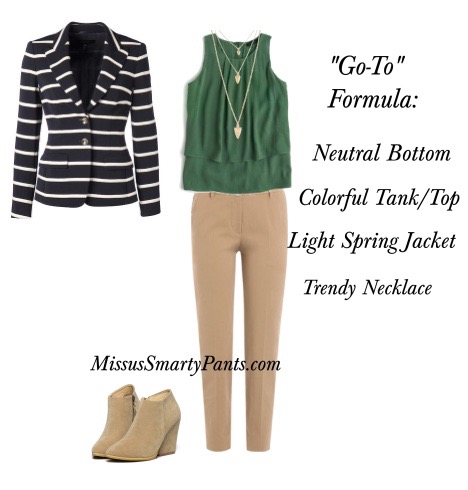 ---
Dear Missus Smarty Pants...


DEAR LESLIE,

I just had to write and follow up with you. You had put up with me emailing you a couple of times about not being able to find anything that fits or looked good on me.

You caught me whining and doing nothing to change the way I felt. I was just getting away from an abusive relationship and I know I needed to feel better about myself and instead I took some of it out on you. You are right I did not try the styles that you suggested. I just made some excuses and assumed they were not for me. Besides I am not in good shape and my stomach is so flabby after 2 kids, it seemed why bother.

Sorry to be so long winded but I finally opened my ears and did follow you advice. I found clothes that you suggested and that DO make me feel pretty! Some friends commented on my new appearance.

I did not spend much money because of my tight budget, but it was so worth it! You helped me see it does matter and so do I! Bless you for giving me the confidence and push that I needed. I can't believe how much better I feel and I thank you for it!

Your baby syster, Mary Lou


MSP HERE: Dear Mary Lou,

I'm so glad that you wrote to tell me that you "get it" now! I can help you with inspiration and guidelines (your personal profile) and the encouragement to find out that "dressing well and feeling great go hand in hand". It is up to you to follow that plan and then reap all the rewards!

I love when SYSters write and let me know that they are finding new found confidence in their life! It is a blessing to me to know that I have had some small part in that. I will keep you in my prayers as you continue your journey.

Love, Leslie MSP
---
***With just 25 basic pieces you can create over 100 stylish outfits.
If you have not yet taken advantage of the "Style Recipes" eBook, this may be just what your wardrobe needs! Get the complete list of what to have and the template of how to create one stylish look after another!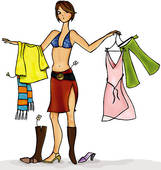 Get your copy of MSP's "Style Recipes" eBook!