3-28-22 THIS WEEK: Up Your Style Without Buying a Thing
March 28, 2022, 1:11 pm by MSP
Lately, you can't help but feel a pinch in your wallet. What's a SYSter to do when money is tight; yet a new season is on its way? I'm glad you asked, because this week I have your answer. Actually, there are seven (7) things you can do to increase your style without buying anything!
We all want to look our best, feel our best, and live our best life. A big part of feeling good, is to feel good with what we are wearing. There is nothing better than knowing your style looks up-to-date and yet, is age appropriate.
This week: 7 ways to "Up Your Style" without spending a dime!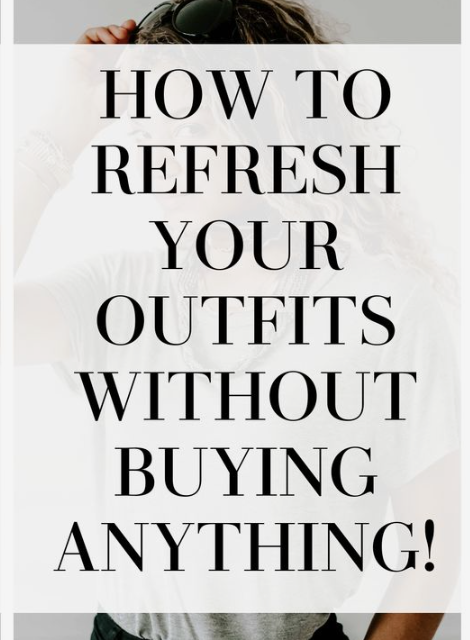 YES! Your style can to come together without buying a thing. Use these 7 dressing strategies to look your best; while at the same time keep your wallet closed.
Get this complete article "Up Your Style Without Buying a Thing" + body specific tips--Sign Up Today!
---
MSP's Weekly Style Mission
Girls, pull out your pearls!
To me, nothing says spring like wearing pearls (okay, maybe white jeans, strappy sandals, and shell earrings, also say spring has arrived)! But, pearls should be on your must-add list this spring!
Successfully mixing pearls into your wardrobe repertoire means you know when to match them with classic clothing AND when to contrast them with trendy styles. Pearl necklaces don't have to be a single strand either. Look for multi-strand necklaces and colored pearls, as well as super-long lengths (so you can tie them in a knot like Coco Chanel).
Watch out, because pearls can add years to your look when worn with "serious" tailored clothing. However, they can add a "youthful" sparkle (don't we all want more sparkle?) when worn with casual jeans and other fun separates.
Woo hoo! Spring is perfect for wearing pearls!
Get creative and have fun with this week's Style Mission: Wear your pearls!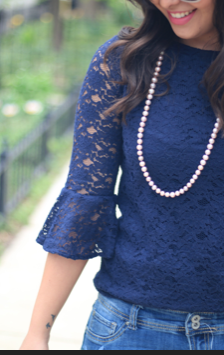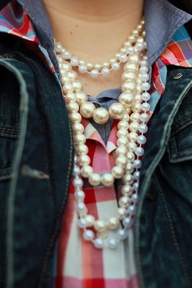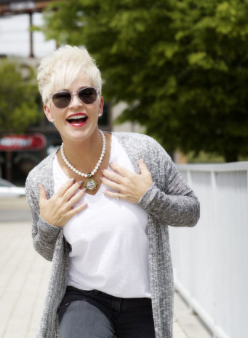 Even a pearl brooch (below) is used to gather a jacket (or a shirt) at the waist would be lovely...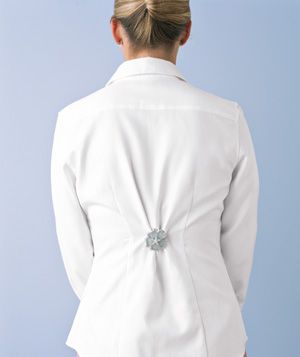 As a fashion stylist, I've been asked how to wear pearls so they don't look too matronly.
Here are my 3 favorite ways to wear pearls:

With A Sheath Dress...
When the day calls for classic, you can't go wrong with pearls and a sheath dress. But, that can be a bit boring, so add a twist with a bright-colored fitted jacket or sweater over the top. Finish your look with a sassy d'orsay pumps. Bam...you are totally rocking style "awesome-ness"!

With A Button-Down Shirt...
For a structured look, pair your pearl necklace with a button-down shirt. It's a timeless classic that keeps your look believable, especially on the job. Complete this look with this great new pencil skirt and spectator pumps.

With A Print Blouse...
For something a little more casual, wear your necklace layered with a colorful paisley top and a cardigan. Floral prints are all the rage this spring and are great at hiding an undefined waist too. Add a white pant or skirt and bright solid tote to finish off the look.

Girls 'n pearls this week...Yes, it's going to be a stylish week.

Love, Leslie MSP
---
Dear MissusSmartyPants
Dear MSP - Love your service. I don't panic when I have a business trip or an event to dress for. I now have fewer clothes in my closet but I dress better. Amazing!
2 questions: 1 What is your thought on dressing in a fashion Uniform like Vera Wang or Carolina Herrera? Recent articles on the topic emphasize that this reduces stress by eliminating a decision and can convey self confidence. 2. I haven't seen you shop J Jill...any reason? Kindly, Lisa
MSP HERE:
Dear Lisa,
Yes, I agree with Vera Wang and Carolina Herrara on finding your own "fashion uniform". When a woman dresses in clothes she knows are flattering on her body and wears styles she feels represents her personality well--she is showing that she's comfortable and confident in her own skin. What's not to love about that? It is something we each need to find for ourselves! I often do tell my personal shopping clients we are trying to establish your "own fashion uniform" when we are shopping.
As far as shopping at J Jill, I love the natural fibers in their clothing, however some of their clothes have been rather loose and baggy. I'll take another look since it's been some time since I've looked at their merchandise. I'll plan on stepping inside my local J Jill shop soon, and see if I still feel this way. Perhaps it's a brand I'll have a change of heart about?
Thanks for being my SYSter (Show Your Style) style! Love, Leslie MSP