2-28-22 THIS WEEK: 15 Pieces = 1 One of Outfits!
February 28, 2022, 10:55 am by MSP
It's a big week at MissusSmartyPants.com!
All you need is fifteen (15) pieces. That's right. Just fifteen (15) pieces and you can build a whole month's worth of outfits!
Amazing? Yes, it is. This week, I'll show you how. Follow my step-by-step plan. This method of dressing will open your eyes to how easy (and fun) it is to be stylish! This handy information is something every woman should learn because it improves one's self-confidence.
THIS WEEK: Hit the "Re-set" button on your style. When I find myself thinking I've got lots of clothes, yet nothing to wear - I use my capsule wardrobe magic. It helps me get creative again with what I have in my closet.
The "magic" is to pick out a small number of items that mix and match with each other and see how many different outfit combinations you can make. It's really a helpful style tool. It takes practice, so set aside a bit of time each week to do it. So often we get stuck thinking that certain items go together-and that's it. For example, always wearing the same floral blouse with your tan tweed slacks and never considering other outfit possibilities for the floral blouse. Perhaps you think it will go with nothing else? Let me amaze you this week with a new way of seeing your wardrobe in "outfits".
Follow the MSP 15 pieces = 30 outfits plan (As a style member it will be added to your membership page) and you'll quickly see how to pick a few versatile pieces, then mix and match them into surprisingly stylish outfits!
This week: "My outfit plan" with clothes right from your closet!
15 Pieces = 30 Outfits...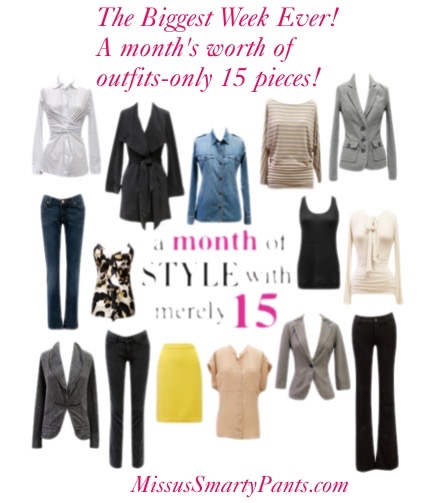 Look and feel fabulous by dressing for your body type + get this week's article "15 Pieces=30 Outfits" in Thursday's Personal Profile!
Order Your MSP Personal Profile Today!
---
MSP's Weekly Style Mission
This week: Invest only ONE wardrobe basic.
That's right, just one (1) item. This week you will learn how working within a wardrobe plan (15 Pieces=30 Outfits) can make a huge difference in your day-to-day life.
Using MSP's "Must-Have Wardrobe Basics" list (located in your body type Personal Profile), go through the list and see what you are missing. Get one of the basics your basics you still need.
Did you know: 70% of a woman's wardrobe should be made up of basics. It's time to invest in one quality, well-fitting piece. Look at the list and see what you need.
Love, Leslie MSP
Is your wardrobe looking dull, or perhaps boring?
ADD spring-colored basics into your wardrobe ASAP!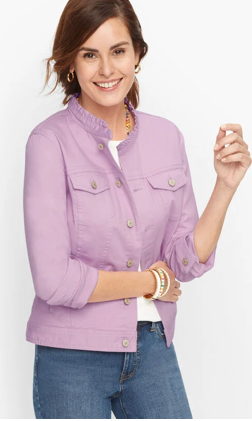 ---
10 Way to Prep Your Closet for Spring. Spring is on its way!
Be ready ahead of the season in order to make the best choices for the complete season. Clear out the clutter and figure out what you will be wearing come spring (warmer weather). What are the basics you wear often; and what do you need more of? Read these 10 tips for prepping your closet...
---
Dear MSP (Leslie)...
Dear MSP
I was one of those gals who looked upon others who were so stylish with envy. I never believed I could be one of them. I often tried to emulate their style and of course came up short much of the time. One woman – a friend – I really admire, but her shape and coloring are completely different from mine. When I tried to dress like her of course it didn't work! While I still admire her style, I now realize that I wouldn't be caught dead in her clothes (LOL)! I spent a lot of money on impulse purchases-just to wear the clothes once (if at all!). I had a closet packed with clothes and never had anything to wear!

It's been a long journey for me. I've made a few fashion mistakes, but I've learned a lot about myself and I think I've developed a unique style that works for me. I have even lost a lot of weight! It's funny how we get stuck in that – "I'll wait until I lose weight to buy clothes" rut. Every woman at every size is beautiful. I am a perfect example of the case where I decided to look good at the size I was at and somehow – because I felt good about myself – started to lose weight!! It really works in reverse of how we think it will work! Try it ladies!

Anyway, I had an AHA moment a few weeks ago that made me realize just how much my life has changed because of my MSP profile. I work at a rather conservative bank that has a pretty strict dress code. I often have to visit our branches and/or attend meetings. I was at one of our branches when I received compliments on my outfit (I was wearing a dress – something that did not happen much pre-MSP). One woman (who can be rather snippy and snide) made the comment that I was just dressed up because I had a meeting. Well, pre-MSP, that might've been the case. I often "dressed up" or wore an outfit I felt good in because I had a meeting (I've been known to even go out and buy a new outfit if it was a really important meeting – LOL!). That is, when I remembered to check my calendar!! I would often go to meetings feeling frumpy and sometimes that makes a person sort of cower in the corner and hope no one notices them! When this woman made this not-so-nice comment, I thought to myself "No, I would've worn this outfit even if I didn't have a meeting!" Now, I feel good in all my clothes! And, I am always meeting-ready!

Thank you MSP!
Susan
Dear MSP,
I was recently told by my boyfriend that he considered the way I dressed and my clothing "stylish"! I lost 100lbs last year and joined MissusSmartyPants.com last year. WooHoo! Because of the reasonable approach your blog, meaning for average women on budgets, I have managed to replace my wardrobe and not bankrupt myself. Thank you for all you do; especially the inspiration and confidence I've gained. I now know it's not my body that is "wrong" if the garment doesn't fit. Now I enjoy looking for "my" garment. Shelley
This post may contain revenue generating affiliate links which supports my business. Thank you for shopping using my links.