1-31-22 THIS WEEK: Accessories Make the Outfit
January 31, 2022, 2:15 pm by MSP
Looking for a quick and easy way to improve your style? Have you ever considered accessories are the answer?
Accessories are the fastest way to get your style together without spending lots of money. Accessories can do wonders to even the most basic or plain outfit. They take the same 'ol basics and instantly give them an updated look (and at a fraction of the cost you would pay if you bought more clothing)!
Accessory overload is chaotic NOT stylish...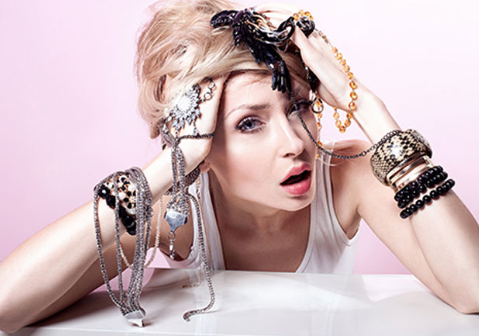 Coco Chanel said, "Always remove one thing before you leave the house. Less is more."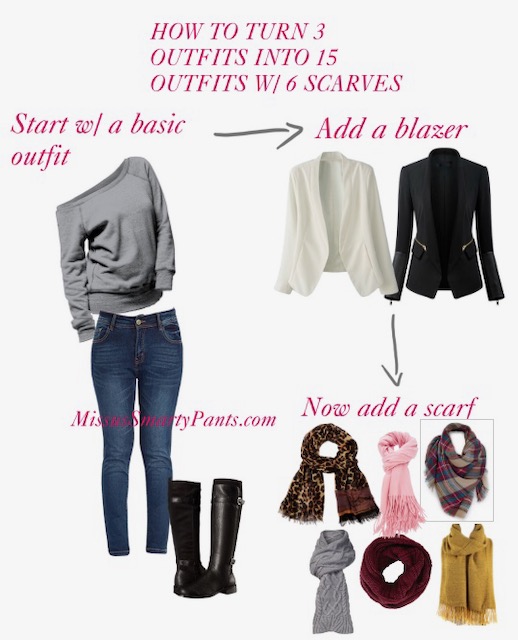 Accessories can...

1. Pull unrelated pieces together

2. Transform an outfit into a completely different look

3. Make you look taller, thinner, richer, or whatever

4. They are an inexpensive way to be 'on-trend'

5. They bring attention to your desired areas (face, neck, earlobe, waist, forearms)

In fact, once you understand how accessories can complete every outfit--you'll wonder why you didn't give them the attention they're due!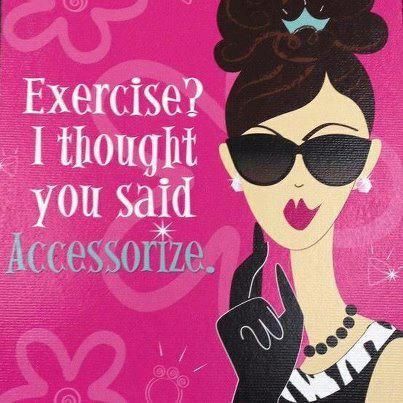 This week, MissusSmartyPants tells you HOW to pick the right accessories for your outfit. Find out what works and what doesn't-and why. This week...The Right Way to Wear Accessories will be posted in your MSP Personal Profile! Order your MSP Personal Profile Today!
Love, Leslie MSP
---
MSP's Weekly Style Mission
Shopping "out of season" or not shopping at all are my two (2) favorite ways to save money on my wardrobe. Instead, I prefer to "shop" my closet.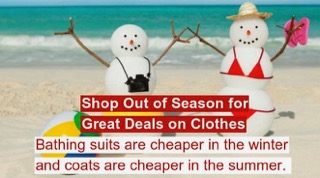 Sharpen Your Pencil. However, when I do shop, I like to know my purchase is at the best price. But, sometimes the additional amount off isn't saving you quite as much as you think. This time of year sales are popping up. It's the season for department stores and boutique alike to slash prices to make room for new spring merchandise.
THIS WEEK: Think of how you can save on updating a few of your wardrobe basics. Will you try the shop "out of season" tactic? Or, perhaps re-organize your closet and "find" something you hardly wear-and wear it?
---
What SYSters are Saying
MSP SYSter question regarding the "Dressing Slim" article...
I am interested in dressing slim. In the article it says:
Be sure to make the waist visible by semi-tucking in a tailored blouse or tee.
How do I semi-tuck in a blouse or tee? What does that look like?
Thank you for the help you give us. I just bought 2 skinny belts and have been enjoying how they look!
MSP HERE: That's a great question. You want to tuck in part of your tee, shirt, or sweater to give a bit of waist definition. Here is a photo below semi-showing off the waist.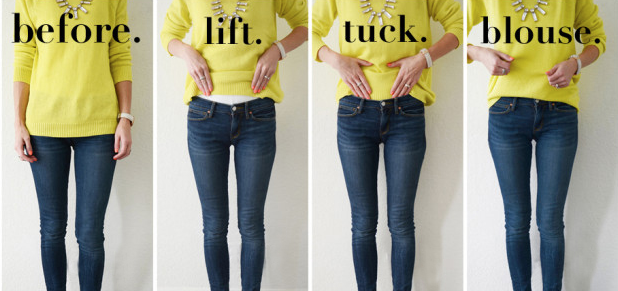 Dear Leslie,
Today I wore a sweater top with an attached crocheted belt. Where the belt ties I wore my gold pin as a buckle for the belt. Even through I've worn it several times before, today I received a complement on my sweater! I would never have thought to try this without you. I've been a subscriber for about a year and a half. . . And I still have a problem with sticking with just one or two neutral colors for my basics.
Last week I wore the same pair of gray pants for 3 days in a row with different tops, jackets, jewelry, and shoes. Those three days were some of the easiest day in getting dressed I've ever had because I was wearing the same basic neutral color. . . .and NO I didn't feel that I was wearing the same thing everyday! Looks like I'm finally catching on to the concept of stylish dressing.
Thank you for helping me dress my "D" figure for success! Jennie in KY
Dear MSP,

Since a recent Style Mission involved jewelry, I thought I'd share a MSP inspired idea I had to organize my jewelry.

I had my son install a set of hooks in my closet (he nailed to side of closet shelves instead of hanging over door for more stability).

I use the bottom row of bigger hooks to hang necklaces by color (gold, white, black etc) and the top smaller hooks to hold bracelets.

It's like having my own jewelry store! I love it...it's made my wardrobe accessorizing so much easier.
Love your weekly tips and shopping pics. Keep them coming!

Devotedly, Paige