12-6-21 THIS WEEK: Festive Outfits
December 6, 2021, 2:02 pm by MSP
With Christmas only 19 days away (can you believe it?)...that means you'll want at least one festive outfit ready-to-go.
As the holidays roll around, we can easily get stressed because there are so many things to do. Make this year easier by having at least one (maybe two) stylish outfits ready AHEAD OF TIME.
DON'T get stressed out...
MSP shares casual & dressy holiday outfits with you!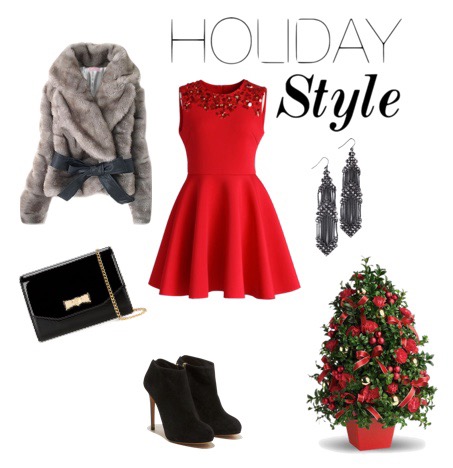 Suddenly, you're invited to a festive event. What will you wear? Do you start stressing about what you'll wear? Relax, and don't turn down that invitation! This week's
"Festive Outfits" has something for every BODY TYPE (both dressy & casual looks)!
This week: suggestions for every holiday event-from dressy to casual!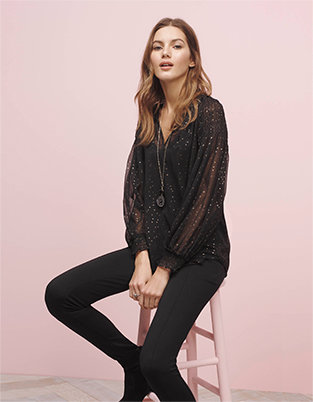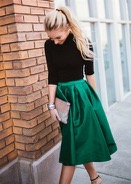 Sparkle...and stay on Budget. More than likely, with a long list, a tight budget, not much money is left for buying new clothes. You could use a few outfit suggestions. This week, I'll help you find something festive "hiding" right inside your closet! See how easy it is to create festive looks you will love to wear!
Love, Leslie MSP
Order a MSP Personal Profile-get this week's article: Festive Outfits + 3 additional weeks of articles & shopping guides based on YOUR body type!
---
MSP's Weekly Style Mission
This week's Style Mission: TALK TO STRANGERS!
Yes, I know you were told not to...but there are lots of good things that happen when you do. Most often strangers are simply people you just don't know (yet).
"Hi! I really like that scarf you are wearing..."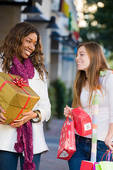 This week, when you see a woman well dressed, let her know. It's easy to do and it makes YOU feel great too. As you share your compliment with this other person, be sure to evaluate the complete look. Look at how this person is dressed, and decide WHY you think she/he looks so nice. Is it the deep red scarf? Their choice of shoes or chic boots-or a combination of several things? Pause, and get NEW style ideas-yours for the taking!
Love, Leslie MSP
---
Chat with your MSP SYSters!
The MSP's Style Forum is where you can chat with others about your style dilemmas + successes!
Post pictures and share outfit ideas!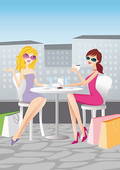 ---
What SYSters are Saying
"How to choose the right accessories..."
Dear Leslie,
I need help with accessories. Since you always seem to wear just the right accessories and just the right amount I know you can help me. Do you have rules that you follow when picking out your accessories each day?

For example if I wear a bold necklace, should I not wear earrings or would it be okay? If I wear a chunky bracelet should I wear a ring on the same hand or on the other? When is it too much? What about mixing a pearl necklace and diamond stud earrings, yes or no? I just feel pearl earrings will look too matronly with the matching necklace, am I right about this?

By the way I love your website and your weekly style tips too! My style has dramatically improved since joining this website. I'm also having fun playing dress up in my closet.

Thanks! Janella

MSP HERE: Dear Janella,

This certainly is a hard question to answer since answering it is somewhat subjective. Even fashion stylists don't agree on what is the right amount of accessories. You'll see everything in the magazines from no jewelry on a model to massive over-accessorizing—and everything in-between. It's hard for the average women to know what is truly stylish and what's over-the-top.

Coco Chanel said "Always remove one thing before going out the door". This is good style advice. I see plenty of women who over-accessorize with earrings, rings, necklaces and bracelets all heaped on at one time. It often comes across as chaotic and distracting. Coco was right on this one; less is more when it comes to accessories.


A woman's accessories should describe her personality. If you aren't absolutely confident that you have your accessories right, then just wear one piece that you love and leave it at that. If you have the confidence, you can pretty much pull off anything.


So to answer your question: "What rules do I follow when picking out MY accessories each day?" Here are 5 tips I follow:


1. I pick and choose my accessories by instinct and by my mood. 

Since I know (and don't like) to wear matching "sets" I choose my accessories based on the color I'm wearing and the occasion I'm dressed for. Sometimes I wear large silver hoops with a chunky necklace because the silver in the hoops bring out the silver pieces in the necklace, or because the look I'm going for is a bit more trendy or urban. I try to experiment and pick pieces that describe my mood or vibe for that day. In other words, try on different accessories and see what looks the best on you.


2. I keep my look balanced.

 I usually spread out my accessories to balance my look. If I wear a large necklace, my earrings are minimal. Or if I wear large earrings, I'll wear no necklace. Or, if I'm wearing a statement belt, I don't wear a necklace so that the necklace doesn't compete with the belt. Again spread out your accessories—and use your full length mirror.


3. I find inspiration everywhere! I read fashion magazines and peruse catalogs like J.Crew, Ann Taylor Loft, Urban Outfitters and Anthropologie to see what is hot and what I like.

I interpret the styles for the season and use what I have in my closet. I make up my version with what I own. Sometimes I only need a small item to complete the look!


4. I always say YES to a sale! I stock up on accessories when I run across a good deal—and I'm always on the lookout.

Why pay a lot for accessories, when you can buy them on clearance for a $2 or less at thrift stores, garage sales, Claire's, Wal-Mart, or Target? The more you have the more options you'll have for creating your own unique look. DON'T buy junk! Only buy what you like in your seasonal colors. At the beginning of each season I buy several trendy accessories to update my mostly classic wardrobe. I have a few pieces of real jewelry, shoes, and handbags to fall back on, but I love stocking up on inexpensive items to keep my wardrobe fresh and stylish.


5. I organize my accessories. 

You won't be inspired to wear any accessories unless you can see them all spread out! How you organize and display your jewelry is up to you. You may want to use hooks or accessory hangers to see all that you have. When I open my closet I can see all my options. I can see my necklaces, scarves, bags, belts and choose what to wear with my outfit. I organize each item by COLOR because I find that most helpful.


Now to answer your other accessory question... "Should you forgo earrings when you are wearing bold necklaces?

" You don't have to, but you certainly don't want your earrings to distract from your statement necklace. Small stud earrings that coordinate with the necklace always look great. They don't need to match perfectly, but they must compliment. My rule of thumb is if my hair is up, I always wear earrings. I usually do wear small studs if I am wearing a bold necklace. If my hair is down and I'm wearing a statement necklace, I might forego earrings. But that is just my preference. I've seen women pull off bold earrings with a bold necklace.

Should you wear both bracelets and rings on the same hand?

 Definitely! I would wear several bracelets too. You are making a statement by going strong in one area. I just would forego a necklace, but balance the bulk out with large earrings. Again, this is just my opinion.


You also asked: "Should you wear a chunky pearl necklace with diamond studs?" I worry pearl earrings would be too "matchy-matchy" and old fashioned look—am I right?

 You are correct, matched jewelry sets are quite outdated looking. However, if I'm going for a more classic look and I'm wearing a bold pearl necklace (chunky or several strands), I usually wear small pearl studs. If you are worried about looking too matronly, just forego the earrings and let your hair cover your ears.

The most important thing about accessorizing is exploring and discovering what you like--then wearing what expresses your personality.
Try new ways to wear a scarf. Try a new bold necklace. Try, try, try! Once you get over your initial anxiety, you will love "Showing Your Style" SYSter...that's what the Personal Profile System is all about!

Love, Leslie MSP