11-15-21 THIS WEEK: Grab N' Go Outfits
November 15, 2021, 3:07 pm by MSP
What could be better than stylish outfits "ready-to go"? It happens this time every year; you find yourself in need of a stylish outfit, yet you're busy. Soon, all of holiday activities take over and there is no time. There is no time to put together a few outfits that make you feel pretty. Make this year different.
With MSP's help, there is no need to stress out and let your style suffer. Instead, let it shine! With "Grab n' Go Outfits"...you'll have stylish outfits ready-to-go-all on one hanger!
THIS WEEK: Grab N' Go Outfits.
Key essentials you need to put together fab looks-all on 1 hanger!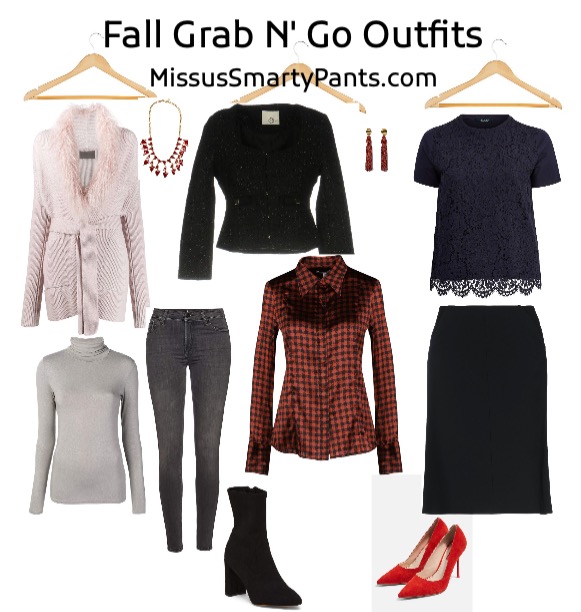 Imagine, being able to grab a hanger with a complete outfit (including the accessories) and simply get dressed. Think of how easy your mornings will be. The best part is, your day will be more stylish too! No matter your lifestyle (stay-at-home mom, working professional, or retired) every woman wants to look her best and feel great with little effort.
"Grab n' Go" outfits make your mornings easier.
Use MSP's "Grab N' Go" formula to plan what to wear each day...it's a game changer!
Invest in yourself! There is no need to spend a lot of money on clothing, instead invest more TIME into planning, and do it on a regular basis. You are soooo worthy of it!!! It's a fact: women that spend more time (not neccessarily money) on themselves feel better about themselves. Read that again... those that care for themselves feel better about themselves. A positive self-image is a beneficial thing for every woman--from the stay-at-home mom to the retired woman. Even if you really don't really go anywhere, you should still dress in a pleasing manner for those around you...and more importantly, for yourself.
Order your Personal Profile today & get this week's "Grab N' Go Outfits"
---
MSP's Weekly Style Mission
With this week's Style Mission, there is nothing to buy–just use your creativity to create something 'new' to wear!
You will get lots of outfit ideas in this week's article, "Grab N' Go Outfits"....so let's use it and create some fab outfits directly from your closet!

Set aside 15 minutes to mix-up your clothes & accessories. This "mixing up" will help you create new ways to wear the same items.

For example: Try on a jacket you always wear with the same pants, but instead, this time wear it with your printed skirt—then, add a long strand necklace that never gets worn—and voila, a "new" out!
(Try all of your new creations on in front of a full-length mirror...prior to running out the door). I recommend doing this exercise the night before when you set out your clothes for the next day.


With a little clever forethought... you can put together outfits from the clothes already in your closet!
It only takes a little time and your creativity... (+ jazzy music & a glass of wine might be "helpful" LOL).
Happy wardrobe creating...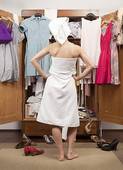 Love, Leslie MSP
---
What SYSters are Saying
Dear Leslie,
Thanks to you, I removed three BAD pairs of jeans from my wardrobe. Why did I wait so long to do this?? I don't know but now I feel like I was torturing myself, lol! I have a whole new attitude now.
My husband and kiddos are so happy to see me in my new jeans instead of those frumpy ones. I feel years younger and I know I look really good too. Before I kept wearing the same baggy ones that made me look tired, old and sad.
Buying a couple of pairs of new jeans is a lot cheaper than therapy and it's definitely more fun! I feel renewed and young again.
Because of your articles I've learned my best styles for the first time. I would never had tried these before MSP. You are the best!
Thanks again, Shelley
"Thankful for what I have..."
Dear MSP,
Guess what! Last night I was putting my outfit together and decided I needed to dig deep into my jewelry box and be thankful for the beautiful things I have. I found a brown topaz (stone bracelet), shined up the silver settings so I could wear it (I also have the necklace and earrings) no matchy-matchy here! Instead, I paired it with fun silver swirl earrings, a soft yellow top and chocolate slacks. HOW FUN! I feel special too!!
Thanks for the weekly style missions!
Jennifer in Ohio