10-11-21 THIS WEEK: 10 Ways to Wear a Scarf
October 11, 2021, 3:04 pm by MSP
I am always talking about the need for more versatility. Without a doubt, a basic yet versatile wardrobe is essential to being a stylish woman. Wardrobe building without a plan means you'll have a lot of clothes, but nothing really goes together. This is sad and unnecessary.
With a flexible, yet resourceful core wardrobe.... you purchase less clothes; yet you are able to create more outfits...this in turn makes you more stylish! See how this works?
Repeat this mantra: Do not purchase something unless "You can wear it at least three different ways". I know I say this often, and perhaps you hear my voice (in your head) saying this while you shop, LOL! As a stylist, I know "one item, three ways" is the only way to shop because you focus on your core pieces first. However, there are a few other ways you can E-X-P-A-N-D your wardrobe possibilities... rely on fab accessories!
Guess what...it's scarf season! One of the best accessories (especially in cooler weather) is a scarf. Having said that, after wearing a scarf over and over (the same way) can get rather dull. What other ways can you wear a scarf besides loop around your neck? How else can you tie your scarves for unique looks that create fun and interest?
Lucky for you...This week I'm sharing UNIQUE ways to wear your scarves!
FYI: These are not your average tied knots...
With these 10 scarf tying suggestions are going to "wow" your friends (and yourself)!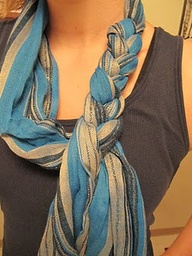 I've got some style tricks up my sleeve (okay, maybe not up my sleeve...but rather with scarves, LOL)! I'll start you off with a few basic knots and then show you a few more jazzy ones that are quite simple to do. From there, we'll take it up a knot or two (sorry, I couldn't help myself).
Get this step-by-step photo guide* of scarf tying this week in your Personal Profile!
*TIP: SAVE THIS SCARF TYING GUIDE FOR FUTURE USE!
Join MissusSmartyPants today and get this Thursday's Scarf Tying Guide!
---
MSP's Weekly Style Mission
This week's Style Mission is a "no-brainer"...it's wear a scarf week!
That's right, you're going to want to show off the new ways you've learned to wear a scarf.
Feel free to share with us how you wore a scarf this week. Below is how I wore my scarf last year in October.
Love, Leslie MSP
A bright scarf simply tied gives a basic outfit a certain level of sophistication...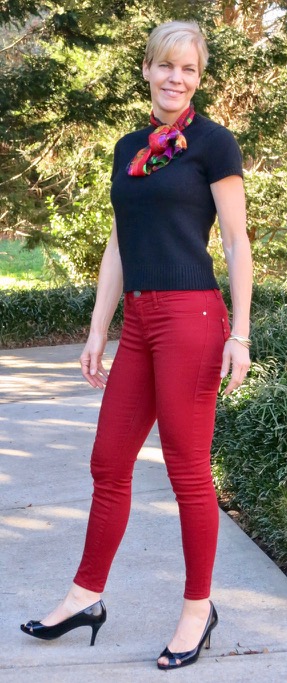 ---
Dear MissusSmartyPants
"I stepped out of my comfort zone..."
Dear MSP, I stepped out of my comfort zone! I am an A, Petite, short waist and flat tush YIKES! I finally listened and am building my basic wardrobe...adding my first skirt in years!
No more excuses for me :) I copied a J. Jill look I saw. My sweater is from Macy's, skirt I had from Land's End (all on Sale). I feel happy, confident and more importantly, pretty!
MSP thanks for all the encouragement! Jennifer
I got choked up when I read this email from a dear SYSter...
Had to write and say that your words are like a soft blanket that provides warmth and comfort. Thanks for using your skills to instruct and encourage your readers. You are a BIG BLESSING to so many women! May you be doubly blessed in return. :) -Anonymous in FL
In response to this SYSter's purchase of MSP's eBook "Style Recipes"...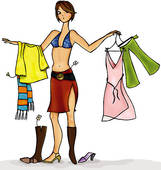 Dear Leslie,

Thank you for this great avenue to fun, beautiful and balanced dressing...

I have printed out the Style Recipes eBook and I'm keeping it on my sweater shelf...ready to take a look. Wish I had found you long ago...all those hours in dilemma...of what to wear are now spent in discovery of how what I already have goes together like magic...

Could not have done it without your fashion sense. Thanks so much and again for the fun and confidence!!! Ellen