2-15-21 THIS WEEK: Choosing Your Wardrobe Colors
February 15, 2021, 2:17 pm by MSP
Spring 2021 colors are popping up at your favorite store's websites.
What "new" colors are you excited wear this spring?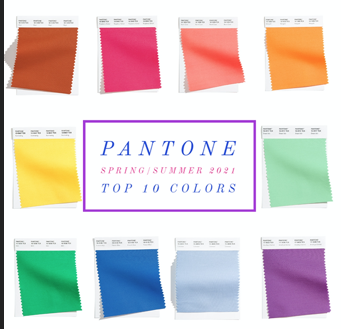 Plan your spring wardrobe! It's like "arm chair" gardening in February when the soil is still frozen. Now is the time to plan your spring wardrobe. A well thought out wardrobe plan using a few colors will help you reap the most style from spring into summer.
Plan your spring wardrobe by selecting your BEST wardrobe colors...

This week I'm helping you select your best wardrobe colors. To choose the best colors for your wardrobe, you must consider 3 very important factors--your skin, your eyes and your hair. Your personal coloring gives you clues to the colors you wear best in makeup and with your clothing. Often women will choose colors that are flattering for them. However, sometimes they just love a color but aren't sure if they can wear it. Perhaps you know your Color Season already. If not, it's a great way to streamline your wardrobe, plus it makes shopping much easier.
Don't know your seasonal color season yet? Order MSP Seasonal Colors Analysis.
Determine your best colors so you can:

__Plan an attractive (wearable) wardrobe (everything mixes & matches)
__Highlight or color your hair
__Make your eyes sparkle and skin glow
__Avoid costly mistakes

The best way to add versatility is to purchase your basics in only one or two colors. If you choose your colors and pieces carefully, you'll be able to create dozens of stylish outfits from a limited number of items.
"Choosing Your Wardrobe Colors"...is THE article that helps you select your best neutral and accent colors. A color-coordinated wardrobe is one that is simple, yet cohesive...and works well for every occasion, from dressy to casual!
---
This week's Style Mission: Create ONE casual "go-to" outfit.
This style mission should be easy, since everyday (since Covid) is now casual. However, I challenge you to "step up" your casual style.
Here's the "go-to" outfit formula:
Pick a neutral-colored bottom
Now, add a colorful tank (or probably long sleeve tee, this time of year)
Add a colorful jacket
Complete the look with a trendy necklace
Think color theme. (You'll get more fun examples in this week's article)
For example, the outfit might be, as below- 3 colors: green, navy and warm caramel brown...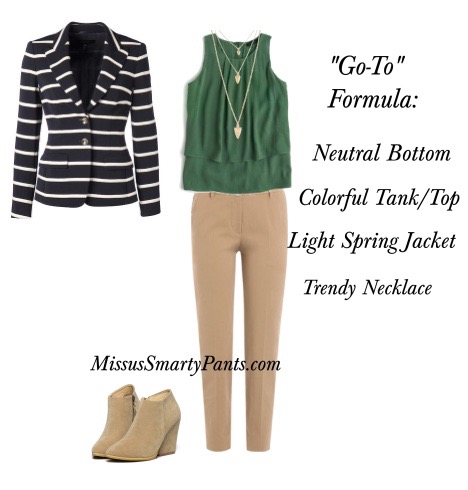 ---
What SYSters Are Saying
It's because of YOU I spend so much!
Hi Leslie.
I have been a member of your fanclub for about 3 years now, and have made a lot of changes to my wardrobe and attitudes during this time. I thought i would let you know that I just did something that surprised me- I bought a hundred dollar tee shirt. Let me explain...

I haven't been spending a lot of money on clothes lately. I have gotten rid of a bunch of things (of course, i could ditch more, but havent yet) and have go to items that i like for the situations that come up in my life. In the fall, I invested in two new pairs of jeans that fit quite nicely and in Jaunary got a couple of thrift store items to fill a few holes in the wardrobe and add some seasonal fun.

But I have one item in my closet that is part of my core capsule that I have worn so many times I was wondering how it could last so long and look so good- a black tunic tee shirt. Essential! I have been trying for a year to find just the right replacement for a reasonable price without luck.
So when, two days ago I noticed that indeed it had sprouted a tiny hole, I did the unthinkable.
I invested in the best fitting, best quality replacement I could find, a similar item made by Eileen Fisher. On sale, still 4 times as much as i have ever paid for a tee shirt.
Because I haven't been spending much on clothes, and have a solid wardrobe so I am fairly sure I won't need anything major for a while, I feel just fine spending the money.
So, just thought I would let you know, the hundred dollar, no guilt tee shirt is all due to you!

Fondly, Nancy
Dressing is so much easier now that I know MY colors!
Hi MSP,
Thanks for offering the Seasonal Color ID. I am happy to know I'm definitely a winter -- I thought about all the times I had worn tops that got lots of compliments, and they were all times when I was wearing the winter colors!

Now I have to purge my closet of all those colors that don't make me feel like a million bucks! I printed out the winter color chart on a piece of photo paper, cut it out and laminated it --- it is now the PERFECT size to keep in my wallet and take with me when I go shopping! I love it!

Thanks for all your help! Gina