2-26-18 THIS WEEK: Big Spring Preview (Part One)
February 26, 2018, 4:05 pm by MSP
Whoo hoo! It's almost spring and the start of something BIG. This week, part one of the Big Spring Preview. Next week, part two.
It is March (on Thursday) and all the pretty spring fashions are arriving at our favorite stores. I hope you've had a chance to take a peek at what's new at your local stores. Just seeing these lighter and brighter spring colors queues us that we need to start planning our warm season wardrobes now!
Spring really is right around the corner! My local weather (here in the South) shows promise of what's to come with this week's temperatures above average. As I ran errands on the weekend, everyone else had the same idea (or "excuse") to get outside and enjoy the weather that was so gorgeous and warm!
It's time to lighten up & brighten up our wardrobe...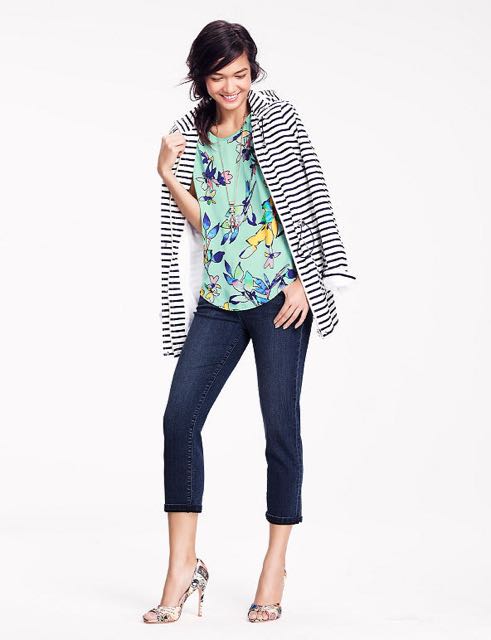 Ralph Lauren Striped Knit Cotton Jacket at Dillards (s-xl)
Of course most of us still have a couple of months of unpredictable weather; however NOW is the time to prepare for spring. Start today by clearing out your closet-clutter (since you aren't wearing it, get it out). Then you can begin to refresh your style piece by piece, because before you know it... the warmer weather will be here to stay!
No need for a complete closet re-do! This spring you can have a really fab wardrobe by only adding in a few key pieces, as I suggest. Your wardrobe will look fresh and new again if choose a few of my spring suggestions from the MSP's Big Spring Preview (Part One this week, Part Two next week). I'll show you what to add and HOW to wear it!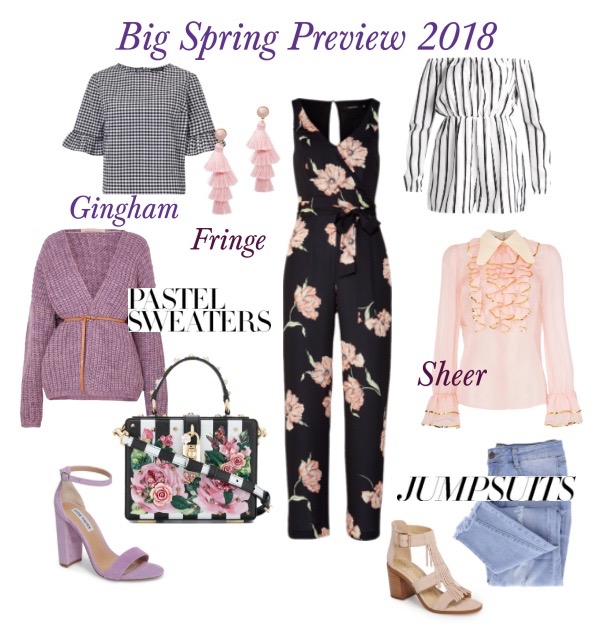 This week at MSP: The print-out guide part-one to the Big Spring Preview 2018! What to have in your wardrobe this spring...and how to wear it!
Order your Personal Profile today and get MSP's Big Spring Preview (Part One & Part Two)!
---
MSP's Weekly Style Mission
It's "anti procrastination" week at MissuSmartyPants!
That's it. This week we put an end to the putting ourselves last or continually at the bottom of our "to do" list.

This week's Style Mission is to get it done!
Stop everything right now and make that hair appointment, or go and get measured for a new bra (it's amazing how good you feel-and look in a new bra), take a makeup lesson from your favorite makeup counter, or have your eyebrows shaped—or whatever else you've neglected to do personally. (Even cleaning out your closet is a good thing to do for yourself...hurry, before spring is here.)
Put yourself on your calendar for "ME" time!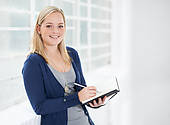 This week, do ONE special thing just for you. Then, give yourself a hug for getting it done.
---
What SYSters are Saying
Dear Leslie,
Thank you for helping this 50-something, frugal, fashion-challenged woman to look and feel much better. I had not properly shopped for clothing for many years, though I had a closet stuffed with cheap impulse purchases. I recently lost weight and needed to update my wardrobe. It was difficult to spend the money on quality items, but your advice guided me well. Now my closet is not stuffed, my wardrobe consists of beautiful, high-quality basics, and I look and feel more polished. It's a real confidence booster.

I will probably never be a great shopper, but my advice for others who hesitate to spend is that you will get to a point where you feel you've covered the basics. Now instead of trying to grab some bargain sweaters at store sales, I'm looking for a nice black blazer. While there was an initial investment, there is also a very practical pay-off in being able to maintain an organized, versatile wardrobe and being able to pull together an attractive, appropriate outfit for any occasion.

So my conclusions: Missus Smarty Pants made me feel frivolous at first, but no more. And feeling younger and more confident? Definitely YES and that is priceless!

Thanks, Cindy
Dear Missus Smarty Pants,

I wanted to drop you a line to let you know how your website has helped me...on so many levels. I ordered a profile last year at this time for an "E" body type. It was what I saw in the mirror.

I had not gone shopping for myself in I don't know how long. I purged my closet of clothes that I had from (gulp!) two decades ago...how did THAT happen?! Any new clothes I had were "hand me downs" from friends and family. I was "fashion illiterate". I didn't know where to start!

Because of you I got some great tips and some fantastic ideas of styles that I would never have pulled off the rack before. (I was even able to be brave enough to shop for a bathing suit and found a very flattering one (!!!) without felling like I needed a good cry afterward!!! )

The amazing part is that I am not the size I had envisioned in my head! When I actually went to get some much needed new clothes for myself, I saw that I can be fashionable and that I can dress in a way that really compliments my figure! The epiphany for me was that I am not the extra large "frumpy lump" but that I can be a stylish regular size that looks good! It is amazing what some confidence (and the right "supportive undergarments" i.e. bodyshapers) can do! I am renewing my subscription this year with a "B".

Thank-you for your wisdom and encouragement and letting us BE ourselves. You are so right when you say we can't wait to buy new clothes and dress well when we...loose the weight...get back into the exercise routine... look better in the mirror. Wait a minute! I dress for me NOW in the clothes that flatter my figure AS IT IS and I DO look better in the mirror.

It took that leap of faith and the realization that I am worth it to try your website and WOW! What a difference! I still have my moments of body blahness, those pesky problem spots and persistent pounds, but I am worth it and I can be comfy in the skin I am in at the moment...and dress to flatter that!

Thanks for helping me see that I am worth pampering and that I can dress in a way that lets me, the real me, shine! You have helped to change how I see my body and myself! I tell all of my friends about your website!

Thank-you for all you do! A grateful me who can admit she's a "B" now, Rowena
Dear Leslie,


I signed up for your service about two months ago. You don't even want to know how I was dressing. (Think poster girl for your 'before' pictures.) I almost didn't sign up, because I didn't think you could help me. As I've whined for years, 1) nothing that looks good is comfortable, and I only wear comfortable, 2) my body shape doesn't look good in anything anyway, besides which 3) I can't afford anything.
But your makeovers were so inspiring that I decided it would be fun to sign up anyway.

 I studied your information faithfully. Certain things made a lot of sense. I started having attention on what would look good. Then one night, I was looking over your Personal Profile shopping guide, and clicked on one of the dresses. That click led to other clicks, and before I knew it, I'd actually found three dresses that 1) looked comfortable, 2) looked good, and 3) I could afford. Wow! I ordered them immediately. 

The dresses I ordered were things specifically to wear at home. I work at home, and actually see a lot of people there. Now, even though I'll be home all day, I take the time to make sure I look good, that everything matches, and I even put on jewelry, no less! This is a miraculous thing.

 I feel so much better. I've had a number of times where I had to run to the door or had surprise visitors, and I would have this sudden flash, Oh! I'm dressed well! No need to be embarrassed! I can't tell you how good that felt.

 So thank you, thank you, thank you! You have changed my life, and it's wonderful!


All the Best, Lynne
"Building a Capsule Wardrobe is for Every Woman"
Dear Leslie,
I loved your past article about having a capsule wardrobe. It's a neat idea. But I do not think I can use it because I homeschool my kids, so you see there really is no reason for me to dress up. What else can I do to use this idea?
I do appreciate you for sharing your style knowledge. By just making a few of the style recommendations for my body type I have received compliments out of the blue (from strangers and friends at church). It really helps to dress better when you get out.
Regards, Marly
MSP HERE: Dear Marly,
I love hearing that you have made some flattering changes with your appearance since joining. That's what MSP is all about...practical style advice you can use!
I'm going to have to disagree with you about not 'dressing up' because you homeschool. Even when you are teaching (at home) it DOES matter what you wear.
A capsule wardrobe is really a "mini-wardrobe" where items mix and match easily with each other. By putting together 'capsules' in your wardrobe, you will create "go-to" outfits. Of course, knowing 'what to wear' helps every woman become more stylish--while saving her money by not purchasing un-related items.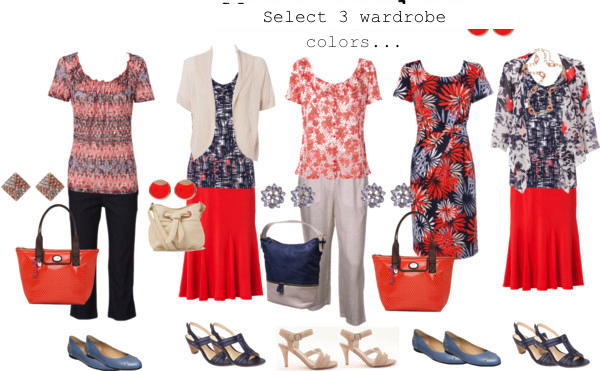 How to create a capsule wardrobe:
1. Decide on a color theme. Use only 3-4 colors that mix, blend or complement each other.
2. Select a few key wardrobe items you love and want to wear. You will build outfits around these key items. It could be a bold colored basic top, or even a colorful scarf.
3. Next, select your basic pieces that go with your 'key' items you have chosen.
4. Pick out only 2 pairs of shoes. One should be a neutral, the other should be something in the main color theme.
5. Choose your accessories--but don't get carried too away! Select a few accessories that go with your color theme...one day handbag, a scarf, a necklace and bracelet...that's it.
Hope this helps you re-think what you wear each day. And by no means am I suggesting you (or any woman, for that matter) needs to dress like a 'fashion plate'.
We need to all simply find our own brand of style and feel good about what we are wearing. That's what style is really about--dressing like the confident woman you are~the end.
Love, Leslie MSP
P.S. Get my complete caspsule wardrobe plan (with graphs and a main wardrobe plan) with my latest eBook, "The Ultimate Capsule Wardrobe"
P.S.S.For more of my (and other MSP SYSters) style ideas...check out the MissusSmartyPants "Sassy SYSter Style" pinboard.